7 Wonders: Ancient Alien Makeover HD
By MumboJumbo
This app is only available on the App Store for iOS devices.
Description
Rule your own realm in 7 Wonders: Ancient Alien Makeover!

TRY IT FREE, THEN UNLOCK THE FULL ADVENTURE FROM WITHIN THE GAME!

You've always wondered if aliens played a part in the construction of those ancient wonders. In 7 Wonders: Ancient Alien Makeover, first contact with aliens not only manifests some phenomenal structures, but also provides Workers Guild 7 the ability to build their own futuristic village. In exchange for gold and precious gems to repair their craft, ancient aliens share their technology and expertise in architectural construction. But building these megalithic structures takes the workers away from their families for far too long, so the aliens agreed to designate a village plateau for workers' families and transport it from Wonder to Wonder.

7 Wonders: Ancient Alien Makeover whisks you away to the Temple of Solomon, Göbekli Tepe, Puma Punku, Ancient Dwarka and other ancient alien theorist proposed visitation sites. Enjoy hours of rune matching fun on a new playfield size that allows for larger boards and different configurations. These configurations provide more opportunities for strategic decisions on matches and use of power-ups, which are easier to access in the redesigned display.


Key Features:

56+ addictive and challenging levels
7 mystical locations to create, plus a bonus 8th to unlock
Brain teasing mini-games
All new creation mode where you build your own village
Collector's Edition includes:
– 3 extra Wonders of Angkor Wat, Baalbek and Nineveh
– craftsmen bios
– before & after sketches
– wallpapers

"The best part of 7 Wonders: Ancient Alien Makeover is taking part in the construction of the worker village. As you get further into the game and acquire more buildings and decorations, the village transforms into a metropolis of your own design." – John Newcomer, Director of Game Design at MumboJumbo


Other Games in the 7 Wonders Series:

7 Wonders of the Ancient World
7 Wonders II
7 Wonders: Treasures of Seven
7 Wonders: Magical Mystery Tour


……………………………………………………………………………………
Visit us on the App Store at http://itunes.apple.com/us/artist/mumbojumbo/id312416866
to find more amazing casual games from MumboJumbo including: the Luxor Series, Midnight Mysteries Series, 7 Wonders Series and more!

Find us on Facebook: http://www.facebook.com/MumboJumboGames
Follow us on Twitter: @MumboJumboGames
……………………………………………………………………………………



iPad Screenshots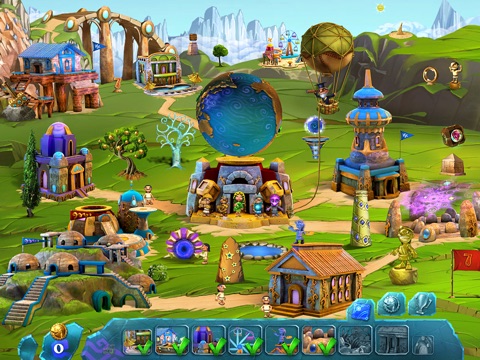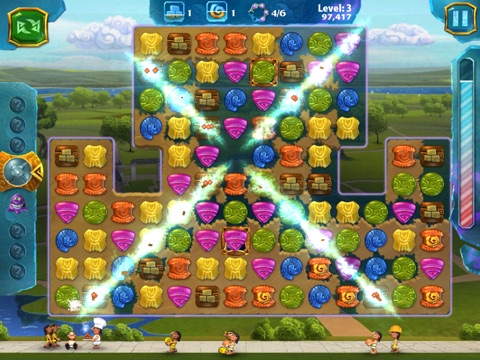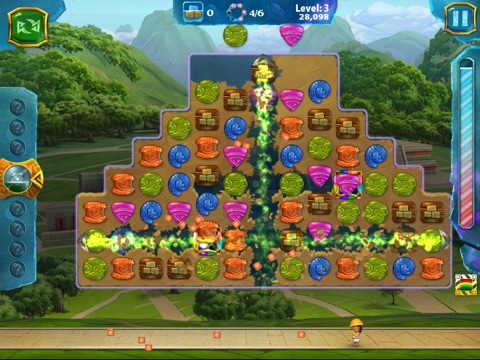 Customer Reviews
Great polished game, with some annoyances
I really like this game and it's very polished - I highly recommend it. But given the polish and value, it's disappointing that a couple of aspects are poorly thought out -- they're fairly minor quibbles, but they should be fixed. First is that your level progress is not saved when you leave the app (unless you return before your device removes the app from active memory). That's not such a big deal, it also means that you have to redo several steps when you come back, such as any changes to your village and construction progress of the current wonder. If you quit after finishing a wonder, you also have to go through the final "victory" screen and return to the village when you come back, and it gets tiring to have to redo stuff every time. And second, there's a big annoyance if you are going for full stars -- if a level times out or you miss grabbing a construction piece, you have no choice but to continue through the levels until you complete the wonder to try again for full stars -- you should have the option to restart the whole wonder from a clean start at any time to try to complete the wonder in 7 levels with no timeouts. Fix those two things and my rating would go to five stars. Otherwise, it's a very well done and fun game!
Best one yet!
I love this version of 7 wonders. This is the first time it became a collectors edition. You have 11 wonders and some extra mini games along with a creation mode. The graphics are similar to magical mystery tour, but theres a lot of extra features. I love all these ios games from mumbojumbo. It would be great if they can release ipad games every week, but if it has to take longer to look good and work well, its worth the wait. I hope to see treasures of seven to complete the 7 wonders series on ios, as well as more LUXOR for ios too (still 5 more to go). Those are my two favorite MJ series.
Great game!!
I really enjoyed this one, great graphics, great gameplay! I only wish that I could have been able to keep playing the Diamond Mine game over and over even after completing it. I loved playing that mini game!! It would be awesome if there was a game just like that with the same design, colors/style tiles. I would play it all the time if I could ;-)
Thanks for the great game!
View in iTunes
Free

Category:

Games

Released:

Nov 07, 2012

Version:

1.0.0

Size:

133 MB

Language:

English

Seller:

MUMBOJUMBO
Compatibility: Requires iOS 4.3 or later. Compatible with iPad.
Top In-App Purchases
Full Game Unlock $4.99