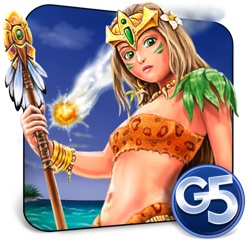 Totem Tribe Gold (Full)
4+
Description
Help Aruku, a chief of the Hawk tribe, restore peace and lead her tribe to a better future in this real-time strategy and adventure game!
On a beautiful chain of islands, life used to be peaceful until a comet fell from the sky. Now, tribes and creatures that once lived in harmony are fighting each other. Help reestablish balance by exploring the islands, gathering sacred Totems and returning them to their home – the Cradle of the North. To end the war once and for all, develop your villages, warriors and weapons by building huts, training grounds, archery ranges, scout lodges and barracks. Bring prosperity back to this struggling planet by enhancing the Hawk tribe's skills and equipment.

Features:

● 32 Enchanted locations to search
● 22 Adventurous quests and mini-games
● 20 Precious artifacts to locate and preserve
● Real-time strategy and adventure game
____________________________

Game available in: English, French, Italian, German, Spanish, Portuguese, Brazilian Portuguese, Russian, Korean, Chinese, Japanese
____________________________

Sign up now for a weekly round-up of the best from G5 Games! www.g5e.com/e-mail
____________________________

*** G5 Games - New Game Apps Every Week! ***

Search for "g5" in Mac App Store!

Strategy:

▶ Virtual City Playground®
▶ Supermarket Management 2
▶ The Island: Castaway® 2
▶ Supermarket Mania® 2
▶ Stand O'Food® 3

Adventure:

▶ The Secret Society® - Hidden Mystery
▶ The Cursed Ship, Collector's Edition
▶ Left in the Dark: No One on Board
▶ Twin Moons
▶ Mystery of the Opera
______________________________

VISIT US: www.g5e.com
WATCH US: www.youtube.com/g5enter
FIND US: www.facebook.com/g5games
FOLLOW US: www.twitter.com/g5games
The most exciting real-time strategy and adventure game! Try and save the planet from the destroying war and gather the sacred Totems.

- Minor bugs fixed
- Minor improvements

Join the G5 email list and be the first to know about sales, news and game releases! www.g5e.com/e-mail
Ratings and Reviews
Great strategic game HOWEVER ...
You will need a lot of help from work arounds on the internet which you can google. EVEN so as you progress the game gets harder but persistence and patience pays off as the puzzles even with help are harder to solve but enjoyable when you are finally successful. The scouts swimming with harpoons and the magnifying glass are KEY to obtaining because you will need ALL the gems at the end to finish the game … also build up your armies to the MAX before battling and don't skimp. GET the FULL version because the free version is flawed screen size-wise. Remember be persistent and relentless. I have really enjoyed this game and will wait a year before playing again or hope they get a newer or different version.
Crappy verison of Age of Empires
Not worth the money. It is basically really crappy age of empires, and yet not even that. That task are awful, and I've yet to figure out why you can build some building in one place and not another. Things are always in the way and you can't get rid of them. Honestly, the last time I buy a game that doesn't allow me to preview the first level.
Very good strategic game.
This game is a very good strategic game (although it is not excellent).

At the beginning, the game is similar to Warcraft 1 (and maybe Warcraft 2) in the sense that you have to use your units strategically but your options are very limited (unlike in Warcraft 3, Command & Conquer, or Age of Empires, where you have a lot of different units and upgrade options). The reason for this lack of options is that each level introduces one or two new things, so you'll have to reach level 10 to get a normal amount of options (and believe me, you will end up having many options). So, the first levels are a little too simple for my taste (strategically speaking) and it takes too long to get interesting... But then, it gets really interesting! :)
Also, this is not just an strategic game: it has hidden objects that you must find (gems, rocks, bones, leafs,...), mini-puzzles which, once solved, grant you more abilities, simple quests, etc. And it encourages you to go back to a level and play it again (once you load a level you will continue where you left it, but with all the new abilities you learned in the levels that followed it... So, the second time you go to a previously played level you will be able to reach places that were previously hidden or inaccessible).
The story is good, and it has twists and a turn (although it might appear to obvious at the beginning of the game): there is a bad entity that perturbs your peace and you must fight it while learning what it is. So, if you are like me and enjoy learning the story of games, it will not disappoint... But give it time (past level 7 at least :D ).
Graphics are very good. The maps are very beautiful and each one seems different from the last. The character animations are also good.
Sound is very good too, but I'm not sure if this game has any music or not: there is a slider in the preferences pane to adjust music volume, but I cannot hear any music in any part of the game... At all! Not even in the main menu (I have OS X 10.6.8, so it might be because of that...)
Finally, controls are good, but some times they behave weirdly: in order to use an object you have to click on it and then over the thing you want to use it, but if you are like me then you will forget and try to drag that object over the thing... If you do this, you will move the portion of the map that you are watching, which isn't a problem, really... But then all the buttons of the interface will stop working! To fix this you will have to purposefully move the screen again. This glitch happened to me many times and is sometimes annoying, but soon you learn that you have to click on objects and not drag them.

In any case, this game is very good: it is entertaining, beautiful and varied. It has two glitches (music and bug) but they are not very important. I definitely recommend this game.
Information
Seller

G5 Entertainment AB

Size

309.5 MB

Category

Compatibility

OS X 10.6.6 or later

Languages

English, Chinese, French, German, Italian, Japanese, Korean, Portuguese, Russian, Spanish

Age Rating

Rated 4+

Copyright

© 2013 - 2017 Enkord. Mac Adaptation © 2013 - 2017 G5 Entertainment AB. Published by G5 Entertainment AB.

Price

$6.99
Supports
Family Sharing

With Family Sharing set up, up to six family members can use this app.