Emoji Characters and Smileys!
By Component Studios
This app is only available on the App Store for iOS devices.
Description
😻⏫⏬⏰⏳⛅⛔✅❓❗➰🃏🆑🆓🆖
🆘🌁🌉🌋🌌🌍🌎🌏🌐🌒🌓🌔🌕🌖🌗
🌘🌚🌛🌜🌝🌞🌠🌰🌱🌲🌳🌼🌽🌿🍄
🍇🍈🍋🍌🍍🍏🍐🍑🍒🍕🍖🍗🍠🍤🍥
🍨🍩🍪🍫🍬🍭🍮🍯🍷🍹🍼🎊🎋🎠🎣
🎪🎭🎮🎲🎳🎴🎹🎻🎼🎽🏂🏇🏉🏡🏤
🏮🐀🐁🐂🐃🐄🐅🐆🐇🐈🐉🐊🐋🐌🐏
🐐🐓🐕🐖🐜🐝🐞🐡🐢🐣🐥🐩🐪🐲🐼
🐽🐾👅👓👖👚👛👝👞👤👥👪👬👭👰
👹👺💌💕💖💞💠💥💧💫💬💭💮💯💲
💳💴💵💶💷💸💾📁📂📃📄📅📆📇📈
📉📊📋📌📍📎📏📐📑📒📓📔📕📗📘
📙📚📛📜📞📟📤📥📦📧📨📪📬📭📯
📰📵📹🔀🔁🔂🔃🔄🔅🔆🔇🔈🔉🔋🔌
🔎🔏🔐🔕🔖🔗🔘🔙🔚🔛🔜🔟🔠🔡🔢
🔣🔤🔦🔧🔩🔪🔬🔭🔮🔵🔶🔷🔸🔹🔺
🔻🔼🔽🕚🕜🕝🕞🕟🕠🕡🕢🕣🕤🕥🕦
🕧🗾🗿😅😆😇😈😋😎😐😤😩😫😵😶
😸😹😺😻😼😽😾😿🙀🙈🙉🙊🙋🙍🙎
🚁🚂🚆🚈🚊🚋🚍🚎🚐🚔🚖🚘🚛🚜🚝
🚞🚟🚠🚡🚣🚦🚨🚩🚪🚫🚮🚯🚰🚱🚳
🚴🚵🚷🚸🚿🛁🛂🛃🛄🛅

🌟🌟🌟 #1 Emoji App!!! 🌟🌟🌟

5-star customer reviews:
🌟🌟🌟🌟🌟 "Best emoji ever"
🌟🌟🌟🌟🌟 "This app rocks!"
🌟🌟🌟🌟🌟 "Love these awesome new emojis! 😃"

This app provides an awesome catalog of exclusive, custom-made clip-art smileys! They can be used to text or email to your friends and family.

In addition, the app includes a built-in photo editor! First, take a picture or choose an existing picture from your photo library. Then, add as many custom smileys as you want, placing, resizing, and rotating them to your taste. Finally, save your new image and share it with family and friends! There are infinite possibilities for adding custom characters to your photos in whatever sizes and orientations you like!

This great collection of characters includes special superhero, Thanksgiving, and Christmas themes! Perfect for the holidays!

Included categories:
- Angry
- Happy
- Hats
- Hipster
- Holiday
- Meme
- Pirate
- Sad
- Super Heroes
- Super Villains

Download today and begin using your awesome new clip art!
What's New in Version 1.0.1
Bug fixes.
iPhone Screenshots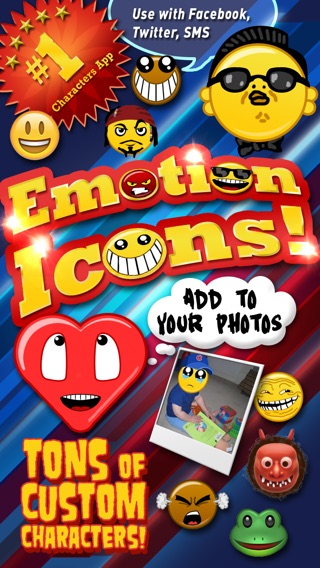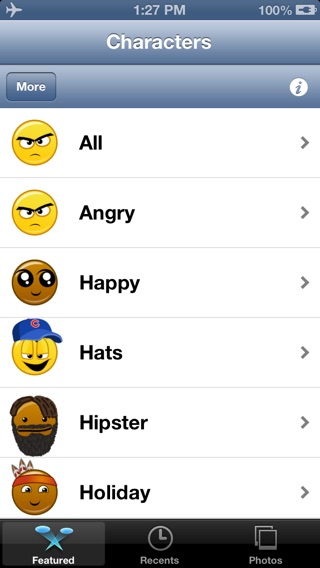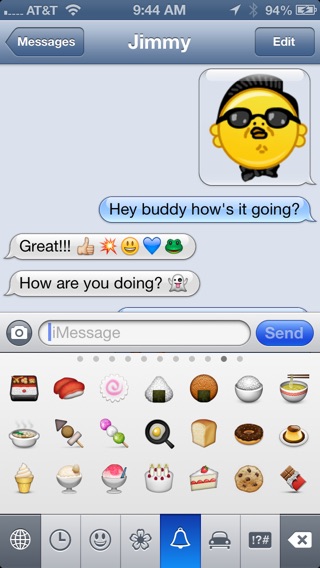 Customer Reviews
Great assortment of emotions & easy to install.
These are great! I didn't use the emotions before I got this package because I'm a new iPhone user and didn't know they were available for email. I'm so glad I got this package because (1) there's a huge assortment of ones I've never seen before and they are simply great and (2) there's instructions on where they go and how to access them in the email program. For iPhone beginners (like myself) the instructions were a great help and as I said previously I learned that there is the Globe symbol in the email app that opens the emotions you get from Apple and others you can add like these. I highly recommend these because I feel you cannot have enough of these. I'm hoping sometime in the near future this software designer makes some super funny and maybe just a little ADULT emotions just for fun. Highly Recommended to all.
Sticklady1
Love this emoji keyboard & use it every time I post online or in messages! Love it but hope more emojis will be added to these for even more emoji choices. I love outdoor stuff...hunting, fishing, camping, hiking, etc. I also make hiking sticks & canes, would love to have them added😄
Bad transparency advertising!
People are accustomed to and expect a product to improve. Having no information about the Emoji 2 product not capable of being integrated into the regular iMessage keyboard is a sham. Who has the time to research this before buying? I want my $1 back but don't deserve it cause I didn't check it's capabilities. Warning- you have to copy all to notepad to add emoticons. It's just plain not respectfully upfront. Makes me want to design apps and make $. Lol. Peace
View in iTunes
$0.99

Category:

Entertainment

Updated:

Feb 25, 2013

Version:

1.0.1

Size:

4.9 MB

Languages:

English, French, German, Italian, Japanese, Korean, Polish, Russian, Spanish

Seller:

Component Studios LLC
Compatibility: Requires iOS 4.3 or later. Compatible with iPhone, iPad, and iPod touch.