Golf History with Peter Alliss
By Exulto Media Inc.
This app is only available on the App Store for iOS devices.
Description
"Golf History with Peter Alliss" celebrates every major champion from 1860 through the era of Bobby Jones and the birth of the modern era.

Over 500 stories, 600 historic photographs and 100 exclusive videos are narrated by British television's "Voice of Golf" Peter Alliss alongside interviews with Scottish golf historians. In this 

entertaining and highly informative app, you will read stories, scroll through photographs and watch video interviews about golf prodigies that came before Tiger and Rory, like Young Tom Morris and 20-year-old Francis Ouimet who pulled off a dramatic U.S. Open win in 1913.



"Golf History with Peter Alliss" traces the development of early mens' and ladies' championships, tells fascinating tales of golf's first champions, explores golf lifestyle and fashion, shows the evolution of golf equipment, and presents an illustrated timeline of the history of the game. 

This iPad app is the first of its kind. Peter Alliss, professional golfer, 8-time Ryder Cup player, television commentator, author, course designer, humorist and provocateur inducted into World Golf Hall of Fame in 2012.

APP FEATURES

● 600 rare historical photographs
● 500 original stories on golf, its champions, courses and lifestyle
● 100 exclusive videos featuring Peter Alliss and noted Scottish golf historians' personal memories, historical facts and anecdotes
● An interactive timeline of significant events in the history of golf, major champions, early societies, courses, equipment and more
● Keyword search to locate all content
● Personal favorites feature
● Sharing of images and stories via Twitter, Facebook and email
● Full screen image zooming
● The option to order selected photographs as museum-quality archival prints

INITIAL DOWNLOAD

● GOLF HISTORY BASICS - Showcases representative stories from each era in the App.

● PETER ALLISS - Join the "Voice of Golf" in this magical journey of a lifetime of golf.



IN-APP PURCHASES

● ORIGINS OF GOLF - Did golf lead to Mary Queen of Scots demise? Why was golf banned in Scotland in the 15th century? Discover these and many other mysteries of times past. Explore the development of the golf ball and playing clubs. Learn about the early golfing societies and their courses.



● EARLY HISTORY - The legends! Through rare photographs, videos, and stories, experience all major champions, from the first Open Championship in 1860 to the 1900s. Includes stories on courses, equipment, and notable events.

● ROOTS OF AMERICAN GOLF - The beginnings of golf in America. The early championship courses and architects. Read stories on the birth of U.S. Championships with rare photographs of the first 29 pioneering major champions on American soil.



● BOBBY JONES ERA - The formation of the PGA; the Ryder Cup; Bobby Jones' Grand Slam. The development of the Masters Tournament; an interactive journey through the 1920s, year by year - a period that saw political and economic upheaval change the world.



● LADIES GOLF - Pioneering women blazing new frontiers: English, Scottish, Irish, American and French ladies vie for their places in golf history from the 1890's to 1930; revealing biographies and compelling stories.

● U.S. OPEN – The courses and controversies; Overview of the National Championship; Photos and bios of every U.S. Open Champion from 1895 to 1970! Inspiring stories of victories by Ouimet, Hagen, Sarazen, Jones and others.



● THE OPEN CHAMPIONSHIP - Begun in 1860, the grand tradition of the Championship Belt and Claret Jug through Bobby Jones' win in 1930 to Jacklins's triumph in 1969, enjoy stories, photographs, and videos of the first 140 years, featuring champions, courses, and winning streaks

.



● VALUE PACK - Unlocks all the content, and includes future updates and releases as well.
What's New in Version 2.000
iOS8 compatibility, UI updates
iPad Screenshots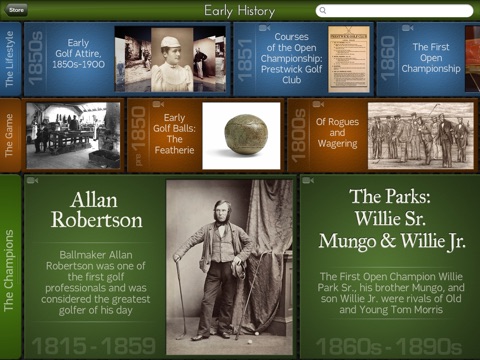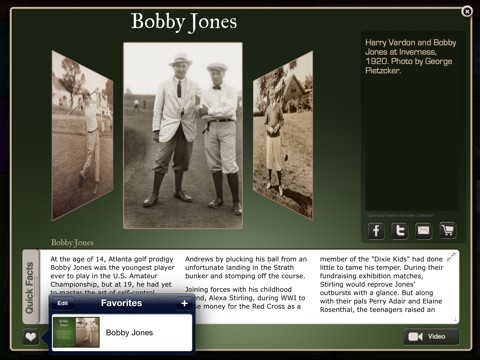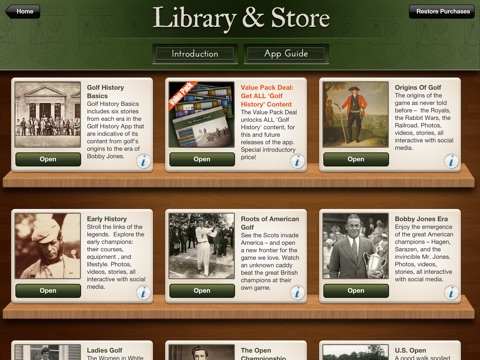 Customer Reviews
Looks good, but there issues... do NOT pay $1.99 per section!
Golf History App

Developers, your app is fantastic! However, there are five big issues that may lead users to delete the app before exploring it much.

We really like Peter Aliss, so it pains us to have to criticize the app!

1. The text is too small! There needs to be an option to resize the text-- different font sizes--and have it reflow inside the text box. Right now, many users, especially in the aging golfing set or golf watchers, will find the text too small to be read comfortably.

2. The app has a treasure of information, with a unique, inviting design. However, when it is opened up, it appears that *virtually everything* under lock and key. All sections but one are shown with a padlock! That's truly off-putting.

3. Unlocking each of those sections will cost the user $1.99, which would add up quickly. Given that there are 7 locked sections, users are looking at spending about $14 for the full app! That's far too much for an app that people will not be using every day.

Nickel and diming users and making us have to pay $1.99 for each section is tawdry! That's as bad as if golf courses were to charge patrons admission to *each* hole rather than to the entire course itself! If someone's interested in the history of golf, they're going to want the history of golf, not buy it piecemeal!

4. Quotes pop up out of the blue, along with pitches to give to certain charities. That's off-putting, too.

5. Design issue!

I was ready to delete the app entirely, but then discovered some interesting things.

a. There is a Value Pack, "hidden" inside the Store. You should have featured this prominently. It's not mentioned in your app tour-- in fact, that makes it look as if each section were UNLOCKED! So, it's even more of a let down to discover that, beyond the basics, all the sections require extra $. The Value Pack is also not mentioned when one clicks on any of the locked sections and is hit with the $1.99 come-on. You could have an "Unlock All Sections" button on the main screen. The VP, though, is $6.99, which is a tad steep!

b. Turns out that the app does include two parts of each of the locked sections (at least I think so), but that fact has to be discovered. Another silliness in the design. Starting off with all the locked boxes means that many won't even get that far.

You really should just drop this in-app purchase, pay-by-section approach entirely. Along with the sampling, give users one free section in its entirety (could be user choice!), and ask $4.99 for the complete package.

To be fair, especially as I'm one of the first reviewers, I'm going to give this 4 stars. Indeed, I recommend that people try it--there's much here, and it is initially free. Just don't fall for the $1.99 come-ons!
View in iTunes
Free

Category:

Sports

Updated:

Oct 25, 2014

Version:

2.000

Size:

293 MB

Language:

English

Seller:

EXULTO MEDIA, INC.
Compatibility: Requires iOS 6.0 or later. Compatible with iPad.
Top In-App Purchases
Value Pack - Unlock All Content$6.99
Origins Of Golf$1.99
U.S. Open Championship$1.99
Bobby Jones Era$1.99
Roots of American Golf$1.99
Ladies Golf$1.99
Early History$1.99
The Open Championship$1.99