Glow - Ovulation Calculator, Fertility & Period Tracker
By Glow
Open iTunes to buy and download apps.
Description
Glow is the world's best ovulation calculator and fertility companion. Glow's menstrual and ovulation calculator helps women learn about their fertility, whether avoiding or attempting pregnancy. Glow is an ovulation calculator that also records your period, mood, symptoms, sex, and medications; it also predicts your fertility and assists those undergoing fertility treatments like IVF or IUI.

Winner of 2014 Webby for best Health & Fitness app, Glow is an elegant, data-driven ovulation calculator & fertility tracker designed to help you take control of your reproductive health.

MONITOR YOUR FERTILITY
+ Innovative ovulation calculator and fertility charts, powered by sophisticated data analysis.
+ Forecast your ovulation and upcoming period with period tracker predictions that get smarter over time.
+ Community and partner support, not found on other ovulation calculators.
+ Personalized reproductive health and fertility insights based on your ovulation, period timing, and menstrual cycle.
+ Reminders about medications, birth control and/or other contraception.

PREMIUM FEATURES FOR FREE
+ Email yourself a PDF of your ovulation results and other health data.
+ Sync your health profile (including fertility data and ovulation days) to the cloud.
+ Sync with other health apps such as Jawbone, MyFitnessPal, Fitbit and Misfit.
+ Fertility treatment support for IVF or IUI patients.
+ Partnership with leading fertility clinics such as Boston IVF, Shady Grove Fertility and RMA NY.
+ Refill your birth control prescription at Walgreens or Duane Reade.
+ More than an ovulation calculator—the only period tracking and fertility companion that focuses on overall women's health.

TRACK YOUR FERTILITY
+ Daily health log helps you record over 40 different health signals, including BBT, cervical mucus, sleep, stress, weight, exercise, ovulation calculator and more.
+ Set medication, ovulation, contraception, and period tracker reminders.
+ Make beautiful charts of your menstrual, ovulation, and fertility data.
+ Review past periods, menstrual cycles and ovulation dates to better understand your fertility.
+ Five-day and monthly calendar views on period tracker show your next fertile window, ovulation day, upcoming period.

UNPARALLELED SUPPORT
+ Get support from the vibrant Glow Community, unmatched by other ovulation calculators.
+ Continue your journey on Glow Nurture, Glow's Pregnancy app.
+ Mirror app for your partner--because fertility's a team sport!

GLOW FIRST
Glow First is for those wanting to have a baby as soon as possible. If you choose to join and don't get pregnant, you will receive funds to help cover the cost of your infertility screening.

CONNECT WITH US
Web - http://www.glowing.com
Facebook - http://www.facebook.com/glow
Twitter - @GlowHQ
Instagram - @GlowHQ
Pinterest - @GlowHQ

If you are having technical issues or have any questions about your cycle or period, we're here to help. Please send us an email to: support@glowing.com
What's New in Version 5.2.0
This update is huge! HUGE! We've been taking notes on some of your most frequently asked requests and we've bundled them together in one glorious bouquet of love. From Glow to you:

+ You can now turn on and off your period predictions. This will be very helpful for our breastfeeding users as well as other women with irregular cycles.
+ Speaking of periods, you can now access and edit every single one you have ever logged into Glow.
+ Partner invite is now a snap.
+ Upvote/downvote topics and comments in our community, to quickly unearth great content
+ And for Glow users who are undergoing fertility treatments, we've greatly enhanced your fertility testing and workup log in the Me page. Go check it out!

As you can see, we're always working to make Glow better. If there's any way we can improve your experience on Glow, please message us at support@glowing.com!
iPhone Screenshot
Apple Watch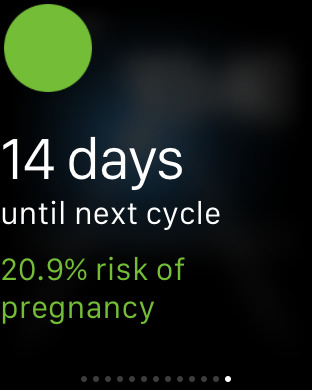 Customer Reviews
Okay...but....
I wish that when you wrote replies to people's post the second and third replies wouldn't go on TOP of the first one, then when u read them going down like normal, u r reading them in the wrong order and it gets confusing. ALSO I wish there was a better way to track your period, mine is late and every couple of days it says" You started your period today" and I DIDNT.... I just wish they took just a little bit more time on the details. It doesn't seem like the makers of this app actually USE the app. BUT besides those couple little things it's great! My period comes on the exact day that Glow says it will.. Besides this month ( might be pregnant) and the community of woman, all going threw the same things is great! You can talk to everyone going threw the same thing and the advice is great! Thank you for making this app
Tmi
I don't like that they have the community. Yes, it's good that they have women on there that can help with anything you may have questions with. But some of the women get down right gross and share EVERYTHING you need to know about their sex life including what their man looks like naked. I don't care. Another thing they complain about everything that goes on in their life and sometimes it's just random garbage. I wouldn't mind the community if it was more for educational purposes not to see who is prettier, smarter, who has the better sex life, and who is more dramatic. If I wanted all of that I would log into Facebook. Glow would be a great app if the community wasn't so gross, or if I didn't feel like I have to log into the community. I need an app that I can use to track my periods, moods, ovulation, and sex life, not an app where I have to compete and or be someone else when I talk to others. It's all good I found another app that is better. More clean.
Best App out their!
I've used a few fertility apps, I did enjoy a few, but I felt that they did ask enough about me and my cycle to give me a better idea of what to expect when I get to my fertility window. My hormones are usually all over the place, so I'm glad I can go back and review what my symptoms were and my mood on certain days most apps don't have that. It's easy to use, I'm only on my first cycle with this app so I can't tell you if it's precise, but I can tell you they give you a lot of options and information to help you along the process. I give it 4 stars for now, until I get through my first fertility window, but so far so good.
View In iTunes
Offers Apple Watch App for iPhone
Free

Category:

Health & Fitness

Updated:

Oct 27, 2015

Version:

5.2.0

Size:

48.5 MB

Apple Watch:

Yes

Languages:

English, Simplified Chinese

Seller:

Glow, Inc.
Compatibility: Requires iOS 8.0 or later. Compatible with iPhone, iPad, and iPod touch.