The Walk - Fitness Tracker and Game
By Six to Start
Editors' Choice
This app is only available on the App Store for iOS devices.
Description
Created with the NHS and the UK's Department of Health, The Walk helps you walk more, every single day. When you're playing The Walk, every step counts.

A bomb explodes in Inverness station, and you're given a package that could save the world. To stay alive, you'll need to walk the length of the UK. The Walk is more than just a great pedometer/step counter — it's a way to turn walking into a journey, a challenge, and a rip-roaring adventure.

Made by Six to Start and Naomi Alderman, creators of the world's most popular running game with over 800,000 players, Zombies, Run!

ENGADGET - "Simple, fun, effective."
JOYSTIQ - "Spices up your step-tracking with some danger and intrigue."
BBC NEWS - "Encourages users to walk 10,000 steps-a-day to help improve their health"
LIFEHACKER - "You're motivated to actually get up and move around so you can progress further into the story, and it works really well."

AWESOME ACTIVITY TRACKER
Just put your phone in your pocket or purse and we'll track every walk and run you take — and map it, too!

CAPTIVATING STORY
You'll walk the length of the UK while evading capture by the police and enemy agents. Can you work out who set off that bomb in the first place and what their plan is? Get ready for an epic adventure across 65 episodes, 800 minutes of audio, and hundreds of miles.

MOTIVATING GAMEPLAY
Get rewarded for walking more by collecting clues, scanning for information, and unlocking achievements.

ADAPTIVE
The Walk adjusts its difficulty based on individual fitness levels. Everyone's different, and we make sure we give you the right level of challenge!

OPTIMISED FOR M7 IN IPHONE 5S
Got the iPhone 5s? Then you'll love The Walk — we use the M7 to count your steps even more accurately and with even less battery usage.

NOTES
- Requires iOS 7. Works on iPhone 4, iPhone 4S, iPhone 5, and iPod Touch 5th gen.
- Continued use of GPS running in the background can dramatically decrease battery life. The Walk uses your phone's accelerometer to measure your movement, and primarily uses wifi and cell towers to track location. We also use GPS sparingly when for tracking your walking routes.
- To maintain constant tracking, you'll need to have 'Background App Refresh' set to ON for The Walk (Settings > General > Background App Refresh)

Follow us on Twitter: http://twitter.com/thewalkgame
Join our mailing list: http://www.thewalkgame.com
What's New in Version 1.3
Bug fixes for iOS 9 users
iPhone Screenshots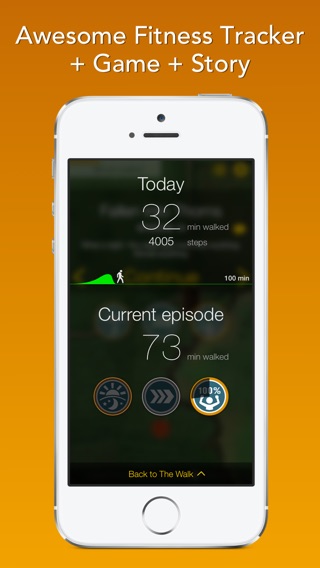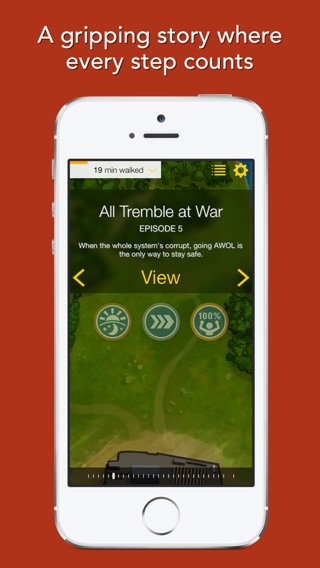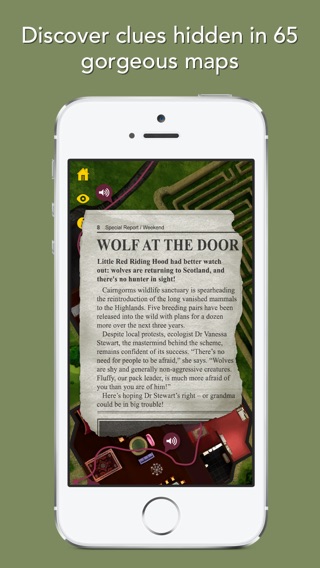 Customer Reviews
Current version too buggy
I'm enjoying the story, and wanting to find out the next part does encourage me to walk a little more (for example if I see I'm only 5 minutes away from the next story segment, I will get up and walk around the house until I get it) than I would have ordinarily. But the app is pretty buggy (I'm using iPhone 6S, iOS 9.3.2 currently but it has been this way for the last few iterations of iOS 9). My main issue is, that after opening the app about 3 times, on the 3rd try, the animations slow down drastically and are choppy, and the app is very slow to respond to touch screen input. Killing the app and restarting it does take care of it, but it gets annoying pretty fast. Also, restarting the app remembers my current place in the map but it resets the arrow/path chooser so several times I accidentally ended up on the shorter path and missed out on the collectible.

Overall I enjoy this app, but wish it would be updated to fix the lagging issue.
Awful customer supprt for buggy app
Like others, I am having issues with this game involving activity tracking. Sometimes it works OK and other times it will hardly track at all. I have had this game for some time but haven't used it in about a year so I remember it working much better in the past.

I contacted Customer No-Service and gave them many details, even the fact that it doesn't even track equally on 2 different devices. As well as not getting notifications from the app as I should.

After several e-mails with as many details I could come up with to help them track the bugs, they finally replied with "So you're aware, The Walk has been specifically designed to be a pedometer, not an activity tracker. Because of this it will only detect walking movement, not any more general movement you do during the day." And a very long list of how I had to be doing it all wrong and how I didn't understand how a pedometer/iphone accelerometer worked so I wasn't using the app correctly.

I sent them back an email addressing every one of their points on Saturday and today added a note that they should read the reviews on iTunes. I can't believe every one of us is so stupid we can't figure it out. If they get back to me with a better thought out response, even a "wow, we didn't know it was this bad" then I will give this app another star. If they get it fixed and I get an apology from them, then it will get more.
Haven't had any problems
I have an iPhone 5s, so maybe that effects my experience here, but I've had zero problems with this app. No glitches or overheating my phone or anything. Also, I *like* looking at the phone to scan the landscapes and deciding when I want to hear the parts of the story I've unlocked, both things others have complained about. I think these features allow you to engage in the game, and to use the app any time you're walking and only hear the story when it's convenient for you. The game is easy and it's encouraging and I like it. 😏 I just wish they'd release more stories for walking. I would be perfectly happy to buy them.
View in iTunes
$2.99

Category:

Health & Fitness

Updated:

Nov 16, 2017

Version:

1.3

Size:

851 MB

Language:

English

Seller:

Six to Start
Compatibility: Requires iOS 7.0 or later. Compatible with iPhone, iPad, and iPod touch.