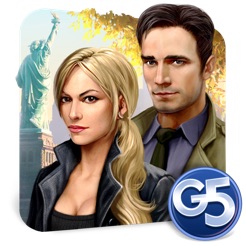 Special Enquiry Detail: Engaged to Kill™ (Full)
12+
Description
Use your hidden object skills to investigate the brutal killing of several young brides.
After solving a high-profile murder case involving a wealthy benefactors' daughter, SED detectives Turino and Lamonte must dive into the case of a serial murderer known as the Engagement Killer. Working the crime scenes and interviewing key people brings the two detectives into a web of clues and false leads. Help them gather facts and collect evidence to catch the killer before he strikes again. Immerse yourself in Special Enquiry Detail: Engaged to Kill and help bring the perpetrator to justice!

● Six highly intriguing chapters
● 44 locations to examine
● 22 mini-game puzzles to solve
● A challenging case with multiple suspects
● Game Center Support
____________________________

Game available in: English, French, Italian, German, Spanish, Portuguese, Brazilian Portuguese, Russian, Korean, Chinese, Japanese
____________________________

*NOTE* This game only supports Mac OS 10.7.4+ firmware.
____________________________

Sign up now for a weekly round-up of the best from G5 Games! www.g5e.com/e-mail
____________________________

G5 Games - New game apps every week !

Collect them all! Search for "g5" in Mac App Store!

Adventure:

▶ The Secret Society® - Hidden Mystery
▶ The Cursed Ship, Collector's Edition
▶ Left in the Dark: No One on Board
▶ Twin Moons
▶ Mystery of the Opera

Strategy:

▶ Virtual City Playground®
▶ Supermarket Management 2
▶ The Island: Castaway® 2
▶ Supermarket Mania® 2
▶ Stand O'Food® 3
____________________________

VISIT US: www.g5e.com
WATCH US: www.youtube.com/g5enter
FIND US: www.facebook.com/g5games
FOLLOW US: www.twitter.com/g5games
Ratings and Reviews
Great one!
Good story. Great graphics. The hidden objects are a little tricky to find so you can't rush through the scenes like on some other games. You really have to search for some of them, but don't give up because that's what makes this game superior to others. The hidden objects really are hidden! Fun mini games. The story keeps it moving along and isn't just a bridge to the next hidden object puzzle. Map allows you to jump from place to place. Hints gives you just enough to solve it on your own, and you can skip mini games if they are too difficult. I've played a lot of hidden objects game and this one is very good. Worth the price.
Major Bugs! Need to be fixed!
This game isn't the best of the G5 games, but it was pretty fun, until the power station. When you hit the power station, it is a well known bug that if you don't pick up a certain set of gold pieces from the fuse box when they are offered, you cannot pick them up later! The hint will literally just tell you to flip the same switch on and off and you cannot progress any further. At this point, it is stupid to start the game over so the game becomes literally halted at one point and is entirely not fun any more. Without this bug fixed, the game isn't worth playing, even if it were free.
Special Enquiry Detail: Engaged to Kill
Great story, I enjoyed the graphic novel sections too. I didn't give it a full thumbs up because there are glitches on the mac. I had to restart twice. First I was stuck at the elevator when the second wire could not be retrieved from the grate and then I was stuck at the limo when it wanted me to place the jack when it was already there.
Information
Seller

G5 Entertainment AB

Size

820.1 MB

Category

Compatibility

OS X 10.4.1 or later

Languages

English, French, German, Italian, Japanese, Korean, Portuguese, Russian, Simplified Chinese, Spanish

Age Rating

Rated 12+ for the following:

Infrequent/Mild Horror/Fear Themes

Infrequent/Mild Realistic Violence

Infrequent/Mild Alcohol, Tobacco, or Drug Use or References

Copyright

© 2013 - 2019 G5 Holdings Limited. Published by G5 Entertainment AB. All Rights Reserved.

Price

$6.99
Supports
Game Center

Challenge friends and check leaderboards and achievements.

Family Sharing

With Family Sharing set up, up to six family members can use this app.