אדריכלית
By rana nir
This app is only available on the App Store for iOS devices.
Description
האפליקציה אדריכלית באה לשרת את קהל האדריכלים ,מעצבי הפנים ומפקחי הבניה.
באפליקציה תוכלו לנהל מספר פרויקטים לכל פרויקט יש את המאפיינים שלו.
שעות העבודה:
זמן שהושקע בכל הפרויקט ובכל שלב :תכנון ,פריסות, פגישות וכדומה
ניתן להוסיף סוגי שעות במנהלן.
כך שתרצו לתמחר פרויקט אחר תוכלו לדעת כמה השקעתם בפרויקט מסדר גודל כזה.
ניתן לתעד את התקדמות בתמונות הפרויקט.
חומרים:
כל סוג חומר שהשתמשתם בפרויקט ניתן לתעד מיקום החומר סוג
בצורה זו ניתן לשלוף איזה צבע השתמשתם בכל חדר או סוג אלומיניום.
ניתן להוסיף סוגי חומרים במנהלן.
תקציב:
ניתן להוסיף סעיפים תקציביים לפרויקט לכל סעיף לשייך בעל מקצוע ועלות.
סך הסעיפים יוצרים את עלות הפרויקט.
ניתן להוסיף סעיפים תקציביים במנהלן.
תשלומים:
נתון זה מדבר יותר למפקחי הבנייה ולמשפצים הפרטיים,
כל תשלום ששלמתם ניתן לתעד מבחינת סעיף תקציבי צורת תשלום תאריך וסכום.
כך שיהיה מעקב על כל התשלומים.
ניתן לסנן תשלומים לפי סעיף תקציבי.

גיבוי – במסך מנהלן ניתן לגבות את כל הנתונים ולאחר מכן לשחזר

כל הנתונים יושבים רק במכשיר!!!
האפליקציה נכתבה בייעוצה של גלי שרון עיצוב פנים ואדריכלות
iPad Screenshots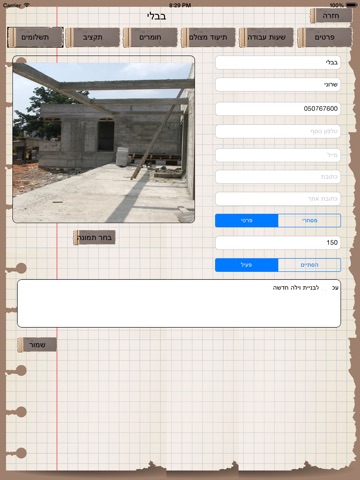 View in iTunes
Free

Category:

Utilities

Released:

Nov 28, 2013

Version:

1.0

Size:

5.5 MB

Language:

English

Seller:

rana nir
Compatibility: Requires iOS 6.0 or later. Compatible with iPad.