Crash Drive 2
By M2H
Open the Mac App Store to buy and download apps.
Description
Free from M2H: A sequel to the awesome Crash Drive 3D! Pick your car at the garage and get ready for some ridiculously fun free-roaming.

Whether you're driving a bus, a classic muscle car, or a monster truck—you go your own way in this multiplayer stunting game. Speed across a huge map equipped with plenty of bizarre terrain to make the race intense. Collect coins, upgrade your ride, and WIN the offroad race!

⊗ Multiplayer gameplay
⊗ 6 random competitive events: Coin Collect, King of the Crown, Race, Tag, Stunt, Find the Ring
⊗ 4 huge levels to explore…can you find all the secret areas?
⊗ Highscores and leaderboards
⊗ Free credits every day you play
⊗ 30 unique vehicles to unlock
⊗ Special car-leveling system
What's New in Version 1.11
- Fixed Snow 5/8 rings issue (thanks for reporting!)
- Fixed Shady dealer being too shady in Forest
- Removed Christmas content
Screenshots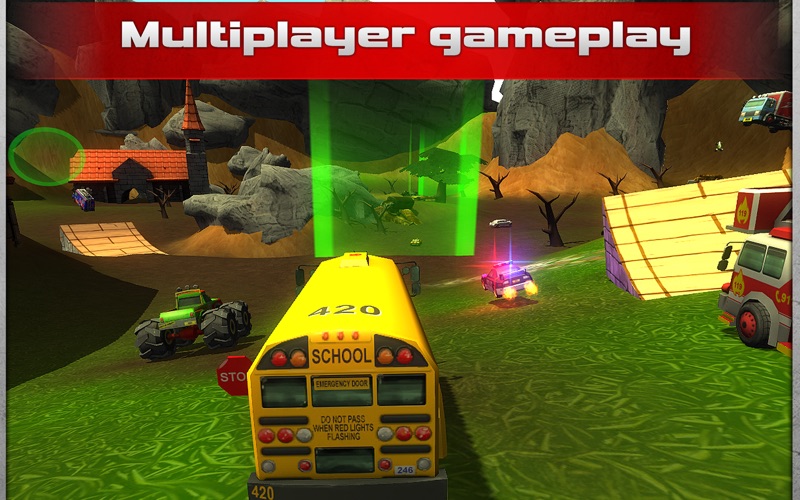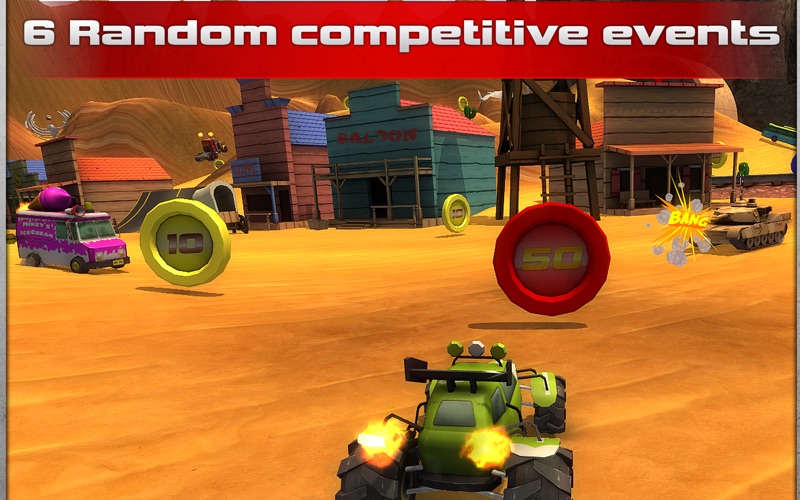 Customer Reviews
terrible
steering glitches for sure and then you wait for 30 minutes for an event to start and nothing happens, so you are just driving around doing the same "tricks" over and over running into other players, really it would be fun for an 8 year old. sometimes you are in a race or something and you want to accelerate so you continue to hold down the up arrow and nothing happens. Likewise, when you want to steer to keep yourself on the path to win, you never know when you will have to push the left or right arrow again, so every now and then you end up way off the track and again, you will not win the race unless a miracle happens. You have to press the button again to make it register and by that point you are so far behind in the race you will never be able to catch up. sorry for the negativity, but it is a really bad glitch issue. If that was fixed it would be fairly enjoyable. As it stands, if you play this game you will encounter these issues unless it's just my brand new macbook pro, which I doubt. And you can't really see where you are going if you have a target that is up high. You have to get onto a hill and aim your vehicle at the place you are trying to go, there is no way to just look around, so the view of the vehicle should be farther behind to get a bigger picture of what is in front and above you. all in all, a good idea, poorly executed.
CAR COLOR CUSTOMIZATION OPTION!
How about allowing us to change the styles of our cars so we can show what our imaginations are made of! Change your Red Industrial Truck into a "Blue Flame" Industrial Truck! If we are allowed to change car colors, it wouldn't make sense to force us to pay for the change, that just wouldn't sound right. Instead of allowing us to only change the whole color of the vehicle with just one color, lets us be able to change all sorts of spots on the cars like the rims, the windows, the engines (muscle, hotrod, and pimpmobile), maybe even the extra parts that other cars may not have like the ladder on top of the fire truck, the snowplow's plow, the color of the monster truck's wheels, the soda on the energy car, and it would be awesome to edit the color of your nitrous when you use it!
I hope this could be a great suggestion for everyone and probably be possible during the current or later versions.

See ya on the tracks,
Jaguarseth
Stuck at Level 31
This was a great game. But then I made it to level 31 and this glitch started to happen: I can roam freely with the other players until an event starts. Then, all names in the Players list are replaced with "Disconnected" except my own name. (and I'm definitely not disconnected from the internet). I am unable to obtain the final achievement, too. It says I need to win 100 events. I've won nearly 200 and it never seemed to register. So I'm going to have to uninstall and reinstall to start from the beginning. Until this bug is fixed, I recommend players stay below level 30 to be safe. It's just no fun trying to interact with players and then they all disappear when an event starts. I am then brought back into either the same group or a new group of people once the event ends. So frustrating. Otherwise, it's a really addicting game despite how simple it is. I hope this bug is squashed soon.
View in Mac App Store
Free

Category:

Games

Updated:

Jan 06, 2014

Version:

1.11

Size:

107 MB

Language:

English

Seller:

M2H
Compatibility: OS X 10.6.6 or later
Top In-App Purchases
Sabotage the shady dealer$0.99
Cash Pile$0.99
Cash Stacks$1.99
Cash Bag$4.99
Cash Briefcase$9.99
Cash Vault$19.99
Cash Container$79.99
Cash Truck$49.99