Paul McKenna - 7 Days Thin, Sleep, Confidence, Phobias Plan
By Once Byten
This app is only available on the App Store for iOS devices.
Description
Get in Shape this Summer.

Even though this is a paid app, you can try the first day FREE. If you like it, please buy the full system.

This app is designed to psychologically reboot your life by altering your thoughts, habits and patterns related to weight loss, confidence and sleep. Over seven life-changing days, I will serve as an interactive virtual hypnotherapist, guide and mentor, with customized coaching to serve your needs.

Here's what people are saying after only a few days :

I Can Make You Thin - 5 Stars by Rachel_mac79
I'm nearing the end of 1st week and i can't believe the difference. I was sceptical. But after yoyo dieting for 10+ years I knew I had to try something different. Paul's words ring true and I have tried to follow word for word and it's really working!!!! It's amazing.

Awesome - 5 Stars by MichellePhoenix
This app is perfect. I am on day 4 of the sleep portion of the app & I plan to do the other 2 sections of the app as well. I really feel my 20 year struggle with insomnia is coming to a close thanks to Paul's app.

Weight loss made easy.!! - 5 Stars by Paul from Ireland
When you see how easy it is to lose weight by following the '4 Golden Rules', you'll never go back to diets again. 5 Star app.

Fantastic!!!! - 5 Stars by Annez De Sahntis
This app makes everything so much easier! For those who want to loose weight without
 effort , this app offers the perfect assistance!! A beach body is 2 months away! :)

Like it - 5 Stars by Mazzaclem
Good app the regular check in and texts they send you are a nice touch. Love the app though just eating what i want and enjoying it. I have not been dieting and still losing weight. Great

————

THIN, SLEEP, CONFIDENCE & PHOBIAS – the app's Four focus areas – are easy-to-follow programs that retrain and reprogram your thought patterns over the course of seven days to activate weight loss, beat insomnia and achieve maximum confidence.

I Can Make You Thin
I want to help you lose weight and change your relationship with food forever. All your decisions about what you eat and how much you eat, take place in your mind. Let Paul help you reprogram your mind using the latest psychological techniques.

I Can Make You Sleep
If you want to sleep longer and much deeper, let me help you. I've been helping people improve their sleep for over 20 years. This interactive app is designed to help you make small changes in your life and reprogram your mind to help you get the sleep you want.

I Can Make You Confident
If you want to learn to reduce fear and desperation and increase confidence and motivation to go for what you truly want in life, let me help you with this 7 day plan and 14 days of consolidation to help you become more confident.

Phobia Treatments
If you want to reduce your fear of every day situations and be free to live your life then let me help you with the quick audio sessions.

Chose from : Agoraphobia, Being Alone, Claustrophobia, Dentists, Dogs, Driving, Flying, Heights, Needles, Public Speaking, Spiders & Water

Paul McKenna, PhD. is an international best-selling author whose books have sold more than seven million copies and been translated into 32 languages. He is the number one hypnotherapist in the world, and is renowned for helping people overcome problems that usually take months to work through, in a matter of hours. Recognized by The Times of London as one of "the world's most important modern self-help gurus,"

Find out more at www.paulmckenna.com

For support and questions please visit https://oncebyten.zendesk.com

Do not use this app while driving or operating machinery, or if you suffer from epilepsy please consult you doctor first. Use the app when you can safely concentrate and in required situations relax completely
What's New in Version 1.3
Keep up the great work with your plan. This update fixes a few bugs affecting a small number of users.
iPhone Screenshots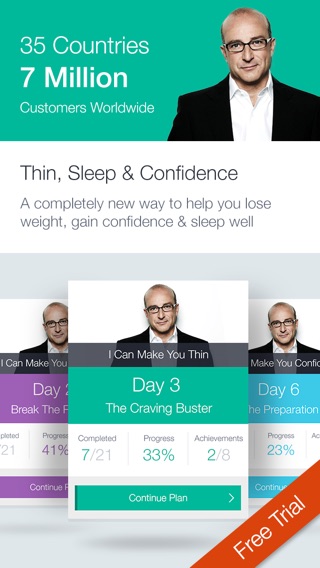 Customer Reviews
Paul McKenna - 7 Days Thin, Sleep, Confidence, Phobias Plan
Paul McKenna appeared to be an expert hypnotist on Dr Oz. However after 4 years I expected at least a functioning app. Downloaded to my iPad 4 with IOS 9.3.1 and the app is cutoff halfway down. Other than swiping left and right no options are accessible. Going to the App Support link in iTunes yields only a revolving door of no contact information. You must already have an account to submit a request and no options to create an account.
TOO BAD Paul McKenna is unable to hypnotize his software developers. Seriously, IOS has a controlled compatibility maze to traverse.
This kind of non-functional app and support paradigm reflects on the skill and integrity of the author.
Phobias need work.
Update-2017-total ripoff. None of his apps appear to be updated for ios11 but regardless had not been working well. Created to make him $$. Stay away from this.

Update--reduced from 3 to 1 star after having used for a while.
Recordings are very buggy. Lots of good info BUT!!!!---phobias NEED a panic button. The Tapping method is great it is at the end of intro. When in panic---REALLY--could use a tapping talk through. For the $$cost ---crazy this is laid out like this. No panic tap, no fast forward, no rewind. Of All THE apps---THIS SHOULD not be so FRUSTRATING!! (Sorry for all caps--I'm stressed)
------
The phobias are not a "7 day plan" and have no "panic" button and is identical to set up in the phobia app. Purchases do not cross between apps. Also, no way to review the 3 suggestions without listening to the entire thing again. Yuck.
As for the 7 day plan. Not bad--Except the hypnotic sessions end very abruptly. Seems odd. Otherwise well laid out & panic button is nice.
Works well
I'm not sure why some people didn't like this app. It worked perfectly for me. The nighttime meditation is great. Plus I now do not have a corn chip addiction. Highly recommended. Worth the price.
View in iTunes
Free

Category:

Health & Fitness

Updated:

Dec 17, 2015

Version:

1.3

Size:

190 MB

Language:

English

Seller:

Once Byten Ltd
Compatibility: Requires iOS 6.0 or later. Compatible with iPhone, iPad, and iPod touch.
Top In-App Purchases
I Can Make You Thin$6.99
I Can Make You Confident$6.99
I Can Make You Sleep$6.99
Phobias - Public Speaking$4.99
Phobias - Agoraphobia$4.99
Phobias - Flying$4.99
Phobias - Being Alone$4.99
Phobias - Driving$4.99
Phobias - Claustrophobia$4.99
Phobias - Needles$4.99