Cockatoo for iTunes
By Nikolai Nagornyi
Open the Mac App Store to buy and download apps.
Description
iTunes is a player by default on Mac and many prefer to use it for listening music.
If you one of those who uses iTunes to listen to music, you can be interested in simpler way of management in it, doing thus other things on your Mac.
Yes, you can control iTunes from its interface and also from the Dock (right-click the iTunes icon), but this way is not suitable for all users.

The problem is solved! Cockatoo quietly waits for you behind the left or right border of the screen, without occupying extra-space. You need to move only a mouse to edge and all your music before you.

Features:

• Always visible on top of other windows, allowing you to control iTunes with a single mouse-click.
• Automatic start iTunes when you start Cockatoo.
• Display information about the currently playing track.
• Navigating the track and volume control.
• Next / previous track .
• Select the playlist or track.
• Choose the location Cockatoo (right or left) .
• Updated interface when changing desktop wallpaper.

If you have any suggestions for improvement of Cockatoo or to addition of new functions, you can leave your wishes in comments.

If you have questions on Cockatoo use, don't hesitate, address in a support service. We have no opportunity to answer you in comments.
What's New in Version 1.1.1
Bug fixes
Screenshots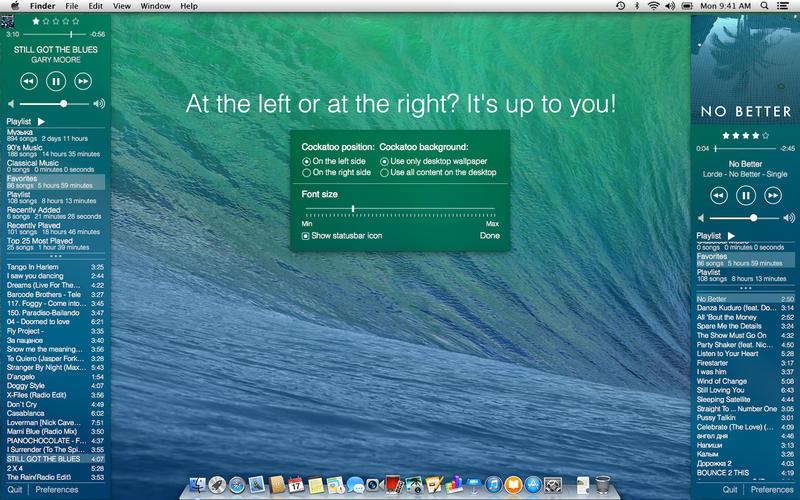 Customer Reviews
Love this!
This application really is great. Usually I would have itunes in another space so i wouldn't have to keep switching back and forth in mission control if I wanted to change songs. Been doing it that way for a few years and it gets rather annoying at times. Finally a solution to my problem. Also I have a mac pro with 2 monitors and when I first installed Cockatoo I changed the position to the rightside which made Cockatoo crash. Bringing my curser to the rightside of my main monitor did nothing and also going to the righside of my second monitor did no make Cockatoo pop out
(My second monitor is to the right of main monitor). I opened activity monitor, made Cockatoo force quit, diabled my second monitor then launched Cockatoo again. Doing that made Cockatoo pop out when i brought my curser to the rightside of my main monitor since the second monitor was disabled. When into Cockatoo's preferences and switched it back to being on the leftside and enabled my second monitor. Works compeletly fine after that. Figured I'd share that if anyone runs into the same problem.

A must get application for music lovers who want a convenient way to control itunes and free screen space. :-)
BUGGY! Don't buy this till it's fixed.
So it apparently does not work with multiple monitors.. I installed this thinking awesome a transparent itunes skin.. but well, it opens fine.. but when you hover over it.. it bounces to the other screen.. when I go to click on it on the other screen it bounces back to the orginal screen. and ohh by the way.. the only way to close the app is to click on the cockatoo app itself. you know.. the one that you cant click on because it bounces back and forth between screens when you attempt to select it. Took me about 30 tries with the mouse cursor in just the right spot to get it to stop.

Developer has some work to do… He needs to add more functionality to this and fix the bugs.

1st: Let me place it where I want on the screen.. don't limit it to either right or left side of screen and forcing it to mount to edges.. that's whats causing the bouncing. It's the autohide function.. !!!! it keeps hiding between screens. Truth is .. I don't want it hidden.. that's what the transparency is for..

2nd: Give customers an option to shut down the app from either the dock or from the small icon on the menu bar.

3rd: How about letting us have more control over the transparency of the app itself.

The idea of this app is awesome.. but alas.. it doesn't work and I've requested my money be refunded.
my guess is if you only use this on your mac with one screen it probably works. but I wouldn't know as I use 4 monitors with my macbook.
Worked, Now it doesn't.
I went for the paid edition and it installed with no problems. It ran for a few days and when I did a restart on my Macbook Pro it never loaded up, so I went into applications clicked on the icon and it came up for a quick second and then crashed. I also did an uninstall and re-downloaded it. Still starts and crashes.
View in Mac App Store
$5.99

Category:

Music

Updated:

Apr 02, 2014

Version:

1.1.1

Size:

2.5 MB

Language:

English

Seller:

Nikolai Nagornyi
Compatibility: OS X 10.9 or later, 64-bit processor