Checkmark 2
By Snowman
This app is only available on the App Store for iOS devices.
Description
Checkmark is back with an all-new design and great new features, including Lists, Location Groups, One-tap Rescheduling, a Today widget, and much more!

"Checkmark is definitely worth a look"
– Macworld (Staff Pick)

"Get your life in order with Checkmark 2"
– TIME

"One of the most sleek and powerful to-do apps"
– Cult of Mac

"Checkmark is a brilliant to-do app"
– Lifehacker

"An excellently built app"
– L.A. Times

"An impressive to-do app"
– The Guardian

"Looks fantastic and does the job perfectly."
– Beautiful Pixels

"An incredibly solid app"
– AppAdvice

"Checkmark 2 is a pleasure to use"
– TUAW

"My favorite location-based reminders app"
– Shawn Blanc

- - - - WHAT'S NEW IN CHECKMARK 2 - - - -

• All-new Lists feature great for projects (school or work) or for simple lists (movies and food)

• Location Groups – create reminders for multiple locations at once, like for multiple grocery stores

• One-tap rescheduling (easily push a due date ahead by minutes, hours, or days in one tap)

• Recurring reminders are now customizable

• Date-specific location-based reminders

• New alert options - pick your favorite sound!

• iCloud support (data backed up in the cloud)

- - - - LISTS FOR WORK OR PLEASURE - - - -

Powerful enough to manage projects, but perfect for everyday things, too.

• Super quick-entry: just type and hit "return" to continuously add tasks

• Use Headers to organize your list by category – great for managing projects or for complex shopping and packing lists

• Drag-and-drop to prioritize and reorder your list

- - - - - LOCATION-BASED REMINDERS - - - - -

Create location-based reminders in only 3 taps!

• Add your favourite locations from a map, your contact list, or your current location

• Group multiple locations together – like 3 different grocery stores, and your reminder will go off if you arrive at any of the locations

• Add a timer to location-based reminders, so the alert goes off when you're ready – like 15 minutes after you arrive home

• Setup date-specific location-based reminders – like: "Remind me to take out the trash when I get home from work on Thursday"

• View a list of all your tasks, sorted by distance

• Customize your location screen any way you like!

- - - - - - - TIME-BASED REMINDERS - - - - - - -

Faster and easier than using a calendar!

• Create date and time-based reminders in seconds

• A handy new Today widget lets you see any reminders due today, right from your Lock Screen

• One-tap rescheduling makes it easy to move that reminder ahead by a few minutes, hours, or days

• Setup recurring reminders for things you need to do daily, weekly, bi-weekly, monthly, or custom!

• Easily identify overdue tasks in the new Overdue section

• See what's coming up today, tomorrow, and in the next 7 days with a quick glance

44f9ea149e
What's New in Version 2.5
We've got a great new update for Checkmark for you today. Sorry it took so long, and thanks for being patient :)

CHECKMARK WIDGET

There's a brand new widget available in Notification Center that will show you any tasks that are due today. Swipe down from the top of your screen from anywhere and see what's on your plate today.

To turn it on, just head to Notification Center, and head to Today, then scroll down to the bottom and tap Edit. Tap on the "+" sign beside Checkmark 2, then drag/reorder its position wherever you like it.

INTERACTIVE NOTIFICATIONS

You can now interact with a Checkmark reminder directly from the lock screen. Swipe from right-to-left to bring up the option to mark a reminder as complete. You can also mark reminders as complete when they roll down while you're using another app, similar to how you can reply to a new iMessage when it appears.

OPTIMIZED FOR iPHONE 6 and 6 PLUS

We've optimized the Checkmark interface to look great on your shiny new iPhone 6 or 6 Plus. Works great on older devices as well!

iOS 8 SUPPORT

Checkmark 2 is now fully iOS 8 compatible.

BUG FIXES & IMPROVEMENTS

We've made a bunch of changes to the iCloud sync to ensure it's more stable and reliable. We've also made some other performance tweaks and minor enhancements.

- - - - - - - -

Thanks for being patient and supporting us <3

If you have any feature requests, please send them to: feedback@builtbysnowman.com

For support or troubleshooting you can visit the in-app Help, or contact us at: support@builtbysnowman.com

Thanks :)

– Snowman

PS: if you're enjoying the app it'd be awesome if you could take a moment to rate it in the App Store. It really helps!
iPhone Screenshots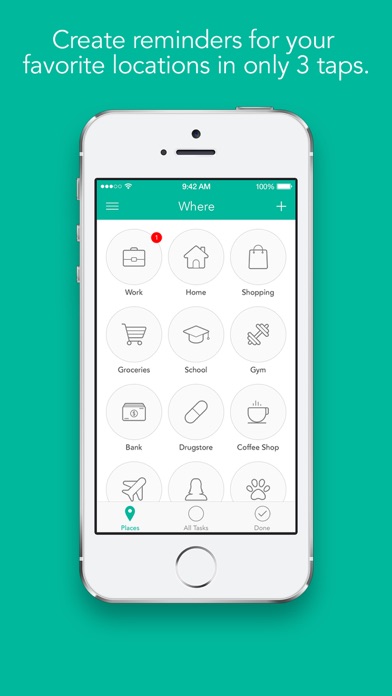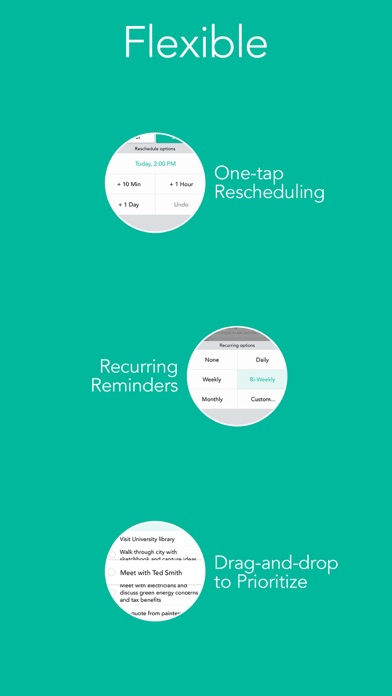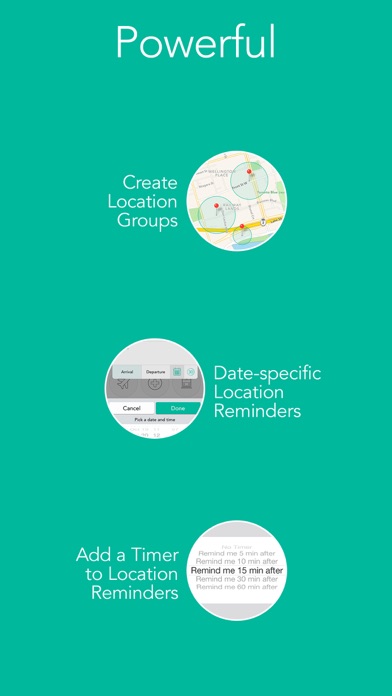 Customer Reviews
Not recommended
This app is very pretty. That's really why I bought it, since Reminders is sufficient for my needs, but ugly. Well, it turns out I swapped looks for function, and it was definitely not worth the $.

First, a lot of people love the location based reminders, but I cannot use them at all. All of my "where's" keep occasionally activating when I'm just sitting at home. Maybe just a bug which will get fixed? Maybe.

Next, and most important to me, Checkmark 2 cannot do two simple things that reminders can: you can't check off a recurring task until after it is due (no getting your tasks done early!), and you cannot add a task without entering an exact time. Sometimes I want to see a task on my "When" list but don't yet know the exact time I want to schedule it for, so that's a bummer.

I regret the purchase so far. Reminders is better. I hope to see improvements because I do like the way this app looks.

Update: I am now able to check off tasks which I complete early. Hooray! Maybe further improvements are on the way too?
Needs recurring location based reminders
This app is everything I need in location and time based reminders. The only thing it's lacking is no recurring location based reminders. Yes of course you can ignore the reminder but when I arrive and leave a certain location multiple times a day it can get annoying. Until a recurring location based reminder is implemented this app will continue to be 4 out of 5 stars in my opinion.
Great but ruins audio...
This app is exactly what I needed. But it has a glitch that when you are listening to music and a reminder comes on, it lowers the audio of iTunes, but it doesn't raise it back up again! Without noticing you will turn up your headphones again, then when you get a call it will be super loud because you adjusted your audio level.
It's so close to being an amazing app, but has this fatal flaw....
View in iTunes
$4.99

Category:

Productivity

Updated:

Dec 11, 2014

Version:

2.5

Size:

20.4 MB

Languages:

English, French, German, Italian, Spanish

Seller:

Snowman
Compatibility: Requires iOS 8.0 or later. Compatible with iPhone, iPad, and iPod touch.