Acorns - Invest Spare Change into Stocks
By Acorns
Open iTunes to buy and download apps.
Description
Acorns is an app, FREE to download, that invests your spare change from everyday transactions into your very own diversified portfolio. You can easily get started in minutes: anytime, anywhere.

· Intelligent Investing ·
A simple and intelligent automatic investment system not only helps you invest regularly but also optimizes your investment through diversification and automatic rebalancing. In other words, we buy low and sell high without you having to keep an eye on things.

· Bank Level Security ·
Your peace of mind is our highest priority. Acorns protects your information, prevents unauthorized account access, and notifies you of unusual activity.

· Low Fees ·
No commissions, ever. It's always free to move your money into and out of Acorns. Using Acorns for a year costs less than what most traditional brokerages charge for just two trades.

*Once you invest, Acorns is only $1 per month for accounts under $5,000 and 0.25% of the account balance per year for accounts of $5,000 or more.

HOW WE INVEST

· Diversification ·
Acorns seeks to maximize expected returns for a given amount of risk by carefully diversifying across multiple asset classes. The mathematical framework used for this diversification is called Modern Portfolio Theory.

· Automatic Rebalancing ·
Acorns automatically rebalances your portfolio during market fluctuations to mitigate risk and optimize returns.

· Low Cost ·
Acorns invests in low cost ETFs and passes these savings on to the users in the form of low management fees. Using Acorns for a year can cost less than some traditional brokers charge for two trades.

Download Acorns now for FREE! Charges do not apply until you decide to invest. You can always choose to withdraw anytime with no fees.

See what the press has to say:

"Acorns could radically change the narrative of this generation, transforming them from post-recession conservatives to savvy financial risk takers." - WIRED

"This could prove to be an inexpensive way of introducing young people to the world of investing at ages for which compound interest can become a powerful tool." -Bloomberg Businessweek

"Young people may not have enough assets to meet the minimum requirements of big financial houses... With Acorns, there are no minimums. There are also none of the commissions that can render investing in small doses prohibitively expensive." -TIME
What's New in Version 1.0.7
• Moved all round-up information to one place on the Round-ups screen making it easier than ever to see how much you've invested from Round-ups and your recent transactions at the same time.
• Added a breakdown of how your holdings of the different Index Funds contribute to your overall account value. Simply tap the account value number on the Positions screen to see the breakdown.
• Bug fixes and general usability improvements.
iPhone Screenshot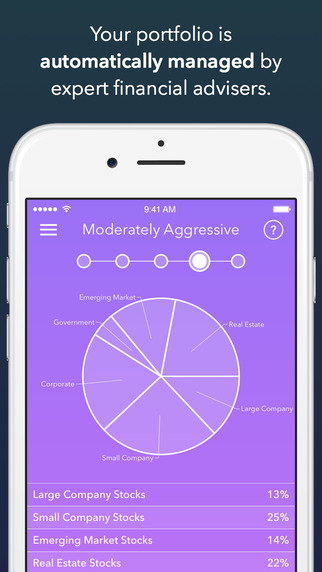 Customer Reviews
I really enjoy this
Okay so i have been using Acorns for a month now and so far i really like it. I heard about it from a friend and read about it on forbes and thot why not. Setting everything up was easy with little confusion. Waited for my account approval emailed them on that after 2 days. They responded quickly with my account being approved. I did not need to give them copies of an ID or anything. I am guessing those who end up doing that it is because their systems security measures. I threw $5 in and by the end of the month i had 30$ i hit withdraw took a few days got it. While i see others saying this investment thing is expensive i have nothing bad to say on it. It does what it says it does and is great for putting away spare change. I mean come on there will always be risk with investing you gain and lose that isnt gonna change. And for what they offer to us at low cost deposits to do this i think the percentage thing is fine and worth it. Its great for building up change plus i kinda have fun just using the app itself. I dont mind mint integration did not hit i dont use it anyways. And even with the web thing eh i like that this has been mobile. I mean i dont know of too many mobile apps that do this! And with todays generation this is right on the level. I love this app it does what it says it does.
Five star idea, one star execution
Update: the issues with Acorns infrastructure are getting worse. Now their servers are down at least 3 times a week. Support keeps responding with the same message about growing pains. The web app, repeatedly promised to be delivered in January, isn't there. Neither is Mint integration. Therefore, I am downgrading this review to 1 star.

Let me start by saying that the idea of a no-hassle pocket change investment is truly a great one. After less than a year, I have an impulse buy account that is generating more than my savings portfolio is. With that said, this is not an app-around investment solution. Acorns is great for people who would not be investing otherwise, as it takes the entry barriers away. But, in return, it is expensive and it gives users little control. In other words, if you have less than 5 grand in your savings account and are tired of 0.5% returns annually, this app is for you.

Unfortunately, the technical execution is also lacking. At best, the app is slow to load the account history. On most days, it will not connect to the servers at all. While this does not affect the account, it does not do much for the idea of hassle-free always-at-your-fingertips small scale investment solution that Acorns is selling. Please beef up your server capacity and provide integration with personal finance services!
Easy and an great way to invest
Works as advertised. Like some people say the fingerprint ID doesn't work all the time but entering the password always works for me at least. I've saved up a couple hundred $'s in a short time that I otherwise would not have. Simple options so no need to research stocks as they offer a handful of funds with a "risk" factor involved. I have the moderately aggressive fund chosen and it's performed at 3% gain over a month, not great but better than a savings account. It also has a "projected" balance which you can slide around and see what you balances would be under different scenarios. I would recommend this to anyone who wants to just put away a few dollars and have a rainy day fund due to it's ease in invensting money and decent returns. Serious investors need not apply as there is not enough fund types or freedom to satisfy saavy investors, but it is great for what it is. I can easily see myself putting away a couple thousand a year that I otherwise would not have.
View In iTunes
Free

Category:

Finance

Updated:

Feb 02, 2015

Version:

1.0.7

Size:

16.4 MB

Language:

English

Seller:

Acorns Grow Inc.
Compatibility: Requires iOS 7.0 or later. Compatible with iPhone, iPad, and iPod touch. This app is optimized for iPhone 5, iPhone 6, and iPhone 6 Plus.