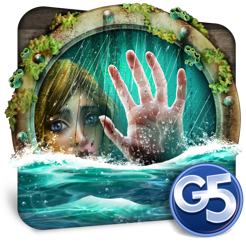 The Cursed Ship, Collector's Edition (Full)
12+
Description
Head out to sea to reveal the shocking secrets of the Cursed Ship!
The Ondine, the biggest and most luxurious cruise ship ever built, departed on her maiden voyage. But her enormous pools, ornate casinos and grand ballroom were never seen again. Now the Trident Corporation has sent you to locate the ship and rescue the remains. During this dangerous mission, you lose all forms of contact, discover a mysterious mirror and find yourself in a very odd place, where everything happening around you is somehow occurring in two parallel worlds!
Which world is real, and which one is just a hallucination? Are the people you meet really alive … or are they ghosts? Search every deck of the gigantic ship for clues, solve challenging puzzles and master entertaining mini-games on your way to the breathtaking truth!

● Over 100 quests to solve
● 66 amazing locations to search
● 43 fun puzzles and mini-games
● Six enigmatic characters to question
● Two game modes: expert and regular
● Game Center Support
____________________________

Game available in: English, French, Italian, German, Spanish, Portuguese, Brazilian Portuguese, Russian, Korean, Chinese, Japanese
____________________________

Sign up now for a weekly round-up of the best from G5 Games! www.g5e.com/e-mail
____________________________

*** G5 Games - New game apps every week ! ***

Collect them all! Search for "g5" in Mac App Store!

Adventure:

▶ The Secret Society® - Hidden Mystery
▶ 9 Clues: The Secret of Serpent Creek
▶ Nightmares from the Deep: The Siren's Call
▶ Mystery of the Opera
▶ Tales from the Dragon Mountain: the Lair

Strategy:

▶ Virtual City Playground®
▶ The Island: Castaway® 2
▶ Supermarket Management 2
▶ Stand O' Food® 3
▶ Virtual City®
____________________________

VISIT US: www.g5e.com
WATCH US: www.youtube.com/g5enter
FIND US: www.facebook.com/g5games
FOLLOW US: www.twitter.com/g5games
G5 End User License Supplemental Terms: http://www.g5e.com/G5_End_User_License_Supplemental_Terms
Ratings and Reviews
One of the better G5 games
I happened to buy this one a few years ago, it was maybe the first game I ever spent money on. Having subsequently wasted a fair amount of money finding out that G5 doesn't produce a lot of games of the same quality, I'm now pretty impressed with this one. When I first bought it, I wasn't super impressed, but I think that's mostly because I didn't know how shallow and cheap many games are. This one has some nice puzzles, a fairly interesting story line, and even has some somewhat challenging puzzles. All-in-all, for some easy fun at the end of the day, pretty good graphics and a reasonably well-conceived storyline, this one is good. I wish I hadn't wasted so much money afterwards finding out that it's fairly unique and better than the average $7 game. I am, however, totally offended by the amount of marketing that has been added to the game since I bought it. I have to close several ads to even get to the main menu. Every time.
Good "casual" game
This is one of the better one's in these series. Good story line and good combination of puzzles, one leading to another. None of the puzzles were too difficult and all the hidden object games were relatively easy. So, even in the difficult mode, it was pretty easy to move through the game. If you are looking for a touch challenge, this might not be for you. However, if you want a game that has a good story line and some simple puzzle solving, this is a great option.
Lots of fun
This was a very entertaining game and, at times, challenging. I liked moving back and forth around the ship. It made you think of everyplace and you had to revisit locations with a fresh perspective. Loved that there was an additional final chapter but I felt it was still too short. It would be nice to have some added perpetual options, like on-going room searches you could do as a side to the story line. Nice graphics.
Information
Seller

G5 Entertainment AB

Size

687.2 MB

Category

Compatibility

OS X 10.7.4 or later

Languages

English, French, German, Italian, Japanese, Korean, Portuguese, Russian, Simplified Chinese, Spanish

Age Rating

Rated 12+ for the following:

Infrequent/Mild Cartoon or Fantasy Violence

Infrequent/Mild Realistic Violence

Infrequent/Mild Horror/Fear Themes

Copyright

© 2014 - 2019 G5 Holdings Limited. Published by G5 Entertainment AB. All Rights Reserved.

Price

$6.99
Supports
Game Center

Challenge friends and check leaderboards and achievements.

Family Sharing

With Family Sharing set up, up to six family members can use this app.