כיפה- מאמינים באינטרנט
By Kipa Internet Services ltd
This app is only available on the App Store for iOS devices.
Description
כיפה - אתר החדשות של הציבור הדתי.
* אפליקציית כיפה מאפשרת לך להתעדכן בחדשות של הציבור הדתי לאורך כל היום. כל הכתבות, המאמרים והטורים במקום אחד נגיש וקל.
* באפליקציה תוכלו לגלוש בקלות לקהילת הפורומים הגדולה בציבור הדתי, ולהגיב בקלות בעשרות פורומים של חדשות, הורות, הריון, מתכונים ועוד...
* יש לכם שאלה לרב? באמצעות האפליקציה תוכלו להתחבר למאגר שאל את הרב הגדול בישראל ולעיין במאות אלפי תשובות שנשלחו למערכת.
* זמני היום - מעוניינים לדעת מתי הזריחה, השקיעה או כניסת שבת? האפליקציה מכילה לוח זמני היום על בסיס מיקום הGPS שלכם, כך תוכלו לדעת מתי כניסת השבת בכל מקום בארץ
* שעון שבת - רוצים שהטלפון לא יצלצל בשבת? תוכלו להעביר את הפלאפון למצב שבת, והוא יעבור למצב שקט אוטומטית עם כניסת השבת ויחזור למצב רגיל בצאת השבת
* הדואר האדום - יש לכם ידיעה חדשותית מעניינת ספרו לנו ונדווח באתר

גלישה נעימה


Kipa.co.il – Israel's religious community's news website.
* Kipa app lets you catch up on the news of Israel's religious community all day long. All articles, essays and columns are in one place and easily accessible.
* This app allows you to easily browse the largest online community of public forums for religious people in Israel, you can easily participate in dozens of forums such as: news, parenting, pregnancy, recipes and more ...
* Have a question for a rabbi? This app will connect you to "Ask the Rabbi", Israel's largest rabbinical questions database, you can browse hundreds of thousands of responses sent to our system.
* Zmanim/Halachic times – Do you want to know when the sun rises or sets, or maybe when Shabbat comes in? The app contains halachic times according to your GPS location, so you will know when Shabbat is anywhere in the country
* Shabbat clock – Do you wish your phone wouldn't ring on Shabbat? You can transfer your phone to "Shabbat mode"- it will go into silent mode automatically when Shabbat comes in and return to normal on Motzei Shabbat
* Red mailbox – Do you have an interesting news item to share with us? Tell us and we will report it on the site

Enjoy!
iPhone Screenshots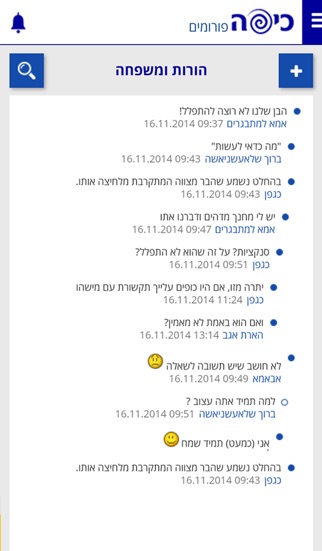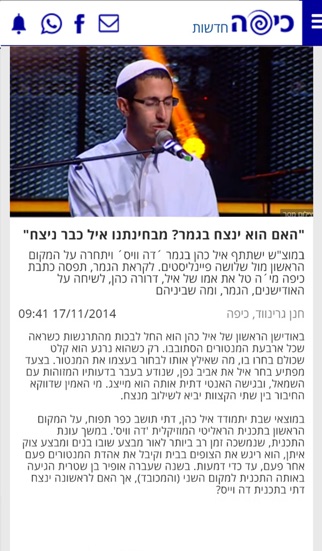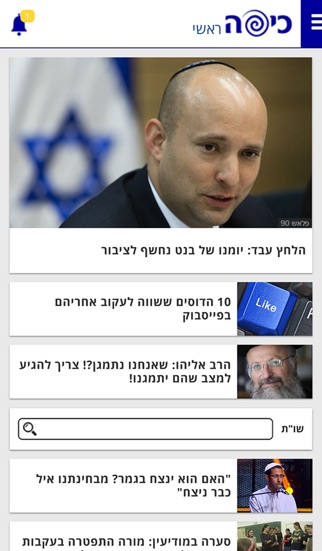 View in iTunes
Free

Category:

News

Released:

Dec 09, 2014

Version:

1.0.0

Size:

8.4 MB

Languages:

English, German

Seller:

KIPA INTERNET SERVICES LTD
Compatibility: Requires iOS 7.0 or later. Compatible with iPhone, iPad, and iPod touch.