Door Kickers
By KILLHOUSE GAMES SRL
This app is only available on the App Store for iOS devices.
Description
Door Kickers is the unforgiving, award winning SWAT-command quick tactics game from the PC. Includes all updates and a new campaign, as well as full cross-platform saves compatibility and an all-new interface designed specifically for touch based platforms.

***RockPaperShotgun's Bestest Best Tactics game of 2014***

**"Door Kickers is a game about cops kicking down doors, and these doors are a lot of fun to kick down. It is also very hard, and I love it for that." ***
84/100 – PC Gamer

***"It evokes lot of the more demanding thrills that modern games have left behind, the grit and the hard won satisfaction of overcoming intimidating challenges, or the experimental fun of spending hours tinkering with all the different ways you can play through a big, open-ended level. I had a blast inching my way through pretty much all of the harder stages in this game and I also think you might have a blast with it too." ***
Super Bunnyhop

"It's a thing of beauty and manages to capture the planning and satisfying execution of more complex strategy games, as well as the gung-ho and the popping-off of growly man in military shooters. (...) It's probably the best man-shootery game I've played in years."
Indie Statik

Door Kickers mixes old school, no-quarter action with modern ergonomic interfaces and puts you in command of a SWAT team during a tactical intervention.

Analyze the situation, plan team routes, choose equipment and breach points and coordinate multiple troopers to reach the hostage room before the bad guys get to press that trigger.

It may sound daunting, and like real world CQB combat, it sure is. But most levels can be completed in minutes and on the fly improvisation works. Achieving the perfect planning, getting the mission done with no false steps and losing no people, that's a skill harder to master.
Quick Points:
§ 80 single missions, 6 campaigns and unlimited gameplay via mission generator
§ Over 65 weapons and gear items to use and overcome the enemy.
§ Top Down perspective for optimal tactical analysis
§ Real Time With Free Pause
§ No turns, no hexes, no action points or awkward interfaces
§ Realistic but action packed
§ Non-linear levels, freeform gameplay

Website http://www.doorkickersgame.com
Official Forum: http://inthekillhouse.com/forum
Facebook - https://www.facebook.com/KillHouseGames
Twitter - @inthekillhouse
What's New in Version 1.0.5
Features:
- Added user mods!
- Localization support. Added translations into Russian, Spanish, Polish, German and French.
- Increased font size and increased UI size (optimization for smaller devices).

Fixes:
- Several crashes.
- Fixed several bugs related to AI.
iPad Screenshots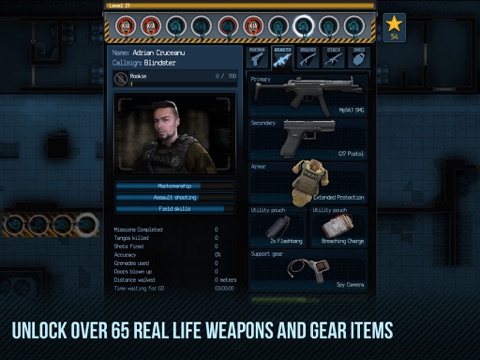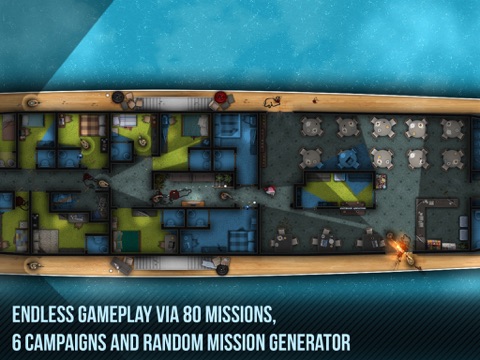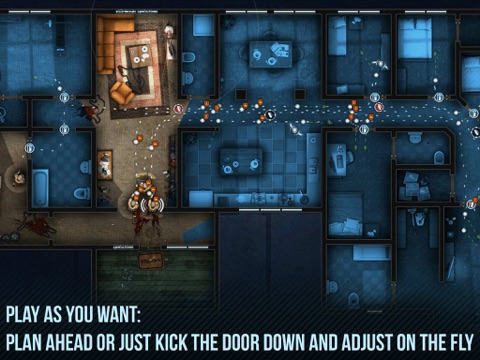 Customer Reviews
Doorkickers Lives Up To Its Name
I must say, Doorkickers is one of my favorite games for iOS. It has amazing dynamics and free form tactics, plus very little H.U.D. so your immersion would not be ruined. Any form of CQB (Close Quarter Battle) tactics is unlimited and at your fingertips. From checking corners to street battles, the possibilities are insane.
The way the game is structured is very creative, something that I was impressed of. It's real-time planning allows you to plan ahead of the game or plan on the go. The realism is also beautiful, very similar to CQB scenarios in the real world. From rounding a small corner to clearing a whole conference room, being careful and smart is the key. The choice of equipment and weapons is endless, involving real life equipment and mods to shape the game differently. Overall, I am very addicted to Doorkickers.
I've been waiting for some sort of SWAT game like this for a very long time. I am an avid fan of the art of anything SWAT-like. Doorkickers will always be one of my top games of all time for the iOS.
All I have to say is: "Tango Down."
Hmmmm... More mods 😕 new enemies (aliens+gals) plz more baddies
I want a mission called drive by which a pick up truck with a mg on the back drives by your squad truck it becomes a drive and shoot thing I agree with every review there all five stars congrats 🤗🤗🤗😀🐩🐩🐩 and more levels and drive and shoot levels also plz add a criminal mode were your a baddie and rob a bank with a group of thugs and add aleins were there's a UFO and the swat is called in to kill me that's all thxs kill house red panda and you staff 😀😀😀😀😀😀😀😀😀😄😀😀😀😀😄😄😄😀😀😄😀😄😄😀😄😀😀😄😀😀😀😄😄😀😀😊😊😊😊😊😊😊😊😊🏓🏓🏓🏓🏓🏓🏓🏓🏓🏓🏓🏓🏓🏓🏓🏓🏓🏓🏓🏓🏓🏓🏓🏓🏓🏓🏓🏓🏓🏓🏓🏓🏓🏓🏓🏓🏓🏓🏓🏓🏓🏓🏓🏓🏓🏓🏓🏓🏓🏓🏓🏓🏓🏓🏓🏓🏓🏓🏓😑🏓🏓🏓🏓🏓🏓🏓🏓🏓🏓🏓🏓🏓🏓🏓🏓🏓🏓🏓🏓🏓🏓🏓🏓🏓🏓🏓🏓🏓🏓🏓🏓🏓🏓🏓🏓🏓🏓🏓🏓🏓🏓🏓🏓🏓🏓🏓🏓🏓🏓👽👽👽👽👽👽👽👽👽👽👽👽👽👽👽👽👽👽👽👽👽👽👽👽👽👽👽👽👽👽👽👽👽👽👽 swat trucks plaz add more gates and maps and areas yay a
Praise Mods
Here I was forgetting about door kickers after maxing out my rank and getting the best guns and gear for my team the Turtle squad.

But one day during late October 2015 a new updates comes adding downloadable mods to the game which is made by Red Panda (Kudos to you man). Which added more maps and a lot of guns especially non-lethal weapons like pepper spray or a shotgun that fires Bean Bag rounds.

I am quite happy for these new add-ones as I really had nothing else to do on the game other than replay old campaign missions.
View in iTunes
$4.99

Category:

Games

Updated:

Oct 26, 2015

Version:

1.0.5

Size:

1.02 GB

Language:

English

Seller:

KILLHOUSE GAMES SRL
Compatibility: Requires iOS 5.1.1 or later. Compatible with iPad 2 Wi-Fi, iPad 2 Wi-Fi + 3G, iPad Wi-Fi (3rd generation), iPad Wi‑Fi + Cellular (3rd generation), iPad Wi-Fi (4th generation), iPad Wi-Fi + Cellular (4th generation), iPad mini Wi-Fi, iPad mini Wi-Fi + Cellular, iPad Air, iPad Air Wi-Fi + Cellular, iPad mini 2, iPad mini 2 Wi-Fi + Cellular, iPad Air 2, iPad Air 2 Wi-Fi + Cellular, iPad mini 3, iPad mini 3 Wi-Fi + Cellular, iPad mini 4, iPad mini 4 Wi-Fi + Cellular, 12.9-inch iPad Pro, 12.9-inch iPad Pro Wi-Fi + Cellular, 9.7-inch iPad Pro, 9.7-inch iPad Pro Wi-Fi + Cellular, iPad (5th generation), iPad Wi-Fi + Cellular (5th generation), 12.9-inch iPad Pro (2nd generation), 12.9-inch iPad Pro Wi‑Fi + Cellular (2nd generation), 10.5-inch iPad Pro, and 10.5-inch iPad Pro Wi‑Fi + Cellular.