Joystick Mapper
By Chibata Creations
Open the Mac App Store to buy and download apps.
Description
Joystick Mapper is an application that allows you to configure your joysticks or gamepads to simulate keyboard keys/mouse movement/mouse click/mouse scroll, so you can control any app or game using them, even the ones without built-in support.

A very good companion for First Person Shooters, Flash Games, Media Players, for example.

Works great with a variety of gamepads, including (but not limited to) Xbox, Logitech, Ps3, Ps4.


Features:
* Use any axis, dpads or buttons on your joystick to simulate keyboard and mouse;
* Map any of the 4 directions from an Analog Stick independently;
* Smooth mouse movement;
* Adjust mouse speed for analog sticks per direction individually, this can help with crappy gamepads;
* Analog Shoulder Triggers can be used as buttons;
* Any "weird" combination you want:
* Button/Dpad/Analog Stick/Analog Trigger --> Keyboard/Mouse/Click/Scroll;
* Ready-to-use examples, easily modifiable;
* Compatible with USB and Bluetooth Joysticks;
* Easy to use interface.


Notes:
* To map Key-Combinations like Command+Q, just map two or more keys to the same input (in this example, one for Command and another for Q);
* Compatible with controllers that does use the standard HID Joystick interface;
* You may need to install a third party driver for Xbox controllers, you can find links to them in the Support site FAQ;
* If your PS3 gamepad does not respond to any input when connected using USB, just press the central "PS" button once;
* Wireless Xbox 360 Gamepads, sadly, does not use Bluetooth, you may need an adapter in this case. Search on the web for "Microsoft Wireless Gaming Receiver";
* Other similar apps may prevent Joystick Mapper from operating correctly, if you have one and have problems, please disable them before using Joystick Mapper
* If you have problems and need assistance, please visit the support site

**************
Check also the *Joystick Show* application to be able to test any Joysticks/Gamepads in a easy and nice way.


-----------------
NOTE (November 8, 2016): An update fixing multiple controller support and Stratus' controllers will arrive soon.
What's New in Version 1.1.3
* Proper Wireless PlayStation 4 Dual Shock Controller support
* Controllers will connect/disconnect automatically while the app is running now (you can turn off your controller now to save battery or even change to another identical controller ;).
* Bug fixed: Mouse Cursor was Jammed on the corner sometimes when the controller is disconnected
* No lags when connecting/scanning Dual Shock 4 controllers (please tell me if you encounter this problem)
* New Preset Examples for PS4 controllers
* Fixed problems on (dis)connections

Please note that currently available drivers for xbox 360 controllers may not work on OS X Yosemite, If you have problems with that and need a workaround to use your xbox 360 gamepads on Yosemite for now, please visit the support site of Joystick Mapper. A Proper solution will be available soon.

Thank you for using Joystick Mapper :)
Screenshots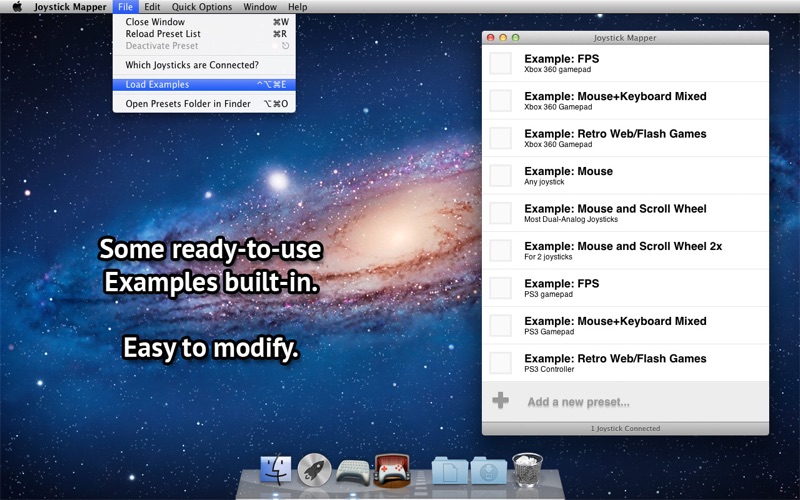 Customer Reviews
Samurai Gunn
I used this application to map 56 different inputs in total, across 4 controllers. They are DualShock 4 controllers, all connected via Bluetooth. The reason I had to do an exhaustive mapping like this is that the game Samurai Gunn does not natively recognize the DualShock 4, so I remapped them to keyboard keys. The profiles I setup for this purpose work beautifully, and no one would know that the game does not have native controller support. I can reliably connect anywhere from one to all four controllers and I know exactly which joystick profiles will be utilized.

There is no signal propagation delay introduced by this app that I can detect, and this is very important in Samurai Gunn, as one or two milliseconds in either direction can affect whether you live or die.

And best of all if I want to switch back to another game which does support my controllers, all I have to do is uncheck a checkbox. It just works.
perfecto!
i only needed like 1 minute to understand how to set everything up on my own. the 1 thing i did have to go to the official website to find out more was how to actually activate the preset once i created it. i guess it was RIGHT there but i didn't think the empty box was a checkmark box to activate the preset….lulz.

man, this is such an underrated and inexpensive app that can work wonders in the hands of creativity. i plan on using my ps4 controller now as basically my music production controller, my mouse/browser when I want to just sit back in my chair. (i just thought about buying a pico projector like the new Asus S1 to project onto my ceiling so basically I can just work on my laptop in bed, using my ps4 controller easily.) SO RELAXED AND NOICE.

you the man Rocha
It Works
I don't know where all the bad reviews are coming from. I have been able to program and use my 360 and PS4 controllers on Skyrim-Tamriel, all the lego games (the 360 already worked on those) Fable- The Lost Chapters and Torchlight 2. I'm sure it'll work on any other games I choose to try.

I downloaded a driver for the 360, but the PS4 was recognized by my MacBook. And yes, I'm using my PS4 controller wirelessly (bluetooth).

I have a 2.3 ghz intel i7 MacBook running 10.9.5

The only reason this isn't a five star review is because the app doesn't come with the ability to recognize, or show me, what buttons are connected to what number. Right trigger is "axis 1 +" for example. A layout would be very helpful. But they'd like you to purchase their other app for that.

Maybe I bought it at the right time and got it after some magical update that made everything work. But more likely, I read their directions (minimal) and played with it until I understood how to use it. Yep, probably that last sentence.

In a nutshell, it works. worth the money, haven't had a problem.
View in Mac App Store
$4.99

Category:

Utilities

Updated:

Oct 20, 2014

Version:

1.1.3

Size:

1.4 MB

Language:

English

Seller:

Rodrigo Rocha
Compatibility: OS X 10.6 or later
More by Chibata Creations