Koushion MIDI Step Sequencer
By Ian Wagner
This app is only available on the App Store for iOS devices.
Description
Koushion is a flexible MIDI step sequencer that integrates with your digital audio workstation software (Live, Logic, Reason, etc.), and iOS MIDI apps (Animoog, NLog PRO, iMini, Sunrizer, WaveGenerator, Alchemy, and more).

--

Core Features:

- 16 steps per scene
- 8 scenes with independent MIDI channel, key, quantization, and playback mode (combined, this makes for up to 128 steps per layer in chain mode)
- 16 layers of scenes that act like individual tracks
- MIDI clock send/receive 
- 5 playback modes - single, simultaneous, chain, rebound, and random
- Scale - switch between any major, minor, pentatonic, or chromatic scale 
- Adjustable step quantization - 1, 1/2, 1/3, 1/4, 1/6, 1/8, 1/12, 1/16, 1/24, and 1/32 
- Quantized scene switching 
- Tap to set tempo - great for syncing with a live band
- Per-step velocity, gate and CC sequencing
- Monophonic drawing mode - only allows one note per step; great for programming leads
- Intuitive tied note entry - Just drag for as many steps as you'd like to sustain a single pitch
- Optional Dark Theme - reduces eyestrain when working in low-light environments
- Runs in the background so you don't miss a beat when tweaking your synth parameters
- Uses system resources efficiently
- Timing accuracy is typically ±5/100 BPM over a stable Ad-Hoc Wi-Fi connection, and ±1/100 BPM over a MIDI adapter

--

Compatible MIDI Connections:

- Automatic integration with other apps via Core MIDI virtual ports 
- Control of external MIDI devices via Core MIDI-compatible connections such as iConnectMIDI, iRig MIDI, and Alesis I/O dock
- MIDI over Wi-Fi via Core MIDI network sessions (warning: unpredictable latency)

--

Review by Chris Stack of ExperimentalSynth.com

"Koushion has become my go-to sequencer for generating short to mid-length patterns. I just keep coming up with new uses for it. It's a lot of fun with iPad synth apps. I have a lot of hardware synths and Koushion really brings them to life and lets me keep both hands on the synths for maximum expression."
What's New in Version 4.3
New features/improvements:
* Tied notes! Drag a single pitch across multiple steps to sustain it.
* Apply a key to all layers at the tap of a button.
* Toggle note display between human-readable pitch and raw MIDI pitch numbers with the "Show MIDI Pitches" switch.
* Increased grid size to make touch targets as large as possible.

Bug fixes:
* Gate now behaves properly for all quantization settings.
iPad Screenshots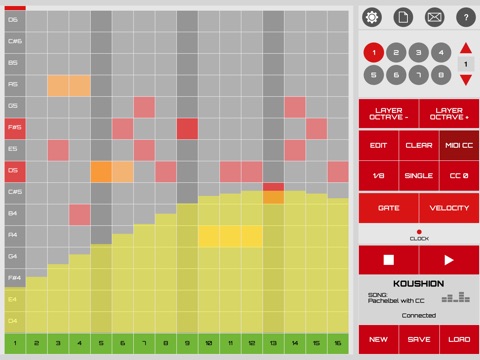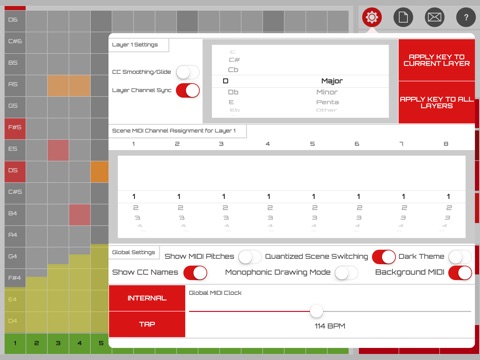 Customer Reviews
Great!
What a great app! A really simple sequencing solution. Cool!
Sweet interface; surprisingly powerful sequencer.
I am not sure why this sequencer has not gained more attention. It is not as flashy as some others on the App Store, but that is its greatest strength: the simplicity of the interface makes it quite nearly transparent to the process of using it.

This version is the first I have used. You can choose a different scale and key for each layer--basically each track of MIDI patterns. You can assign a different channel to each layer and send each one to a different MIDI device/app simultaneously. You can use an external clock or use Koushion to keep other apps on time.

Time signatures are trickier; you get 16 steps per pattern, so if you want write in divisions of three, it is necessary to group three or six patterns and keep track of the step numbers without much help from the visual divisions--all fours all the time. Note values are flexible enough for most of the things I have tried.

I do wish the internal clock ran slower than 60 BPM, and I would like to see more MIDI routing choices. Right now, Koushion connects automatically to any app with a virtual MIDI port, which sometimes is not precisely what I want it to do. There are no input/output menus in the app as far as I can tell.

But I still ditched Genome in favor of Koushion. I should probably note that I am not performing live MIDI at the moment, so I do have the luxury of undo and redo without embarrassment, but Koushion works much more smoothly for me than Genome does. Absolutely worth the download!
View in iTunes
$7.99

Category:

Music

Updated:

Sep 15, 2015

Version:

4.3

Size:

10.4 MB

Language:

English

Seller:

Ian Wagner
Compatibility: Requires iOS 8.1 or later. Compatible with iPad.