Magic 2014
By Wizards of the Coast
This app is only available on the App Store for iOS devices.
Description
Magic 2014 is a high performance game and runs best on iPad 3, iPad 4, iPad Air, and iPad Mini with Retina display. For an optimal experience, please close any other open apps and ensure there are no active downloads running in the background.

Ignite your spark with Magic 2014 — Duels of the Planeswalkers!

Magic: The Gathering is the world's premier trading card game. Become a Planeswalker and travel the planes of existence unleashing a torrent of spells and creatures.

Game includes:
• 3 decks, each with 5 unlockable cards
• Single-player campaign across the plane of Shandalar
• One Planeswalker duel
• Sealed Play mode; explore a deckbuilding experience

Additional content is also available for purchase. Premium content package will get you:
• 7 additional decks to unlock
• 250+ additional cards unlockable through play
• 4 deadly opponents, including the Planeswalker Chandra Nalaar
• 18 additional Campaign levels across the planes of Ravnica, Alara, Innistrad and Zendikar, plus 11 revenge matches
• 10 puzzling challenges
• Online one-on-one Multiplayer play
• Two-Headed Giant and Custom Game modes
• Access to deck key and foil conversion in-app purchases
• Additional downloadable content as it becomes available

Magic 2014 runs best on iPad 3 or later.
What's New in Version 1.4.1
- iPad Air stability issues addressed.

- Loading animation functionality addressed.

- Additional crash and performance fixes.

iPad Screenshots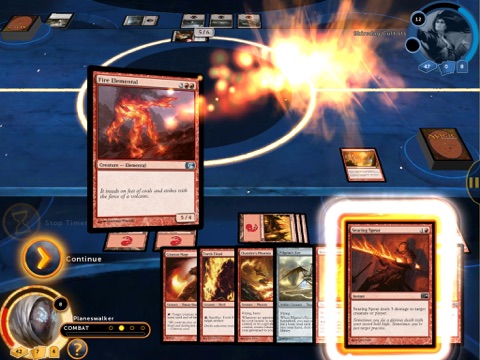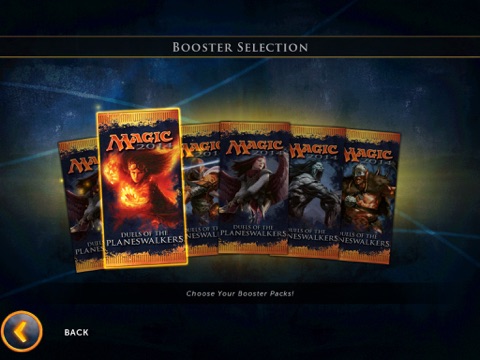 Customer Reviews
Great Magic Fun... But...
I am an old school magic player from the 90's. This offers great nostalgia with the ability to check out good decks, including rares, without forking out crazy cash for boosters. That being said, I feel they missed the boat on a few things.
First, you need to fix the bug with achievements it's just annoying to have to keep unlocking the same things.
Second, I understand that you want to earn money but give me the option to reset my sealed play slots. I want to practice sealed play. And I will be more likely to buy more slots if you give me what I want. Right now, I'm leaving those slots alone whether I like the decks or not. If I can reset, and I create a deck I love, I won't reset it and then I'll need another slot ergo purchase! But I'm not going to purchase a slot for one random draw. Just consider it, please.
And finally, giving deck crafters like myself the ability to build an unlimited deck from all unlocked cards is a very simple feature that is just left out unnecessarily. These are minor things that do not detract from the fun of the gameplay, but I can't in good conscience give a 5-star rating when you fail to offer such HUGELY player satisfying features.
Come on WoC, make a stand for the player, set an example, and put us first for a change! You will have my support, my 5-star rating, and perhaps what you are after most of all... More of my money!!!
Do NOT buy this app!!
In short: Crashes constantly, don't buy.
In long: the artwork is beautiful, the audio extremely annoying and repetitive, but the gameplay is great... When it doesn't crash! I've been a fan of mtg since the 90's and have thrown more money at them over the years than all of my gaming systems combined, but I have never felt like I was wasting a cent for all the joy I got from meeting people and playing a game that is challenging and fun. This game though is a complete waste. It crashes randomly, usually when I'm about to finish off an opponent, and doesn't save any data so that you can return to that duel. This makes the game almost impossible to get through. For any gamer this is extremely frustrating and leaves you full of resentment trust me. They could easily cut out the annoying music and those cheesy graphics so that the game would run more smoothly. No one bought this game hoping wizard would raise the stakes and bring some excitement to magic by adding a bunch of bells and whistle. More than likely most of us were just looking for a way to bring mtg with us into the bathroom when nature calls. I also would like for future games to allow us to create our own decks to play with through the storyline. In summary, don't give yourself a reason to resent wizard anymore than your spouse already does by buying this terrible app. You can thank me later...
Heads up (Update)
Update: Game hasn't crash for sometime. Maybe the program has been update. Upgraded my review. More favorable this time around. Game is awesome! Highly recommended. However, couldn't give it perfect 5 stars because access to Deck Manager is not too convenient at times, among other small imperfections and minor glitches (livable) such as achievements reverting. Heads up prior review:I had three lives and my opponent two, down to the final wire after a tough duel (accumulated 13 lands). I am about to attack and win, then the game stops and I return to my iPad home screen!? No save. The app ragequited. It crashed, at THE worst possible time. Hence, the reason why I rated this below average. There are also some minor glitches with the game play, but livable. Finally, on the upside, the graphics are sharp. However, think there is too much animation going on for this app to run smoothly.
View in iTunes
Free

Category:

Games

Updated:

Dec 17, 2013

Version:

1.4.1

Size:

1.38 GB

Languages:

English, French, German, Italian, Japanese, Korean, Portuguese, Russian, Simplified Chinese, Spanish, Traditional Chinese

Seller:

Wizards of the Coast LLC
Compatibility: Requires iOS 6.0 or later. Compatible with iPad.
Top In-App Purchases
Magic 2014 Premium Content Pack$9.99
Magic 2014 Expansion$4.99
Deck Pack 1$2.99
Magic 2014 Sealed Play Slot$1.99
Deck Pack 2$2.99
Deck Pack 3$2.99
"Mind Maze" Deck Key$0.99
"Sliver Hive" Deck Key$0.99
"Deadwalkers" Deck Key$0.99
"Avacyn's Glory" Deck Key$0.99
More iPad Apps by Wizards of the Coast