Brainwave Studio
By RCS LT
Open the Mac App Store to buy and download apps.
Description
Stressed out? Trouble sleeping? Distracting sounds at work or school? Need a relaxing break from a busy day?

If your answered yes to any of those questions then Brainwave Studio is for you! Brainwave Studio is a professionally designed relaxation, stress relief, sleep support, meditation and mind training system, with 40 sessions of carefully selected nature sounds and superb quality ambient music.
________________________
How does it work?

Brainwave Studio uses isochronic tones, widely regarded as the superior brainwave tone. Isochronic tones pulse at specific frequencies, and stimulate the brain to help you achieve your desired mental state. Unlike binaural beats, isochronic tones work through headphones or speakers. The isochronic tones are integrated into the backgrounds of beautiful, soothing melodies. Listen to the peaceful music while the tones automatically do their magic in the background.
________________________
Features

- 5 categories: Relaxation, Sleep, Meditation, Stress and Anxiety, Mind Training
- 40 sessions with dynamic isochronic tones
- 60 soothing ambient sounds
- 48 atmospheric music tracks (endless loops)
- Compatible with the new MacBook Pro with Retina display
- Separate volume controls for every sound
- Create customized sound mixes by combining ambient sounds together
- Intuitive interface
- Saved Soundscapes are synchronized using iCloud and wirelessly pushed to all your devices.

________________________
5 Categories With 40 Sessions

- Relaxation: ∙ Quick relax ∙ Tension relief ∙ Lunch break relax, ∙ After a busy day ∙ Relax before important event ∙ After high stress ∙ Before going to bed ∙ Deep evening relax

- Stress and Anxiety: ∙ Quick stress relief ∙ Workplace stress relief ∙ Anxiety reduction ∙ Anxiety reduction before sleep ∙ Reduce anxiety before taking a test ∙ After work stress reduction ∙ Deep stress relief

- Meditation: ∙ 7Hz Zen meditation ∙ Coffee break meditation ∙ Low-Alpha meditation ∙ Mid-Alpha meditation ∙ Theta meditation ∙ Delta meditation ∙ 7,83Hz Schumann rhythm meditation ∙ Deep Schumann rhythm meditation.

- Sleep: ∙ Short anti-insomnia session ∙ Sleep induction ∙ Mental workers sleep support ∙ Hyperactive people sleep induction ∙ Sleep induction for insomniacs ∙ Clear your mind and fall asleep ∙ Deep sleep induction

- Mind Training: ∙ Workout performance enhancer ∙ After-Workout recovery session ∙ Attention enhancer ∙ Mental workers support session ∙ Idea generation session ∙ Motivation enhancer ∙ Energy enhancer ∙ Creative tasks helper ∙ Concentration enhancer for studying ∙ Sensori-motor rhythm session.

________________________
60 Ambient Sounds

∙Birds ∙ Piano ∙ Cat ∙ City ∙ Clock ∙ Crickets ∙ Dolphins ∙ Fire ∙ Forest ∙ Frogs ∙ Heart ∙ Monk ∙ Music box ∙ Night ∙ Rain ∙ River ∙ Space ∙ Submarine ∙ Thunder ∙ Train ∙ Cave ∙ Water ∙ Whale ∙ White noise ∙ Wind ∙ Wind Chimes ∙ Jungle ∙ Flute ∙ African night ∙ Howling wolf ∙ Sea lion ∙ City park ∙ Lakeside ∙ Shopping mall ∙ Industrial ∙ Nightingale ∙ Spring birds ∙ Crowd ∙ Oscillating fan ∙ Swamp ∙ Dripping water ∙ Owls ∙ Tropical forest ∙ Factory ∙ PC fan ∙ Vacuum cleaner ∙ Fan ∙ Pirate ship ∙ Waterfall ∙ Fridge ∙ Pneumatic drill ∙ Waves ∙ Hair dryer ∙ Rain on window ∙ High Voltage ∙ Harbor ∙ Running water ∙ Winter blizzard ∙ Highway ∙ School

If you have any questions or comments please don't hesitate to contact us at any time: info@rcs-software.com
What's New in Version 1.5
- Magic Mind changes it's name to Brainwave Studio
- Bug Fixes
Screenshots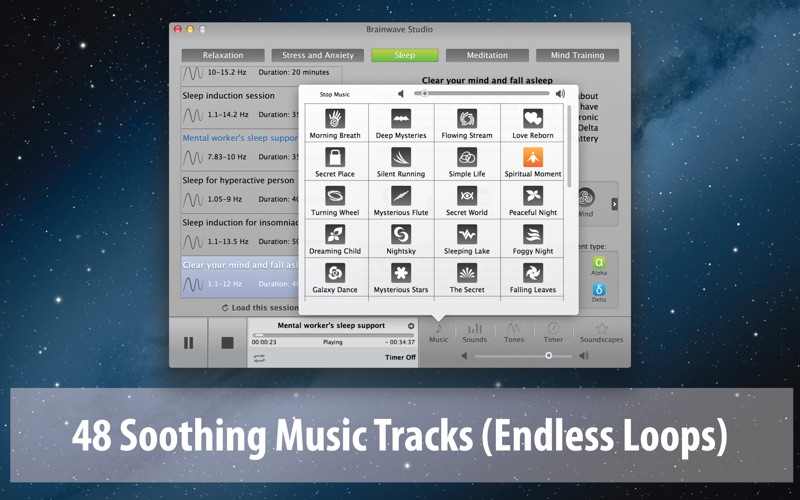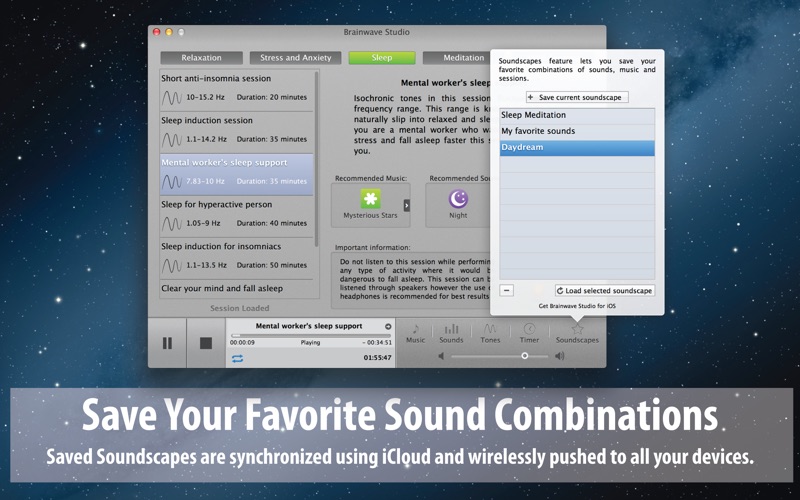 Customer Reviews
Totally got rid of my headache
I usually don't leave reviews, so just the fact that I am taking the time to do this, should show you how much I like this product. BUY THIS APP. It is a health and a life saver. Most mornings I have been struggling with depression and headaches. I listened to the motivational track, and wham, my headache is gone and I feel happier and more energetic. These isochronic tones really work! Who needs coffee anymore? This works way better!
The application is easy to use, intuitive, and you do not need an instruction manual to figure it out. Well thought out design. I love the ability to turn the music on or off and the nature sounds. I actually like the Isochronic tones without any nature or music tracks over it, so thanks for allowing the customization options.
Let's say 4 1/2 stars for narrow musical range
This app is truly terrific. The controls are easy and intuitive. There is a wealth of binaural tones to cover most brain activities. These are accompanied by an equal wealth of environmental sounds.

Where I'd like the option to penalize the app 1/2 star is in the limited selection of accompanying music, and to a lesser degree the fact that when you choose a binaural option that the music defaults to ON. All the musical tracks are either light and new-agey or somehow otherwise upbeat. As I am an old goth and I write dark-leaning stories, I'd really appreciate some wider variety there—some more serious if not outright darker tracks.

So what I have to do is choose whatever track and atmospherics match my mental goals, kill the music native to that selection and add in a loop of ambient gloom, like Jim Butler, and it's all perfectly unpleasant for my work.

This admittedly minor and fringe hit aside, I can't stress how wonderful a tool Branwave Studio is. A true bargain even if it were twice the price.
enjoyable interfaces
I got this app not expecting alot. I recently am experiencing whistling in the ears (tinnitus) which keeps me awake. Having simple the background tracks is exceptional and helps me rest even while experiencing this problem.

I love the ability to easily pick my own background sound tracks and rhythms based on my interest that day.

Would recommend 3 additional items added to the tool:
1. Ability to export music files to mp3 or digital music format. I would prefer to create select tracks to my ipod as opposed to having my computer perched in my lap and listening to headphones.
2. Current interfaces are great, but would include second option to change tempos or rhythm of music via a beats per minute selection. I would love to change rhythm of ocean, chimes, etc.
3. With option 1 and 2 Include a metronome as one of the options with a beats per minute. I could download the music at different background rhythms and use it to focus when running with my ipod or iphone.
View in Mac App Store
$8.99

Category:

Health & Fitness

Updated:

Jul 18, 2013

Version:

1.5

Size:

383 MB

Language:

English

Seller:

UAB RCS LT
Compatibility: OS X 10.7 or later, 64-bit processor