Mind Wave - Binaural white noise
By Jakub Koter
This app is only available on the App Store for iOS devices.
Description
Mindwave's potent binaural tones have been imitated since it's first week in the app store, but the nearly 2000 positive reviews in US store can't be wrong. Nothing comes close to this #1 way to get natural pain relieve, insomnia, help concentration, relieve stress and much more.

- Mix with songs on your iPod.

"In pharmaceutical terms, mindWave is the respectable, over-the-counter version of binaural beats" - Macworld

"..In our tests, we felt refreshed and calmer after listening." - Maclife

Now available on iTunes Music Store under Mindwave pro. Perfect for older ipods. Was #1 in Canada, Japan, Italy, Singapore and on it's way in Sweden.

Mind Wave is a unique brain wave application that puts you to a certain state of mind. These Binaural tones help to improve the learning process, relieve headaches, help you fall asleep, relax and even get rid of bad habits like smoking, binaural tones are very useful for ADHD.

Some people that like idoser may also like this.

I have included 23 binaural beats to entertain your brain waves:
- NEW! TONES
● Depression help
● Powerful Migraine treatment
● Happy Boost (Produces Endorphins)
● Healers Dream (All night dreaming)

●Study Aid
●Sleep Induction
●Relaxation
●Deep Meditation
●Mental Refreshed
●Coffee
●Creativity Boost
●Focusing Attention
●Weight loss ( Now named Positive Thoughts)
●Headache Treatment
●Deep Theta - Powerful relaxer
●PMS Relieve *NEW
●ALPHA Relax *NEW
●Relax AirTunes (Can be used without headphones) *NEW
●ADD / ADHD Hyperactivity *NEW
●Accelerated Growth/Healing *NEW
NEW IQ intelligence increase listen during studying complex tasks.

Actual Reviews:
Awesome App!!
- used last night for my headache and it actually went away!!... been looking for something like this for a while now!.

I finally found the only app which really uses the right frequency for the learning mode (theta). The only binaural app worth it !

How it works: The easiest way of stimulating the brain is through ears. Other senses are often used as well like vision. The problem is that humans cannot hear low sounds, which are very useful for brain wave stimulation, that's where a technique called binaural beats is used.

Let me give you an example of a binaural beat/tone. Right ear is given a steady tone of 400Hz and the left one is given 410Hz, these tones combine in your brain to achieve a 10hz difference. This 10Hz tone is totally formed by your brain. This can only be achieved when using stereo headphones since the right and left channels do not mix until in your brain.

There are four frequency stages:
●Delta (0.5Hz-5hz)
●Theta (4Hz-8Hz)
●Alpha (8Hz-14Hz)
●Beta (14Hz-30Hz

For example: Theta stage (4hz-7Hz) has been found to increase learning abilities. Children spend more time in theta stage than adults, which could explain their accelerated learning capabilities.

I hope you enjoy this brainwave entertainment application as much as I do. More presets to come every month.

TOP FAQ's:
●Can I use earbuds that came with iphone/ipod.
--Yes, these are stereo and work great.
●When should I listen to the tones?
--Best time is during the activity you want to accomplish. For example listen while studying, or while trying to fall asleep.
●There is static noise, is this from low quality sound?
-- No, these static frequencies are intentional and have major effects on the potency of the tones.
●I got a headache after listening is it normal?
-- Some(Very few) people may experience a headache the very first time they listen, this is due to neural change. Your brainwaves are adjusting causing a slight headache. Your next session should be fine.

NOTE: You must wear stereo headphones in order for this application to have any affect. Do not use if you have a pacemaker or if you have epilepsy(visual stimulator in v2).

If you have any questions please email me.
Support email: jakub@mediahead.com
What's New in Version 3.6
- Bug fixes !!!
Some people were not able to get the new tones from the last update. This should fix this issue and enable the following tones.
- Depression help
- Powerful Migraine treatment
- Happy Boost (Produces Endorphins)
- Healers Dream (All night dreaming)
iPhone Screenshots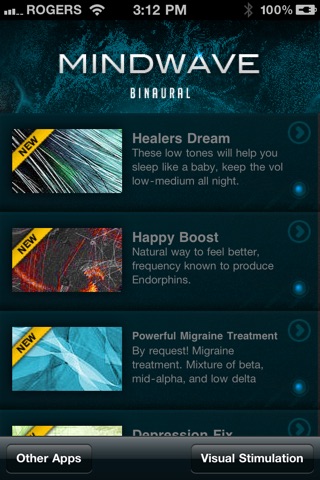 Customer Reviews
Will Always Have This on my Phone
I was skeptical about this app, but I have used it for years, and have been through 3 phones with it. It will always have a place on my phone. It simply works, sometimes dramatically so. I had an ovarian cyst rupture and was in terrible pain, pain meds were a joke. While this didn't take away the pain completely, it took it down to a manageable level from "kill-me-now". It was the worst pain I had ever experienced. During the most acutely painful phase, this was the only thing that helped.

Today I had a severe headache that came on at work and lasted well into the evening. It was making me nauseated and any light or sound was not just annoying, but added to the pain. It was much more severe than a normal headache. I went to bed to lie in the dark and put headphones on. 15 min later my headache is gone. No more nausea either.

Try it. It's not a perfect app, the loops don't match up perfectly, and I wish the ambient choices were better, etc. But I don't care. It works and that's all that matters. Please keep updating it so it works with future iOS versions!
Safer and more effective than sleeping pills
I bought both this and Mind Wave 2. White noise works well for me so these have been even better than expected thus far. Setting up is incredibly easy, and the calming effect is almost immediate. You also don't get the side effects you get from sleeping pills. Recommending to my family and coworkers, once off bed rest.
The Best
This is the only binaural/isochronic audio app that actually works on iPhone speaker, the other ones cannot produce the frequency on speaker and so you will not get the same effect. This is important because I use it to fall asleep to, and I obviously can't fall asleep with headphones on.
View in iTunes
$1.99

Category:

Health & Fitness

Updated:

Oct 12, 2010

Version:

3.6

Size:

87.0 MB

Language:

English

Seller:

Jakub Koter
Compatibility: Requires iOS 4.0 or later. Compatible with iPhone, iPad, and iPod touch.