MoodKit - Mood Improvement Tools
By ThrivePort, LLC
This app is only available on the App Store for iOS devices.
Description
Improve your mood and become your own expert with the wisdom and guidance of MoodKit at your fingertips! • Featured in London Times, NY Times, LA Times, Harvard Business Review, CNET, Discover Magazine & more • Developed by experts and repeatedly selected as one of the "best mental health apps" in the world • Professional psychology tips and tools for everyday life!

"It's like having your own portable psychologist...packed with tools designed to improve not just your mood, but also your overall well-being." --CNET

"Whether you have trouble managing stress, depression, anxiety or other moods, this feature-rich app offers tools to help. Use it every day for a month and see how it can help you make your life better." --Christine Padesky, Ph.D., Co-author of Mind Over Mood, Distinguished Founding Fellow of the Academy of Cognitive Therapy

"If you are looking for a greater sense of optimism, an improved mood and a greater sense of control over your life, open up the MoodKit app." --Dennis Greenberger, Ph.D., Co-author of Mind Over Mood, Past President of the Academy of Cognitive Therapy

MoodKit is a one-of-a-kind app designed to help you apply effective strategies of professional psychology to your everyday life! With four integrated tools, MoodKit helps you to...

* Take action to improve your life.
* Feel better by changing how you think.
* Rate & chart your mood to monitor progress.
* Develop self-awareness & healthy attitudes.

Developed by two clinical psychologists (co-creators of Moodnotes), MoodKit draws upon the principles and techniques of Cognitive Behavior Therapy (CBT), one of the most effective and scientifically-supported methods of psychotherapy. MoodKit's innovative design enables it to be used on its own or to enhance professional treatment.

HIGHLIGHTS INCLUDE:

• Over 200 mood improvement activities.
• Tailor recommended activities to your needs.
• Email, text, & Facebook sharing of activities.
• iOS calendar integration.
• Guidance to modify distressing thoughts.
• Unlimited/multiple mood ratings & notes per day.
• Exportable Mood Charts with 7 & 30-day views.
• Saves exportable notes to a central Journal.
• Over a dozen custom journal templates.
• Add your own activities & journal templates.
• Link custom reminders to your favorite tools.
• Security PIN, Touch ID, & AirPrint enabled.
• Crisp iPhone 6 and 6+ Retina Display ready interface.
• View mood notes right from the chart.

MOODKIT'S TOOLS:

+ MoodKit Activities

The MoodKit Activities tool provides a wide variety of suggestions for specific steps you can take to improve your mood. The activities, along with their accompanying examples and tips, provide you with specific ways to implement psychological principles and techniques known to reduce negative feelings and enhance well-being.

+ Thought Checker

Thought Checker helps you to manage negative feelings related to a specific situation by identifying and modifying the thoughts that contribute to those feelings. Through repeated use, it will help you learn to change your feelings (or change the intensity of your feelings) by changing how you think!

+ Mood Tracker

Mood Tracker allows you to make, save, and chart daily ratings of your mood. Through its integration with the Journal tool, it also enables you to record and save any notes that you would like to attach to your mood ratings. Supports multiple mood ratings per day and enhanced charting that displays individual ratings, daily averages, & daily ranges!

+ Journal

The MoodKit Journal allows you to create, save, and export notes about mood-related activities and relevant observations in everyday life. The Journal comes with a variety of pre-formatted templates that help you to journal in specific ways known to help improve mood, and the option of creating your own templates. Voice entry support on Siri-enabled devices!

Quick Start Tips at: http://www.thriveport.com/resources
What's New in Version 3.1
• iOS 10 compatibility upgrade.
• Fixed Touch ID bug causing repeated prompts.

Thank you for supporting our efforts over the years with your positive reviews after each version update--we are so inspired by them!

Please continue to send your questions, concerns, or suggestions to support@thriveport.com and we will personally respond to each one! We love hearing from you.
iPhone Screenshots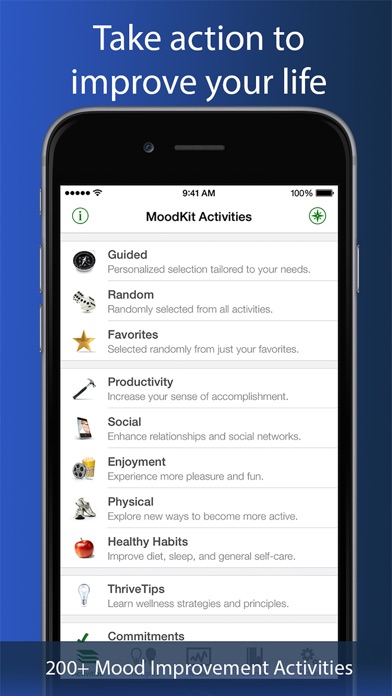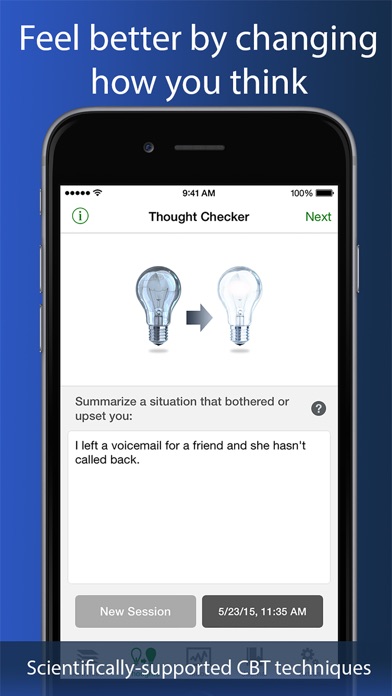 Customer Reviews
Useful tool
Update: for the last few months I've been using the thought checker nearly every day, and I have noticed a change in how I respond to upsetting events, so hey, it works.
Overall I like this app. The big weakness is that the mood tracker only lets you do one mood per day. Also, some of the journal questions come across as cheesy or annoying or just unhelpful. However, other ones are direct and helpful, and I've already created a couple templates of my own that I think will be useful.

I like the thought checker: it's brief and convenient but also to the point. I like having the long list of suggested feelings and the option to pick more than one, and it's more convenient to have a list of distortions there rather than pulling out a piece of paper and having to go by memory when on the run. I also appreciate that there's an option to say there's no distortion but still a better way of looking at things. I've only looked at a couple of the activities but the apparent variety is impressive. And again, the convenience factor is amazing.
So thorough & evidenced-based
I rarely take the time to write reviews, but as both a mental health clinician and someone who suffers from major depressive disorder and anxiety, I'm so impressed by the practical utility of this app, first in probing the myriad ways that chronic distress undermines our real-world well-being, and second because of the myriad targeted, concrete & evidence-based strategies it suggests to flip the tables and improve our moods through simple shifts in conscious thought & action. Also love the personal commitment framework as practical strategy for real-life application.

Only quibble is that the daily mood & thought journaling interfaces are clunky-looking and not nearly as intuitive as a handful of otherwise mediocre & shamelessly pricey mood tracking & CBT apps on the market. I also wished that this somehow integrated with iOS' 'health' app, which I already use for diet & activity tracking. Were developers to redress those two issues, I hesitate to speculate what I actually might pay for the result.
Amazing functionality
I'm definitely happy with this purchase. This app has very similar functions to other cognitive behavior therapy apps available; however, while it may not be as "pretty" or intuitively constructed, it has an amazing and diverse list of resources available and doesn't have an outrageous monthly fee. Further, I like the way it allows you to reframe thinking patterns and then reevaluate your feelings in order to see the benefits immediately. I can see myself continuously using this application to have more positive and stress-free thoughts.
View in iTunes
$4.99

Category:

Health & Fitness

Updated:

Sep 27, 2016

Version:

3.1

Size:

21.7 MB

Language:

English

Seller:

ThrivePort, LLC
Compatibility: Requires iOS 8.0 or later. Compatible with iPhone, iPad, and iPod touch.
More iPhone Apps by ThrivePort, LLC