My Cycles Period and Ovulation Tracker - Fertility Calendar and Diary for Women Seeking to get Pregnant or Track your Menstrual Cycle with this Woman's Health App
By MedHelp
Open iTunes to buy and download apps.
Description
Get the best period and ovulation tracker now! My Cycles takes all the guesswork out of tracking your period and predicting your fertile window. Trying to conceive? Want to know when to expect your next period? This period calendar app is for you! This period calendar app tracks your periods and can predict your future periods. If you are trying to conceive, My Cycles tracks ovulation signs to increase your chance of pregnancy and fertility. Track your period, menstrual cycle, symptoms, medications, mood, and more related to your cycle wherever you are!


BENEFITS OF TRACKING YOUR PERIOD:
* Accurately respond to your doctor's questions about your period.
* Track your periods to better predict your future periods.
* Plan vacations and other events around your period.
* Know if you engaged in extracurricular activities while forgetting to take your pill.


BENEFITS OF TRACKING OVULATION:
* Learn what signals your body gives out when you're approaching ovulation.
* Understand your cycles through tracking to better predict ovulation and your fertile window.
* Better time when you're trying to conceive for improved chance of pregnancy.
* Know when to use extra protection if you're not trying to conceive.
* Know when to take a home pregnancy test.


FEATURES FOR TRACKING YOUR MENSTRUAL CYCLE
* Record your periods, start date
* View your periods at a glance with our easy-to-read calendar.
* Plan ahead with predictions for your next 12 periods, fertile days and ovulation.
* Store daily notes, symptoms, medications, treatments, and more.
* Monitor and track moods, symptoms, weight, and other menstrual related progress.
* Customize your calendar and tracker.
* Post questions and get answers on women's health topics from other women like you.
* Setup reminders for your next period or when your fertile days are approaching
* Choose cute themes! Don't like the color pink? Choose a flowers theme and more!

FEATURES IF YOU'RE TRYING TO CONCEIVE (OVULATION TRACKING):
* Track ovulation-specific symptoms, treatments, and events (e.g. contraception)
* Record popular signs of ovulation: Basal Body Temperature, Cervical Mucous, OPK tests.
* Advanced ovulation prediction based on Fertility Awareness Method (FAM) or OPK.
* Ability to self-select your ovulation day for women tracking ovulation
* Track fertility-related medications and treatments, including Clomid, Metformin, and IVF.
* Record results of Home Pregnancy Tests
* Have a question? Tap in to MedHelp's community as the largest health social network by asking questions in one of our many fertility and pregnancy forums.

ONLINE FEATURES (requires free MedHelp registration):
* Backup your data online.
* Access to your data online from any computer.
* Add data online and have it automatically synced to your iPhone.
* Print out all your data, including BBT charts, from medhelp.org. Great for doctor's appointments!

This is the best period calendar, cycles and ovulation tracker app, and most cute app for tracking your period. To get started, enter your last period, your cycle length, and whether or not you're trying to conceive. It's that simple!

WHAT OTHERS HAVE SAID:
"Easy to use period calendar and diary! I use this tracker to track my period and menstrual cycle. Cute app!"

"Great period calender app. Recommend this app for all women, especially if you're trying to get conceive and get pregnant."

"I was trying to conceive and used the app to see when I'm fertile. It became my personal woman diary for my health, nutrition, and personal log."

"No woman should leave home without this period tracker app!"

IMPORTANT: My Cycle's ovulation detection and prediction methods are based on averages and is meant to be used as an estimate only. My Cycles cannot be used to schedule procedures, avoid pregnancy, avoid miscarriage, or anything where more accuracy would be required. Please consult your healthcare provider for any health concern.
What's New in Version 4.1.8
Bug Fixes
iPhone Screenshots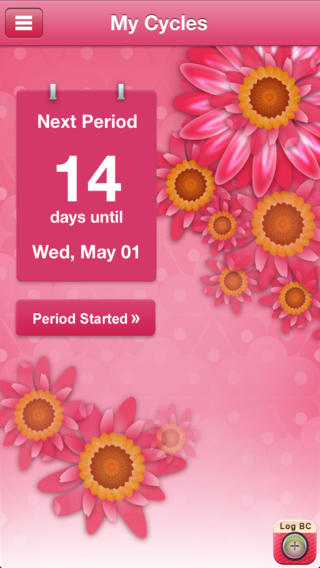 Customer Reviews
my favorite app
No joke, this is one of my favorite apps. It's so helpful to track my period. The predictions have been pretty spot on for the 3 years I've been using this. I also like logging my symptoms. It's like a little validation diary every time I do it :) I highly recommend this app to all women! Even if you're on the pill, it's so great to know what symptoms are related to your cycle. Get to know your bodies, ladies, it's so important!
Great 4 Natural Family Planning
I love this app has worked great for me as a form of BC. I don't like using other forms after a MC 10 years ago. Just had my first baby and hv been using this app. Works great!!!

Thx

T
I tried several others first
And I'm sticking with this one. It's the one that didn't give me a hard time entering previous cycles. I like being able to see the month with the icons I customized.
View In iTunes
Free

Category:

Health & Fitness

Updated:

Mar 24, 2014

Version:

4.1.8

Size:

28.9 MB

Languages:

English, Japanese

Seller:

Medhelp
Compatibility: Requires iOS 6.0 or later. Compatible with iPhone, iPad, and iPod touch. This app is optimized for iPhone 5.