Paradigmatic
By Sam Freney
Open the Mac App Store to buy and download apps.
Description
Paradigmatic is an application to view and test your knowledge of Biblical Hebrew and New Testament (Koine) Greek verb paradigms.

Any student of Biblical languages should find this program useful. Please note that we're assuming a certain level of knowledge of Greek and/or Hebrew—i.e. this app won't teach you grammar, but it will help you drill in and learn what you already know.

The Hebrew paradigm data-set includes:
* Strong Paradigms (פקד/קטל)
* I-Aleph, I-Guttural
* I-Nun
* I-Waw, I-Yodh
* II-Guttural
* III-Aleph, III-Guttural
* III-He
* Hollow Verbs, including polel/polal/hithpolel
* Geminates
* 'Special' roots: היה and חוה

The Greek paradigm data-set includes:
* Strong Paradigm (λυω)
* Contract verbs (-εω/-αω/-οω)
* Principal parts of irregular verbs
* -μι verbs

In addition to this, a number of grammar tables are available for easy consultation:
* Noun/Article/Pronoun declensions
* Greek Verbal Aspect uses
* Hebrew segholate patterns
* Pronominal suffixes
* Pegular verb patterns
* Irregular verb prefixes
Screenshot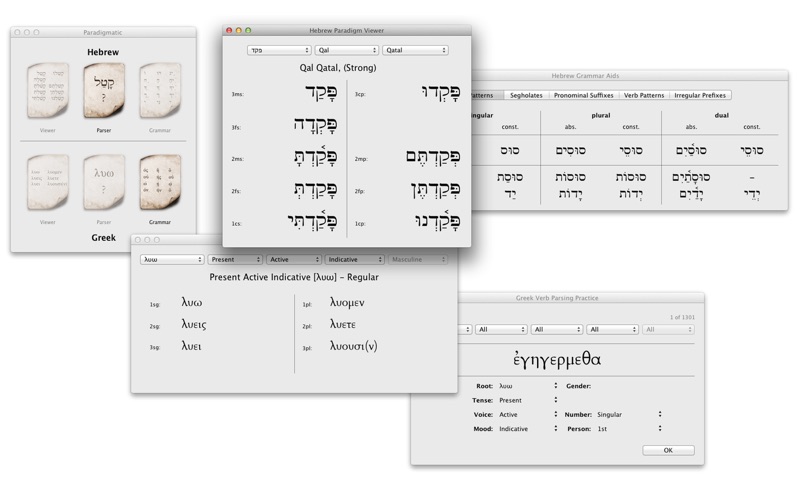 Customer Reviews
Finally!
I have been very unpatiently waiting for a Hebrew parsing app and finally there's one here and it's good! I love being able to review all the Hebrew verb paradigms for strong and weak verbs and although I'm not as fluent with Greek yet I'll use the Greek as well this Fall when I start Grad school. I do wish that it were easier to pick between the options for parsing a verb so we don't have to select from a scrolling list as it can be a tad time consuming to get through all the options and find the one you need especially when selecting the root so some other options in this area would be very nice. I love that when quizing myself it does show the correct answer if I get it wrong. I love this app!

I am BEGGING you and I do mean BEGGING you to get this app on my iPhone and iPad! I'm seriously BEGGING you! PLEASE PLEASE PLEASE!!! I'll definitley buy it and I know the people in my Hebrew classes would buy it as well since we wouldn't have to carry around a gazillion flashcards to practice parsing verbs with. I can't take my desktop with me everywhere but I always have my iPhone and almost always my iPad as well and I'd love to be able to use this app anywehere at anytime. PLEASE get it to the app store ASAP!
Low cost, high use.
I was doubtful about the usefulness of this application. Upon opening Greek and Hebrew are split into three areas: Viewer, Parser, Grammar. Beyond that each section is further broken down so that you can use the tool as you see fit. I have been able to make better use of this than many other tools in the market. It can adjust to what you need and how you need it. You can purchase a pamphlet or two which will cost about $15 or you can buy this app and get it all in one place. This is one of the best products that I have purchased to study Greek. The extra bonus of getting Hebrew in this app is making it even more valuable. So as mentioned above, imagine having two sets of pamphlets (Greek and Hebrew) and it costing about $30 for just $2.99. I have no regrets in this purchase. Any student can make use of this multi-tool.
Where have all the accents gone?
This is a good tool for reviewing Hebrew paradigms, and not shabby for Greek recognition either. But the paradigms lack essential diacritics and this is a serious obstacle to proper learning.

A future update must include accents for the Greek paradigms. As I teach my students, the accent is part of the form and should never be omitted. On occasion—as examples relevant to every first-year student, consider liquid verbs and subjunctive forms—the accent determines the parsing of the form. Further, the placement of accents can be counterintuitive even if one knows the rule (especially true for participles). The goal of paradigm learning should be the ability to generate forms, not just recognize them. Accents are a crucial part of this task.

The Hebrew forms are properly pointed with daghesh and vocalization, but here too, the paradigms are not truly complete. Where is the metheg on vowels that would otherwise be closed? And where has the mappiq gone? These are crucial parts of the (pointed) form and not just part of the larger discourse structure encoded in the accentuation.

In other ways, this is a handy app for paradigm review and parsing practice. But these deficiencies make me hesitate to recommend it.
View in Mac App Store
$4.99

Category:

Education

Released:

Jun 12, 2012

Version:

1.1

Size:

4.2 MB

Language:

English

Seller:

Sam Freney
Compatibility: OS X 10.6.6 or later, 64-bit processor