PhotoDesk - for Instagram
By Benedikt Terhechte
Open the Mac App Store to buy and download apps.
Description
** The BEST Mac App for Instagram! **

View, like, comment, and download Instagram pictures/videos! (NO Uploads! / Image Posting! Instagram forbids that! AND you *need* an *existing* Instagram account). But you can do so much more:

Of all Mac clients, Photodesk allows you to use the most features of Instagram on your Mac and even exceeds Instagram's functionality.

- Create and Print Photo Collages from Instagram Images!
- Video Support
- See Pictures on a Map
- Search for Places
- Statistics
- Save Images / Videos
- Comment Templates
- Blacklist Users
- Fantastic, modern UI, optimized for Mac OS X Yosemite

"PhotoDesk provides a slick, simple, desktop way to view and appreciate the photos of others." 
http://www.tuaw.com/2011/05/05/tuaws-daily-mac-app-photodesk/ 

* Instagram features: 
   Know what your friends are up to
   View your friend's feed, pictures, comments, profiles and followers

* React to your friends posts
   Comment and like pictures
   Share pictures on Facebook, Twitter and per Email
   See which comments you replied to, star comments, search within comments, and much more.

* Save pictures and Videos
   Download pictures and videos easily through drag and drop
   Save beautiful pictures in albums 
   Or sync your images automatically to a folder 

* Receive News and Notifications 
   See when you get new comments, likes, or followers

* Administer your circle of friends
   Follow and unfollow people.
   See friendship requests and allow or deny them 

* Tags
   Place favorite tags in the sidebar, automatically see if there're new images tagged with that tag.
   Search tags, save favorite tags, see related tags 

***** NO PICTURE UPLOAD POSSIBLE because it is forbidden by Instagram**** 
***** YOU NEED AN INSTAGRAM ACCOUNT TO USE THIS APP******

- Photo Collages
Create Beautiful Photo Collages from Instagram Images!

- Select Favorite Friends
Your news feed is too cluttered? Manage huge amounts of followers by picking 'Favorite Friends', close friends whose updates you want to see immediately 

* Search & Filter Facilities
Photodesk 3 offers a fantastic search engine to comb through vast amounts of images. You can now create specific searches for every aspect of an image so that you can find the proverbial needle in the haystack.

* Slide Shows
View pictures in beautiful slide shows

* Support for multiple accounts 
Just switch to a different account easily, without having to enter a password again.

* Privacy Support
Automatically log out of Instagram/PhotoDesk with all your accounts when you close the app.

* See a huge amount of images at the same time
Automatically load many images up front to sort or search them 

* Fasttrack liking
Quickly like an image by hovering over it and clicking a small heart icon. Instagram limits third party apps like Photodesk to 100 likes per hour

* Fast User Preview
Easily preview a user account without entering it. A small popup will appear that shows you the gist about this user.

* Different view modes
See pictures just as you need them: small icons, medium icons, big icons, feed or detailed view

* Folders
Sort and structure Favorite Friends, Favorite Tags, Favorite Places, and Favorite Images into Folders

* Yosemite Today Widget
You can now see the six most recent feed images in the Notification Center, utilizing the brand new Yosemite Today Widget extension.

* History
The last 250 images or user profiles that you visited are stored in a visual history which makes it easy to find that one image again.


"With slick animations throughout, comment intergration and more, Photodesk is a fine addition to your Mac software collection." 
http://www.razorianfly.com 

"Overall, this application is gorgeous, and I can't wait until Instagram changes their policy so I can actually upload photos from my Mac!" 
http://www.geeksmack.net
What's New in Version 3.1.2
- Fixed a bug where ordering a print would not allow to enter the address
- Fixed bug where feed view items were cropped
- Fixed a bug where users of 10.8, Mountain Lion, could not open the detail view anymore
- Changed it so that when Photodesk is offline, it will detect automatically when the system is online again and go online
- Changed the looks of the selection rectangle to correctly enclose images in all view modes under retina, and non-retina systems
- Fixed a bug where the 'reloading' indicator for comments would never disappear, and comments would never reload.
- Fixed a bug where when closing the window via Apple-W, it was not possible to open the window again
- Changed some internals so that Photodesk consumes less Requests per hour for users who have many favorite friends.
- Fixed a bug where using Finder Tag Sync would cause a crash
- Fixed many small bugs which caused crashes or undefined behaviour in various situations
Screenshots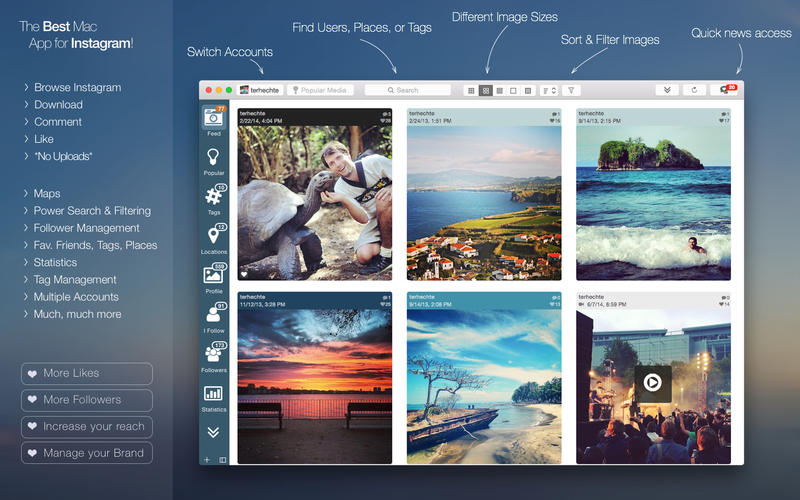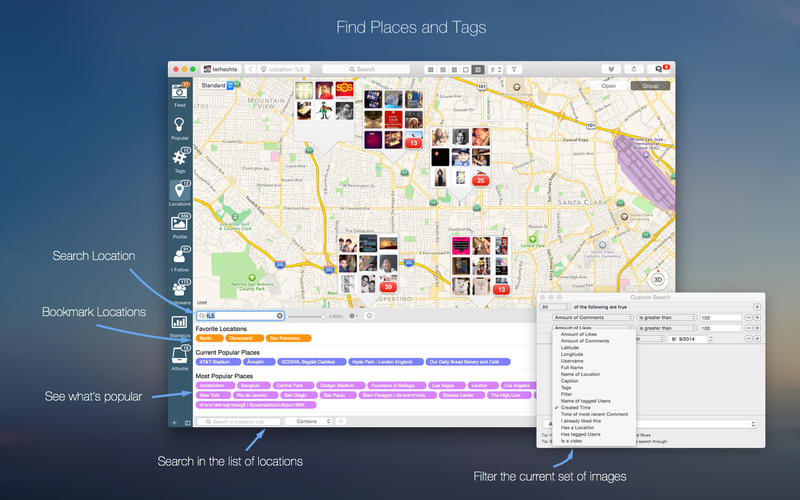 Customer Reviews
Great App
This is a really good Instagram viewer. I prefer the tiled thumbnails view it offers to the scrolling-only view offered by the Instagram website. I often have a lot of unviewed pics and it is a great timesaver to be able to choose the order in which I view posts. Works as advertised. Highly recommended.

Things to address in future versions.
- None of these views (icons, feeds, full image) should scroll left/right. But occasionally they do and since no horizontal scrollbar is provided it can be tricky to get the complete view to be visible again. Fix so that they appear in a stationary pane.
- When viewing someone's profile to follow, sometimes the images fail to load (no, not just private profiles and not just profiles with a lot of posts).
Getting a lot better, would be more stars if...
Review UPDATE: current version 3.1.2:

I am very pleased to see that the developer of this program reads these reviews and works to fix issues/features that users may have/want. As of this version, 3 of my 6 critical problems that I have expressed before have been resolved. The 3 that remain are:

1) If you decide to choose the menu-icon only option, then you have to click your way through a drop down menu to actually show the app window unlike every other menu icon which opens the main window on click.
2)The main window has trouble remembering size (primarily height).
3)I wish there was a way to load the program in a "Hidden" state, like most apps.

I have updated my review from 1 to 3 stars to reflect the changes and imporvements. A vast change because I believe the develpers took time and care in working out these kinks and making an overall VERY enjoyable instagram experience.

I believe this program would be rated higher if the above were fixed / implemented as well.

-------------------------------------
Initial Review version 3.1.0:

To be upfront and honest, I've just started using this app. It is feature rich and has more to offer than any other Instgram OS X app on the market. The problem I have is with 6 different things:

1) I keep getting the 5000 request error, without knowing why..
2) If you aren't connected to the internet it notifies you of such, but offers a button to retry connection instead of just trying to reconnect like everyother app automatically does.
3) If you decide to choose the menu-icon only option, then you have to click your way through a drop down menu to actually show the app window unlike every other menu icon which opens the main window on click.
4) Don't dare click the red (quit) button - it doesnt quit the app it just hides the main window, BUT unfortunetly you wont be able to view it by clicking the "Show Photodesk" menu selection - doesn't work. Only fix is to force quit and start over.
5) The main window has trouble remembering size and location status on close.
6) I wish there was a way to load the program in a "Hidden" state, like most apps.

If these 6 things were fixed, my review would be a heck of a lot different.
View in Mac App Store
$4.99

Category:

Social Networking

Updated:

Jun 25, 2015

Version:

3.1.2

Size:

12.0 MB

Languages:

English, German, Italian, Portuguese, Spanish, Swedish

Seller:

Benedikt Terhechte
Compatibility: OS X 10.8 or later, 64-bit processor