QamarDeen: Track Your Islam
By Batoul Apps
This app is only available on the App Store for iOS devices.
Description
QamarDeen is a new and unique Islamic app developed by Batoul Apps, it lets you track all your daily spiritual efforts to help you measure your status and continue to improve.

Use QamarDeen to track your prayer, Quran reading, sadaqah and fasting and visualize it all to analyze your behavior and improve.


Prayers: Record how you prayed each of the five daily prayers, and mark when you prayed Ishraq or Qiyam.

Quran: Keep track of how much Quran you read every day. Mark where you began and where you left off, and continue the next day using your preferred Quran app.

Sadaqah: Record when you give any type of charity, from donating your money or time to smiling at your Brother or Sister.

Fasting: Keep track of your fasts in Ramadan, as well as your voluntary fasts (Sunnah, Kaffarah, and Nazr) throughout the year.


The App Store is full of apps that help you track how much you exercise, how much you work, and how much you spend. Download for free the one app that helps you keep track of what matters most - your faith. May Allah give us goodness in this life and the next, InshAllah.
What's New in Version 1.0.5
Added support for Quran apps to log to QamarDeen
Added support for Quran Reader HD
Misc bug fixes
iPhone Screenshots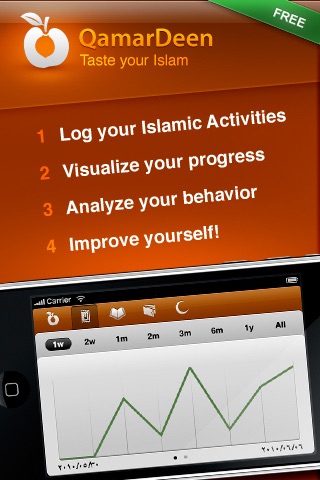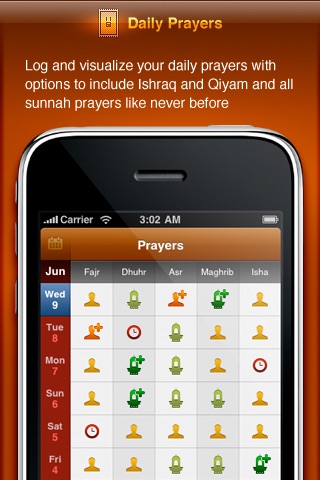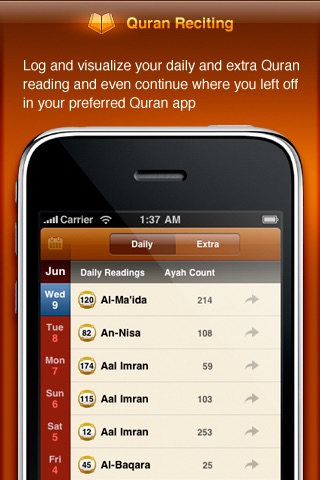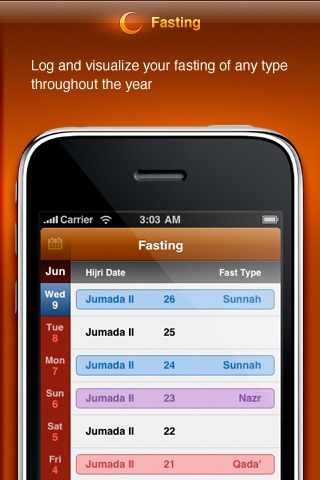 Customer Reviews
Great app. A couple requests.
Great app. I would like to see a few improvements:
1. Manual Hijri date adjustment. My community started Ramadan sooner than others.
2. Ability to add "excused" for fasting during Ramadan. Currently the only option for Ramadan is "fareedah" which doesn't help you track missed fasts when you are unable to fast due to travel, sickness, etc.
3. The extra Quran reading should have start/stop ayahs, not just entire surahs. I am trying to get into the daily habit but I don't remover what I read in past days, so if I just put where I left off it says I read 568 ayahs in one day which is inaccurate. Why can't I just put where I started and where I left off? (If not under daily reading, then under extra at least.)
Jazak Allah khair!
This is Innovation
This is a wonderful app that introduces a new and powerful way to track your activities. But still I have some notes:
- Since we are in Ramadan, I expect Taraweeh prayer to be listed in the prayers list.
- I think that adding "Nafilah" prayers would be a good addition to the prayers list.
- Asr prayer has no Sunnah!
- In the Quran section, the counting and rating is according to Aya count and this is not really accurate. This makes reading Surat Al Kawthar rated higher than reading Ayat Al Dayn! So the calculation criteria should be according to Juz' or page count (well, some might prefer counting Ayas, so the counting criteria might be added to the settings menu).
- In the extra Quran section, specifying Aya's would be helpful.
- It would be a good addition adding a "memorizing" section to the Quran page.
- In the Sadaqah section, specifying the amount of money given should be added.
- Well, I don't know if it's already there, but I miss the feature of Hijri date correction.
- Sometimes the app would crash when turning to landscape mode after adding new entries.
Thank you very much for this app and please take these suggestions into consideration.
Needs updates. Doesn't work properly
Update #2: so many bugs and no updates. I used to recommend this all the time and it hasn't been updated in a while. Please fix these issues. When you click on your Quran tracking to go to the Quran app it freezes and you can't log your Quran bookmark anymore.

I still cannot believe it's free!!! Hands down one of the best apps I have ever seen and used. Alhamdulilah it had motivated me to make sure I do my obligatory prayers and sunnah. It also has a password feature to secure access so that my intention of using the app is not changed to impress people but only between myself and Allah. It also allows you to back up your history from time to time which came in handy when I upgraded my laptop from Windows Vista to Windows 7. May Allah give the developers great reward for helping improve the Muslim community. JAK
View in iTunes
Free

Category:

Productivity

Updated:

Jun 29, 2011

Version:

1.0.5

Size:

1.7 MB

Languages:

English, Arabic, French, German, Swedish

Seller:

Batoul Apps
Compatibility: Requires iOS 3.0 or later. Compatible with iPhone, iPad, and iPod touch.