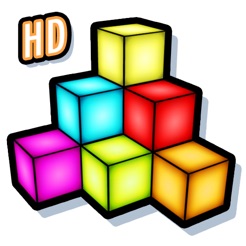 Description
Thank you for downloading over 350,000 copies of Qbism and making it a top 10 puzzle game for iOS in USA, Germany, China and Japan.

Also free content and skin update coming soon to celebrate the release of Blowfish Studios latest iOS release Hungry MonstR (coming to the Mac App Store soon).

Blowfish Studios are now delighted to release Qbism HD for the Mac OS X AppStore!

Qbism HD is a unique and challenging 3D puzzle game like no other!
Slide the cubes into the outline to solve the puzzle. Sound simple enough? It is, so we added a 3rd dimension. Now the challenge is on! Challenge your perception and solve Qbism HD!


***************************************************

FEATURES

✓ Mac OS X Edition - high res 3D graphics and effects, windowed and fullscreen
✓ Sleek new interface
✓ Dynamic backgrounds
✓ Cute kitten option
✓ 140 puzzles to solve
✓ User-friendly keyboard and mouse controls, including zoom!
✓ In game Statistics - best times, moves and rotations
✓ 4 sizes of game play ( 3x3x3, 4x4x4, 5x5x5, 6x6x6 )
✓ Music by Robot Science

***************************************************

HOW TO PLAY

Playing Qbism is simple!

The aim is to slide all the cubes back into the outline, from all angles.

Slide the cubes into the outline by dragging the selected cube up, down, left or right. Stars will appear when a cube is placed correctly.

You can rotate the puzzle outline by swiping up, down, left or right in the empty space or using the keyboard.

Once the puzzle is solved, swipe the puzzle any direction to reveal it's complete shape.

***************************************************
REVIEWS for Qbism on iOS

"Qbism makes it hip to be a (three-dimensional) square" - 5/5 - Appolicious.com

"Qbism is a well made, and really clever puzzle using the third dimension as wow-factor. The fact that you also get the 2009 Square album from Robot Science as soundtrack makes the game really polished. Definitely recommended" - 4/5 Great - TouchGen.net

"... this mind-melting title is every bit as compelling as Mr. Rubik's invention. Qbism convincingly makes use of the touchscreen for simple, yet astonishingly addictive puzzle play that will suck you in for hours." - 8/10 Silver Award - PocketGamer.co.UK

"Qbism is an interesting new game that stands out in the sea of iPhone puzzle games... The thing that makes me like this game the most is that it really caters to both casual and hard core players... If you enjoy puzzle games, this is a great purchase." - 4/5 TouchArcade.com

"With plenty of content and a unique concept to boot, Qbism is a great addition to your puzzle collection" - SlideToPlay.com
***************************************************

Watch the game trailer:

http://www.youtube.com/watch?v=b9h_UNyQdis

Or search "Qbism Blowfish" on YouTube.

***************************************************

Stay in touch with us:
info@blowfishstudios.com
www.blowfishstudios.com
www.twitter.com/blowfishstudios
The new graphic effects are now optional and can be switched back on in the settings menu. Some older computers could not work with the update so it will default to the effects being off.

Thank you to the players who provided us with this feedback.

+ Option added to switch graphic effects on/off.
Ratings and Reviews
Wish I could say I've had fun...
My first time playing this game seemed decent enough, despite some nagging issues. Over the next few plays, those issues won out.

Activity Monitor shows that Qbism HD can eat up 30-50+% of CPU time, CONTINUOUSLY, while I'm playing. This game doesn't seem like it should be complicated enough to need that much of my MacBook Pro's resources -- not so much that it gets hot, kicks the fan into overdrive, and rapidly consumes the battery. Seriously, give my computer a break!

What all that might do to the longevity of my computer, I don't know, but frankly the game isn't exciting enough for me to risk it. In fact it's a little bit frustrating not being able to tell exactly what shape you're supposed to make just based on the outline. Maybe that would get better if I kept playing, but for the reasons stated above I stopped a while back.
challenging, fun
This game is a lot of fun to play, and challenging for me. I don't have very good spatial skills, but my visualization of the 3D objects improved as I played more. Bring on the 7 x 7 objects in the next version!
not funny
I do not enjoy a game which gives no information about how to play it. And if I
ever get this nasty thing's window to close, I will never open it again. Why in the world
is there no way to shut the stupid thing off!! I tried support, absolutely no help.
Information
Seller

Level 77 Pty Ltd

Size

23.5 MB

Category

Age Rating

Rated 4+

Copyright

© 2010 Blowfish Studios Pty Ltd

Price

$2.99
Supports
Family Sharing

With Family Sharing set up, up to six family members can use this app.