RapidCalc Diabetes Manager
By Gilport Enterprises
This app is only available on the App Store for iOS devices.
Description
RapidCalc is proudly supported by GlucoMen in UK and Ireland.

RapidCalc is a sophisticated bolus insulin dose calculator for diabetics following a basal-bolus regimen. With intelligent tracking of insulin on board, automatic carbohydrate ratio and blood glucose target selection, RapidCalc dramatically simplifies blood glucose management. Complete with detailed history, charting and statistics features, RapidCalc is designed to be easy to use and easy to live with.

INSULIN ON BOARD TRACKING
Can't remember when or how much you last dosed? - Don't worry. RapidCalc avoids dose stacking by keeping track of your bolus doses and factoring in Insulin On Board when calculating a suggested dose.

AUTOMATIC TARGET AND RATIO SELECTION
RapidCalc supports up to 6 different target blood glucose levels, correction factors and carbohydrate ratios for different times of day and automatically selects the appropriate values when calculating a suggested dose.

QUICK DATA ENTRY AND DOSE SUGGESTION
Unique slide-and-tap controls let you enter your blood glucose and carbohydrate values quickly and easily. Simply drag the slider close to your value and then tap on the slider rail to make fine adjustments. As you adjust your values RapidCalc instantly recalculates suggested meal and correction bolus doses.

BASAL DOSE RECORDING WITH REMINDERS
RapidCalc also makes it easy to record your background insulin doses and supports up to three preset doses with optional reminders.

"PUMPING WITHOUT A PUMP"
RapidCalc delivers many of the benefits normally associated with an insulin pump and indeed users describe it as being like "pumping without a pump". With RapidCalc it is possible to achieve control similar to that of a well set up pump.

ACTIVITY BASED DOSE ADJUSTMENT
Integrated dose adjustment for exercise based on intensity and duration as well as compensation for recent hypos or alcohol.

LOG BOOK, STATS AND CHARTING
RapidCalc effectively replaces your log book, providing a full 90-day history of blood glucose readings, insulin doses and carbohydrate intake which can be exported via email for archive or analysis. Built-in charts and summary statistics help you assess your blood glucose control, identify trends and even estimate your HbA1c.

FEATURES:
> Intelligent tracking of Insulin On Board
> Suggested insulin dose based on blood glucose, carbs and insulin on-board
> Automatic target pre-meal blood glucose level selection
> Automatic correction factor and carb ratio selection
> Unique slide-and-tap input for quick data entry
> Basal dose recording with with presets and reminders
> Dose adjustment for exercise intensity and duration
> Clear, interactive controls with instant dose feedback
> Charting of blood glucose readings and trend data
> Pre and post meal BG comparisons
> Summary statistics for doses, glucose and carbohydrates
> Estimated HbA1c based on average readings
> 90-day rolling history
> Backup/Export history data and settings via email
> Integrated safety warnings and guidance
> Choice of mmol/L or mg/dL blood glucose units
> Enter Carbs in grams or portions of 10, 12 or 15g
> Choice of % or mmol/mol HbA1c units
> Customised carb ratios and correction factors
> Customised target, warning and ideal glucose levels
> Password protected settings for pediatric use
> No Wifi or 3G connection needed
> Built-in help

SAFETY INFORMATION
RapidCalc is intended for guidance only and is not a substitute for professional medical advice. Always discuss use of the calculator with your health care professional and only use personal settings agreed with them. If you are in any doubt as to the correct insulin dose always follow the advice of your healthcare professional.
What's New in Version 2.1.6
Changes in this version:
- Fixed display bug in settings
iPhone Screenshots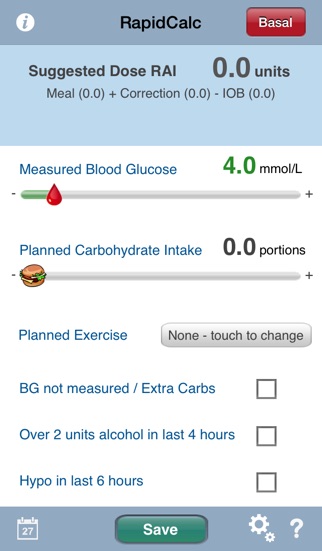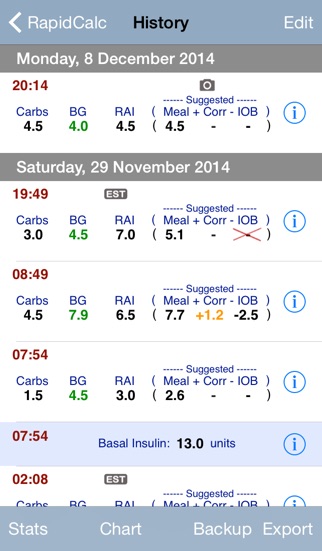 Customer Reviews
Update...Still GREAT. Thank you. Super Helpful for better understanding and Diabetes control
Still Love this app. Use every time I dose or eat, before/afterany Event. It is almost PERFECT. I tried the pump but gave up after so many failures and disconnections. Returning to RapidCalc, I now use it with a newfound appreciation. Wish I could sync Readings Via Blutooth? I tried to Reimport data into new IPhone but could not figure this out..? Still using everyday, almost everytime I test, it still great.

If I use it every time I shoot up and or eat, it becomes a perfect app. When I get lazy then it looses it's usefulness. Using this App I have way better control! Helps to remind me what I ate/shot hours earlier and to consider All the various factors that affect your blood sugar's ups and downs. Good interface. Completely customizable to your body's situation. I wish it had more graphs and that that I could send data in a simpler way. Really good. Type 1, 24 years, Novalog, Lantis, syringes.
Update: Two Years of Use
I've been using RapidCalc for almost two years and without exaggeration it is the best thing I've ever done for managing my Type 1 diabetes.

I was able to adjust my numbers to create a program specifically for me that changes based on my sensitivities throughout the day. I made small tweaks until I started seeing the blood sugars I wanted. I was able to do this over a couple of weeks, instead of waiting months between doctors appointments. This app has objectively increased my likeliness of staying healthy for a long time.

I started using the iHealth Align (a tiny glucometer that you plug into your phone) for blood sugar metering, MyFitnessPal to record carbs of my meals, and RapidCalc to calculate those two numbers into insulin dosages. No more poorly designed PDMs, I do everything on my phone. Two years running and I love this setup. Ian's app has taken so much anxiety out of managing blood sugar levels.
The Essential Diabetes App
Recommended by my diabetic educator and supported by my endocrinologist I started using this app has my diabetes type two became diabetes type one essentially. This has made my life much simpler and more accurate dosing has been obtained. I can't imagine why Apple would consider removing the app from the store and hope the company can get sponsored by an American hospital.
View in iTunes
$7.99

Category:

Health & Fitness

Updated:

Feb 24, 2016

Version:

2.1.6

Size:

5.3 MB

Languages:

English, Dutch, Italian, Spanish

Seller:

Gilport Enterprises Pty Ltd
Compatibility: Requires iOS 6.0 or later. Compatible with iPhone, iPad, and iPod touch.