Sketch 3
By Bohemian Coding
Essentials
Open the Mac App Store to buy and download apps.
Description
Sketch: graphic design for a digital world. Powerful tools and an elegant interface, in a single award-winning package. Because making beautiful things should be a joy, not a burden.

Sketch supports multiple fills, borders and shadows per layer; has powerful non-destructive boolean operations; smart pixel alignment; and makes exporting a breeze with automatic slicing and multiple resolution export.

Vector tools and basic shapes are the foundation; whether you are designing icons, websites, interfaces or anything else. Combine these into complex shapes with non-destructive boolean operations, leaving you free to edit them in the future, then apply advanced layer style options like multiple shadows, fills, gradients, noise, blending, background blurring, and more.

Sketch doesn't just do shapes, of course. Imported images can be rotated, scaled, cropped and masked. The best-in-class text tool lets you add beautiful typography to your designs, using native font rendering, so you can be sure that text always looks 100% accurate!

Brand new to Sketch 3, Symbols allow you to reuse entire groups of content in multiple places in your design. Think of interface elements such as buttons, headers and footers. Change them once, and they update everywhere in your document.

Built for the Mac, Sketch supports OS X's Versions and Auto Save, letting you focus on your work instead of hitting CMD+S. Keep your work safely in sync across multiple Mac computers with iCloud. And take Sketch full screen to maximise the size of your canvas.

All this power is deliciously baked into Sketch's single-window interface. Everything is there, tucked away until you need it. A simple interface with powerful tools.

Now everything is possible.

-- Winner of an Apple Design Award and amongst the App Store's 'Best of 2012 --

NEW IN VERSION 3:
- Symbols, for reusing elements in your design
- Text Styles and Layer Styles, redesigned and unified for a better experience
- Redesigned inspector, giving you quicker access to everything
- Automatic Slices, export layers directly, without needing to set up manual slices
- Export multiple resolutions from a single slice, at any scale
- Improved PDF, EPS and SVG importing and exporting
- Speed, bug fixes and polish all around
- Presentation Mode, go full screen and hide all controls, perfect for showing off designs
- Improved bitmap editing with Magic Wand, Crop, Invert and Vectorize tools

FEATURES:
- Simple but powerful interface, built from the ground up for OS X
- Optimized for Retina and non-Retina displays
- Powerful styling: multiple shadows, multiple fills, gradients, blending, blur, noise and more...
- Flexible boolean operations to combine simple shapes into complex shapes
- Artboards and Slices for exporting multiple images out of a single document
- Automatic export for multiple resolutions at the same time
- Unique Color (with RGB and HSB modes) and Font pickers
- Beautiful native text rendering and text styles
- Vector and pixel zoom; zoom in with infinite vector precision or see individual pixels
- Multi-stop and radial gradients editing right in the canvas. Powerful WYSIWYG rendering
- Shared Layer Styles that automatically update all associated layers
- Shared Text Styles for sharing font and paragraph info between text layers
- Powerful, easy-to-use Vector Tool
- A growing community of designers with fantastic resources available on the web

Sketch is great for a wide variety of designers and artists.

FOR WEB AND UI DESIGNERS
- Web and iOS design templates come standard
- Copy CSS Styles to clipboard (including gradients!)
- Slices: export areas on the canvas as images
- 960 default grid, with support for more advanced grid options
- Create multiple pages inside a single document
- Standard Responsive Web Design Artboards

FOR ICON DESIGNERS
- Artboards: each is its own little canvas
- iOS Icon Templates
- Pixel Grid
- Pixel Effects, such as Gaussian and Motion Blur
- Round to nearest pixel edge
What's New in Version 3.3.2
- Adds a new preference to avoid aligning layers on sub-pixels
- Fixes a bug where inner shadow would render incorrectly on bitmaps
- Fixes a bug where text layer with small line height might cause refreshing issues
- Updated toolbar icon for 'Edit' to make it clearer that bitmaps can also be edited
- Distance measurement no longer takes up cues from hidden and locked layers
- You can now perform math operations on a text layer's Size, Character, Line and Paragraph input fields
- Fixes a bug where trying to zoom into a document past 6400% with the zoom tool would make the canvas jump in unexpected ways
- Fixes a bug where measuring distance between layers on sub-pixels could give the wrong result
- Fixes minor UI layout issues in the Inspector
- Fixes a bug where creating a symbol wouldn't let you enter a name for it
Screenshots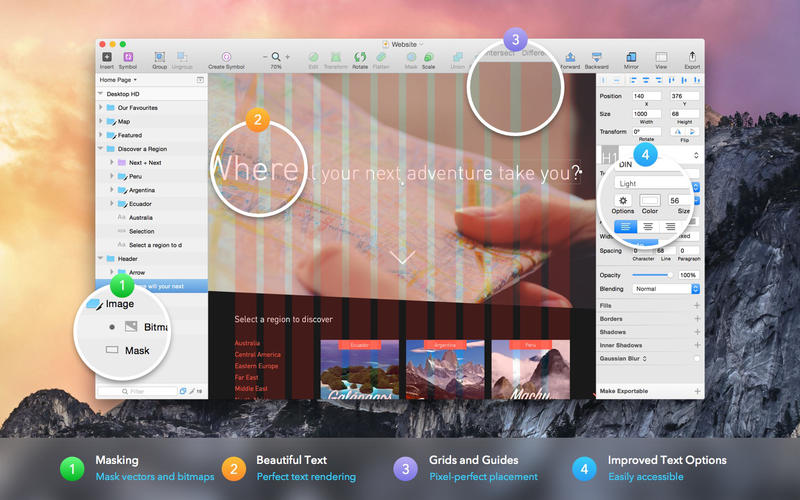 Customer Reviews
Can't dethrone AI
I wanted to use something besides Illustrator, haven't found that something for Mac yet. Illustrator has cleaned up it's act recently. There's something natural about using Illustrator that has been there since the first day I ever used it (over 15 years ago). The only reason I tried Sketch was because it often seems like Adobe's feature release schedule operated on galactic timescales.

Anyway, Sketch is good for what it is, it's just not a replacement for AI in any specific feature set. Think about it. They want $99 for this. That's 5 months of AI cloud subscription, and AI does everything this does except it does it better.

Being totally honest, I just couldn't get into the flow of how sketch works. It has some nice things about it, minor niceties here and there. But overall it just doesn't work well as a whole. They did an ok job with it, but there's no way in heck I would ever use this over AI. If it was $15 you could say buy it to support them, but at $99, it's way overpriced and it doesn't even work right… Unless you just want to throw your money at something you will end up never using, just avoid it.
The essential web & app design tool
When it comes to design websites or apps, there is is literally no better, more powerful, more flexible tool than Sketch. Although it's still a little buggy (primarily rendering issues that require you to close & reopen the app), there is nothing else that comes close to replacing Sketch as a UI tool.

Sketch is completely vector based, but allows for a multitude of export options - allowing you to copy CSS for elements you've designed in Sketch or export pieces (such as icons or entire artboards) as a variety of file types including SVG, PNG, and others. Many of the styling options in Sketch correlate exactly to styling options available in both CSS and app toolkits, so you can design with confidence that your final UI will look exactly like your Sketch designs.

If you design UI of any kind, websites or apps, you need to own Sketch.
View in Mac App Store
$99.99

Category:

Graphics & Design

Updated:

May 11, 2015

Version:

3.3.2

Size:

20.0 MB

Language:

English

Seller:

Bohemian Coding
Compatibility: OS X 10.9 or later, 64-bit processor