Snapchat
By Snapchat, Inc.
Essentials
Open iTunes to buy and download apps.
Description
Enjoy fast and fun mobile conversation! Snap a photo or a video, add a caption, and send it to a friend. They'll view it, laugh, and then the Snap disappears from the screen – unless they take a screenshot!

You can also add a Snap to your Story with one tap to share your day with all of your friends.

The best conversations happen when both friends are present, so we'll let you know if your friend is Here in your Chat so that you can give each other your full attention. And if you're both Here, simply press and hold to share live video - and Chat face-to-face! Happy Snapping!

***

Please note: even though Snaps, Chats, and Stories are deleted from our servers after they expire, we cannot prevent recipient(s) from capturing and saving the message by taking a screenshot or using an image capture device.
What's New in Version 9.11.0
* Tap To View — Now it only takes one tap to view a Snap or Story.

* Improved Snapcodes!
Tap your Snapcode to add a selfie!
Add by Snapcode — Screenshot a friend's Snapcode, then go to Add Friends to add them!
Share your Snapcode — Export your Snapcode directly from the app.
iPhone Screenshot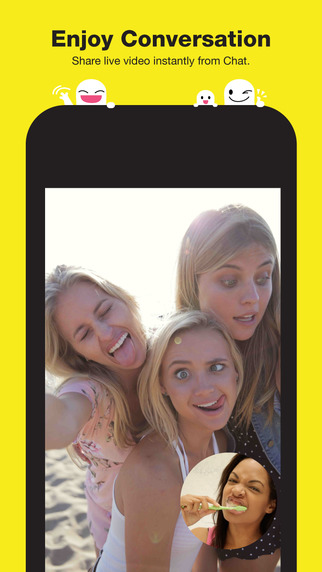 Customer Reviews
Don't really like the new update
I don't personally like the update because I dislike the "Tap to View". I liked the "Press and Hold to View" better in the previous versions of the app. Having to hold down the "Snap" while you are viewing it, I think, is part of the experience of SnapChat. I wish there was a way to go back to the older version because this "Tap to View" is not really the best idea. It's really annoying actually. I hope you guys change your mind and your new update goes back to "Press and Hold to View" because that is really the way to go. Who really cares about only having to tap a "Snap" once in order to view it. It doesn't really make it simpler because you have people trying to open a "Snap" by holding it down, but it just won't open. Maybe you can consider compromising by having a way to open a "Snap" by holding it down or just tapping it. PLEASE PLEASE PLEASE consider going back to having to "Press and Hold to View" a "Snap"!! I believe that it is more convenient to hold down a "Snap" to view it because you can take you finger off the screen and still have the option to go back and check the "Snap" before the timer expires instead of having to swipe down. Also you are unable to check how long ago a "Snap" was sent to you before you open it because once you tap it, it opens automatically. Again, HAVING TO HOLD DOWN A "SNAP" IN ORDER TO VIEW IT IS PART OF THE SNAPCHAT EXPERIENCE!!!!! Please change back to having to hold down the "Snap" to view it!
Why the extra step to see Story Views?
I was reluctant to start using Snapchat, just because it's another social media app to keep up with. But I have friends who use it, and I've really enjoyed the experience and the privacy of only sharing with who you want and the quick format of sharing with them.

This recent update changed the way app functions in quite a few ways, which requires a little bit of relearning. I don't so much mind that or the tap to view vs. hold to view. I used to accidentally lose contact with the screen and then not get to finish viewing snaps, so that's a positive in some ways. It might be nice to have both options… tap for full view that expires at the timer, or hold to view as long as you want.

Anyway, the newest feature that I find incredibly irritating is in "My Story." Why do I need to actually view my snaps to see who has looked at them? I don't want to view my snaps multiple times just to see which of my friends have viewed. This makes no sense… I posted my snaps, I don't need to see them again and again, especially if they are videos. If I wanted to see them again, I should be able to tap or hold down on the image to do so like I was able to before. I just want to check out who has viewed my snaps, and that should be available on a single click like it used to be.
New update has RUINED snapchat
I am never one to write reviews but there is a first time for everything ! Snapchat - seriously please REMOVE these updates you just put in to the app. I loved snapchat for years because it's simple and it's fun , and I believe that it why it has stayed so popular for so long instead of being a two month phase. The fact you do not have to hold your finger to the screen to see a story or snap?!?! Whaatt?? What info want to stop looking at it? I can't get it off my screen??? Why would you do that???? Another thing I'm highly upset about is the new storyboard system. Once again, snapchat was SIMPLE and TO THE POINT. I could click my storyboard snap and see who viewed it. Now, I have to go through like three different screens?? Why are you making unnecessary changes like that? You are ruining the simple and fun aspect of your app, which is the key to your apps success. Please REMOVE these new update changes. There are many people who love using this app but with changes like this you are completely going to lose your fan base , and a huge amount of people will completely stop using this app. Simple and fun is why you have success so far!!! Remove these changes!!!!
View In iTunes
Free

Category:

Photo & Video

Updated:

Jul 01, 2015

Version:

9.11.0

Size:

53.7 MB

Languages:

English, Arabic, Bokmål, Norwegian, Danish, Dutch, French, German, Hindi, Indonesian, Italian, Japanese, Korean, Polish, Portuguese, Romanian, Russian, Simplified Chinese, Spanish, Swedish, Traditional Chinese, Turkish, Urdu

Seller:

Snapchat, Inc.
Compatibility: Requires iOS 7.0 or later. Compatible with iPhone, iPad, and iPod touch. This app is optimized for iPhone 5, iPhone 6, and iPhone 6 Plus.