STRIP - Password Manager
By Zetetic LLC
Open iTunes to buy and download apps.
Description
STRIP is a cross-platform password manager providing powerful and complete data encryption, a flexible data model, fast search and multi-device replication.

Short for Secure Tool for Recalling Important Passwords, it has been protecting sensitive information on mobile devices for over 15 years, since the early days of the Palm Pilot. It protects your passwords and financial and personal information from unauthorized access by would-be crackers, malicious thieves and snoopy coworkers. Keep your secrets at your fingertips.

"By far the most resilient app to password cracking" — Elcomsoft, Black Hat EU
"Fantastic latest update. It's looking sharp and has a new look and feel. These folks are on their game...." — Zylvere
"Not only does the App do its job wonderfully ... it might have the Best Customer Support of any App I've ever used." — KS Carey
"A powerful data encryption tool that will serve you well into the future" — Appsaddicts.com
"I don't know what I would do without STRIP; it's the only reason I still had a Palm Pilot. When I got my iPod Touch, the first thing I did was look for STRIP." — lizzle47

Features:

* 256-bit AES encryption protects all of your data
* 64,000 rounds of PBKDF2 SHA-1 key derivation and HMAC page-protection
* Optionally authenticate with Touch ID (require iOS 8 or later)
* Personalize categories to match your organizational style
* Customize your entries including usernames, passwords, websites, notes and create your own fields
* Store any information you want - no restrictive templates required!
* Full text search of record names and data
* Generate random passwords with added entropy from the device accelerometer
* Quickly copy & paste passwords and other data between applications
* Auto-lock timer allows you to keep STRIP temporarily unlocked while you work
* Launch websites, telephone calls, and emails from STRIP
* Configurable field masking to hide sensitive data from view
* Supports both portrait and landscape device orientation
* 90 professionally designed color icons for personalizing records (more on the way)
* Simple, elegant interface optimized for iOS
* Uses hardware-accelerated cryptography for speed and to lower battery consumption
* Synchronization and backup over WiFi with STRIP for OS X and STRIP for Windows (sold separately)
* Synchronization over Drive or Dropbox (free Drive or Dropbox account required)
* Store URL connection strings (e.g. SSH, AFP, SFTP) to launch other applications directly
* Generate two-step verification (TOTP) codes
* Scan QR codes with main camera

Sync with your Desktop:

STRIP for iOS is designed to work seamlessly with STRIP for OS X and Windows, sold separately. Sync your information over WiFi between multiple devices (e.g both an iPhone and an iPad), backup data, import and export from CSV spreadsheet files. Check out http://getstrip.com for more details and a product tour.

Free Backup:

If you don't use STRIP desktop you can still backup your STRIP database for free using the Drive and Dropbox sync features.

Powerful Open Source Encryption:

STRIP is the only password manager and data vault using open source, peer-reviewed full-database encryption technology. Called SQLCipher, the data store for STRIP uses established security practices like CBC mode encryption, PBKDF2 key derivation, randomized initialization vectors, and unique per-database salts. The source code is available for review at http://sqlcipher.net.
What's New in Version 2.5.1
* Fixes problems with Touch ID login repeatedly prompting many users on login (sorry about that!)
* Fixes bug that caused login view issues while enabling/disabling Touch ID login
* Updates login view to preserve state of keyboard when turning Mask switch on and off
* Fixes crash while requesting camera access for QR scanner

Please leave a review with your feedback and let us know if you have any issues. You can reach us directly at support@zetetic.net.

There is a discussion forum for STRIP at:
https://discuss.zetetic.net/c/strip
iPhone Screenshot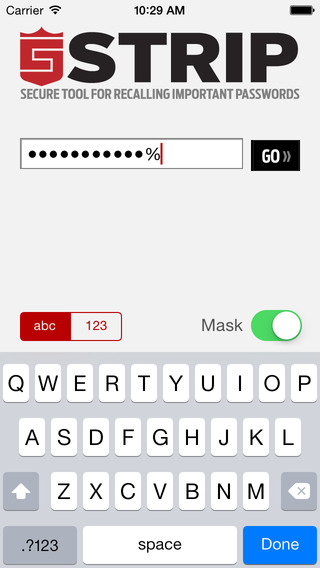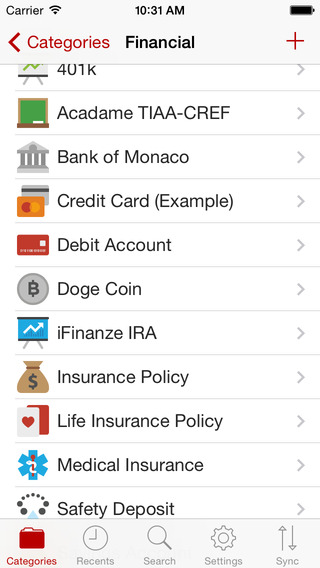 Customer Reviews
Last Update
Since the last update, just over a week ago, the app crashes before it actually opens. I have lost access to all of my passwords! I'm hoping for an update soon but haven't seen it yet.
TouchID!
It works now. Excellent. I love this app - use it on my phone and computer.
TouchID DOES NOT WORK
[UPDATE for v2.5.1 (322)]
First off, the app says "v2.5.1", but they probably mean "v3.5.1". Oh well, I guess that will get fixed in v3.5.2 ;) Anyway, STRIP has FIXED TouchID! If you've been following my reviews on this app, you can see that the app has been making steady improvement - that is until a broken TouchID implantation was introduced. Now that the developers have fixed TouchID, I'm coming through on my promise to give this app FIVE STARS. In summary, it's secure, stable, easy to use, and has TouchID. Done and done. ⭐️⭐️⭐️⭐️⭐️

[UPDATE for v3.5.0 (316)]
STRIP has implemented TouchID. For this reason alone I would have given the app 5 stars, but upon opening the app, you are prompted repeatedly (as much as eight times before I tapped "cancel") for TouchID input. Once in the app, none of your entries appear. Fortunately this is just a bug- the data still exists if you enter the app via password. I force quit the app, and completed a hard reboot of the phone to no avail. This kind of bug is serious in my mind to drop another star. Highly disappointing, as the app was one star away from 5 stars with proper TouchID implementation. I would have kept my rating at 4 stars, but the net effect of this update is too negative. If TouchID is fixed, I will easily give the app 5 stars.

[UPDATE for v2.4.7 (298)]
STRIP still does NOT implement TouchID. In my mind, this keeps the app at 4 stars. I'm not convinced that the developers have any good reason (security or otherwise) not to integrate TouchID functionality.
See below for original review.

[UPDATE for v2.4.4 (277)]
STRIP interface is now updated with proper iPhone 6/6 Plus resolutions. However, STRIP still does NOT implement TouchID. In my mind, this keeps the app at 4 stars. I'm not convinced that the developers have any good reason (security or otherwise) not to integrate TouchID functionality.
See below for original review.

I'd give this app 5 stars for:
Security
Ease of use
But I only give it 4 stars because at this point, it really should be using TouchID, and have proper iPhone 6/6Plus resolutions (including keyboard).
View In iTunes
$9.99

Category:

Productivity

Updated:

Jul 10, 2015

Version:

2.5.1

Size:

6.2 MB

Language:

English

Seller:

Zetetic LLC
Compatibility: Requires iOS 6.0 or later. Compatible with iPhone, iPad, and iPod touch. This app is optimized for iPhone 5.
More iPhone Apps by Zetetic LLC