Summoners War
By Com2uS Corp.
This app is only available on the App Store for iOS devices.
Description
2017 Summoners War World Arena Championship!
Who will be the strongest Summoner of all?

Sep. 16th Shanghai, Taipei Regionals
Sep. 23rd Bangkok Regionals
Sep. 24th Hong Kong Regionals
Sep. 30th LA Regionals
Oct. 7th New York, Paris, Tokyo Regionals
Oct. 14th Seoul Regionals
Oct. 17th - 19th Online Tournament

And the World Finals will be held on Nov. 25th in Los Angeles!

* Events will be held based on the local time (The online tournament will be held based on KST (GMT +9)).

Join the moments of excitement via live broadcasting online at the official channel!

More Info▶ www.summonerswar.com
Official YouTube Channel▶ https://goo.gl/ifhpKs

"An action-packed fantasy RPG with over 70 million Summoners around the world!

Jump into the Sky Arena, a world under battle over the vital resource: Mana Crystals!
Summon over 1000 different types of monsters to compete for victory in the Sky Arena!

Assemble the greatest team of monsters for strategic victories!

Summoners War: Sky Arena

Summoners War Official Community:
http://forum.com2us.com/forum/main-forum/summoner-s-war

***

▶Features

[Strategic Gameplay]
Witness the dazzling display of each Monster's unique skills!
21 different Rune sets to pick and choose additional abilities for your monsters!
Come up with the best strategy to win battles!

[Endless Fun!]
Decorate your Village, battle other summoners, explore Dungeons, fight in PvP battles, expand your Collection, train Monsters, and more!

[Massive Collection]
Fire, Water, Wind, Light and Dark!
5 different attributes, and 1000 different monsters!
Collect as many monsters as you can and assemble the greatest team!

[Dynamic Guild Battles]
All for one!
Fierce battles of up to 25 people per guild!
Group up with your guild buddies to be the last guild standing!

[Real-time Raid]
Battle as a team!
A real-time battle with 3 users!
Defeat the boss with your fellow Summoners using various tactics!

[Homunculus]
The Forbidden Summoning Magic has finally been revealed!
You can Evolve the skill of your choice with this special Monster!
Summon Homunculus and show off your strategy!

[Craft]
You can Craft more than 100 items at the new Craft Building!
Craft High Runes, special Buildings, Statues and more with the new Craft System and install them wherever you want!

[World Arena]
Enjoy a real-time battle with users worldwide!
Experience a breathtaking battle that starts from Pick&Ban!
Reveal your unique strategy to the world!

[Guild Siege Battle]
Live Guild Battle where 3 Guilds fight at the same time!
A fierce battle to claim Crystals!
Show the united power of your Guild to win the Siege Battle!

Summoners War is available in 16 different languages!
English, 한국어, 日本語, 中文简体, 中文繁體, Deutsch, Français, Português, Español, Русский, Bahasa Indonesia, Tiếng Việt, Türkçe, العربية, Italiano and ไทย!

Items are available for purchase in this game.
For Com2uS Mobile Game Terms of Service, visit
www.withhive.com.

Terms of Service : http://terms.withhive.com/terms/policy/view/M9/T1
Privacy Policy : http://terms.withhive.com/terms/policy/view/M9/T3

For questions or customer support, please contact our Customer Support by visiting http://www.withhive.com/help/inquire
What's New in Version 3.7.0
Explore a world under battle and summon monsters to compete for victory in the Sky Arena!

1. New Guild Siege Battle has been added.
2. Other bugs have been fixed.

Got feedback? Leave a review or visit http://www.withhive.com/help/inquire and drop us a line!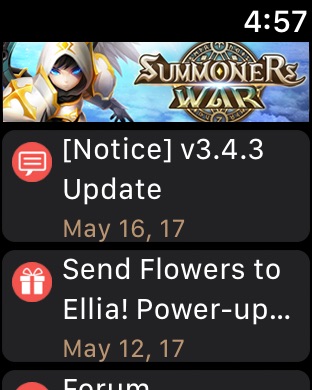 Customer Reviews
Cost to be competitive too high.
As a gamer since the cs, diablo 1 days so much has changed. Especially the way we spend money on games. Micro transactions are awesome but the way summoners war devs do it shows what greed is. Its a really well made game. I love it. I love the rng and the difficulty the game Entails. However, the cost for crystals needs to be lower. If your rates are going to be so bad that it takes 10k+ dollars to get to a seriously competitive state in this game it will never make it to esports level. This game will never grow to its true potential unless something is done about the amount needed to be spent on this game. Energy refreshes, Devilmons, rune rates, nat 5s are just way too low. The required time to hit "endgame" as a f2p player will take you years upon years. So if youre planning on f2p expect a serious grind even if you play as much as energy tkme resfreshes possible it will take you minimum 2 years. I hope you devs read this and make changes. Com2us already made so much money. You can take this game to the next level by making significant changes so that f2p players have a chance without spending 4years to catch up to the ppl that spend 10k+.
iPhone 8 Plus incompatibility
Update: The response from Com2Us to my review here is the same exact thing they copy and pasted in all of my support tickets. Another example of how they do not truly read and assess problems users submit. If they even read my review they would have seen that I complained about this very thing. I am glad they responded to my review the way they did, it further reinforces my poor review of this company.

My iPhone 8 Plus can not run the game smoothly at all. When in battle it feels like I'm getting no more than 5-10 frames per second (extremely laggy and choppy animation/gameplay).

I have opened 3 support tickets with Com2us and they responded to 1 with a website article they copy and pasted from their support forums which I have already visited first before contacting them. They will not explain why my phone can't run the game. I have tried updating to latest iOS/complete wipe, setting phone up as new device/ reinstalling summoners war, disabling all 3D effects via reduce motion and disabling 3D Touch, spotlight search...basically anything extra and nonessential I disabled and tried playing and it doesn't change at all.

I suspect issues with the new Apple designed GPU instead of the past GPU developer and something isn't meshing well. Whatever it is I can't play and I haven't even received an explanation or even an attempt at explaining. So for poor support and poor customer service I seem it's fair to issue a one star review.
Average p2w phone game, plenty of free stuff too though
After you have played this game for a few years it starts feeling like it's actively trying to make you quit. Com2us has no loyalty to its older players. People are having their accounts stolen and I haven't seen com2us even so much as post a statement about it much less try to fix the holes in their hive account system.
It's true this game isn't for a lot of people, there isn't much instant gratification at all but as far as most of the people complaining about the monster drop rates, I don't think that's much of an issue. I think rune drop rates are much worse but, like most phone games, com2us's answer to that is just to release a purchasable pack to get high grade runes easier... not saying it's worth it... because it's not in my opinion but meh thats phone gaming for you...
View in iTunes
This app is designed for both iPhone and iPad
Offers Apple Watch App for iPhone
Free

Category:

Games

Updated:

Nov 17, 2017

Version:

3.7.0

Size:

47.3 MB

Apple Watch:

Yes

Languages:

English, Arabic, French, German, Indonesian, Italian, Japanese, Korean, Portuguese, Russian, Simplified Chinese, Spanish, Thai, Traditional Chinese, Turkish, Vietnamese

Seller:

Com2uS Corp.
Compatibility: Requires iOS 7.0 or later. Compatible with iPhone, iPad, and iPod touch.
Top In-App Purchases
Pile of Crystals$9.99
Chest of Crystals$99.99
Sack of Crystals$19.99
Handfull of Crystals$2.99
Light-Dark Pack$29.99
Bundle of Crystals$4.99
Summoning Stone Pack$29.99
Rune Summon Package (Violent)$29.99
Summoning Stone Pack 1$9.99
Starter Pack A$4.99