Transit App ~ Real Time Tracker (Subway, Metro, Bus, Train, Bike, Uber & car2go) ~ NYC MTA, Chicago, LA, SF, Washington DC, Boston + more
By Transit App, Inc.
Open iTunes to buy and download apps.
Description
Transit is the fastest way to get going in over 85 cities. Right on launch, it displays all nearby transport options and departure times — instant access to the information you need most. Bus running late, again? Quickly plan a new route, request an Uber, or grab the closest bike share or car2go. 

**Apple's Editors' Choice** NYC MTA App Quest 2013 Winner** Voted Official App of Toronto Transit Commission -TTC/BlogTO 2014 App Contest** 

Transit works in most major US and Canadian metropolitan areas in addition to select cities in Europe (see US list below). 

KEY FEATURES 
- Know at a glance when your next subway or bus is arriving (including real-time predictions).*
- Plan A-to-B trips with ease.
- See exactly where your transit vehicle is on the map in real-time.*
- View schedules and route itineraries (even offline!) 
- Favorite routes for instant access to upcoming departures.
- Save home/work locations for quicker trip planning.
- See bike share stations on the map including how many bikes and docks are available. 
NEW - Find nearby car2go's and easily book a vehicle.
NEW - Check real-time ETAs for the closest Uber, and request a ride with two taps.  

*wherever real-time info is available from transit agencies. 

USER REVIEWS
"This app makes me WANT to ride the bus"
"Love this so much I might sell my car." 
"Blows Google Maps out of the water." 
"Clearly beats other transit apps in every way. Totally changed my transit experience."
"This app alone gives me 15 more minutes of sleep and flexibility." 
"I simply cannot describe the extent to which this app has expedited my daily commuting." 
"Jony Ive would be proud." 
"Probably the best thing on my phone, no joke." 
"The world was invented then this app." 
"Truly ingenious work here. Honestly, these guys should be in charge of actual public transportation itself."

CITIES
See below for the full list of supported cities in the United States. You can find the complete list of cities and agencies at transitapp.com.

Can't find your city? Visit our website to vote for the next one that we should add!

USA
- Ann Arbor
- Atlanta*
- Austin*
- Baltimore
- Boston (MBTA*, Massport, MetroWest RTA, Brockton Area Transit (BAT), Lowell RTA, Plymouth & Brockton S. R. Co., CATA)
- Buffalo
- Chattanooga*
- Chicago (CTA*, Pace, Metra, NICTD)
- Cincinnati
- Cleveland
- Columbus
- Dallas
- Denver
- Detroit*
- Eau Claire
- Grand Rapids*
- Hampton Roads
- Hartford
- Honolulu*
- Houston*
- Kansas City
- Las Vegas
- Los Angeles (Metro*, OCTA*, Metrolink, LADOT*, Omnitrans, RTA, Burbank Bus, Torrance Transit, Hyperloop*, Foothill Transit*, Big Blue Bus, Glendale Beeline*)
- Louisville*
- Madison*
- Miami (Miami-Dade Transit, Broward County Transit)
- Milwaukee*
- Minneapolis-Saint Paul*
- Nashville
- New Orleans*
- New York City (NYC Subway*, MTA Buses*, LIRR, Metro-North, NJ Transit*, PATH, Staten Island Ferry, NICE, Bee-Line, RI Tram, NY Waterway, AirTrain, CTTransit New Haven, CTTransit Stamford, CTTransit Waterbury)
- Orlando*
- Philadelphia (SEPTA*, NJ Transit*, PATCO)
- Phoenix*
- Pittsburgh*
- Providence
- Portland*
- Sacramento
- Salem, OR
- Salt Lake City*
- San Antonio
- San Diego (MTS, NCTD*)
- San Francisco (BART*, MUNI*, Caltrain*, AC Transit*, VTA*, County Connection*, Golden Gate Transit, SamTrans, Hyperloop*, Sonoma County Transit, Healdsburg Transit, Cloverdale Transit, Marin Transit)
- Seattle (Metro Transit*, City of Seattle*, King County Marine Division, Sound Transit*, Pierce Transit, Kitsap Tours)
- St. Louis
- Stockton
- Tampa*
- Washington DC (DC Metro and Bus*, DC Circulator*, Ride On*, Arlington Transit*, Fairfax Connector, MTA, Virginia Railway Express*)

* Uses real-time predictions and vehicle locations for some or all routes.
What's New in Version 3.4.2
One of our users had such a rowdy night that he woke up in a different city, hours away, with nothing on his person except for a hula skirt and a bag of Doritos. Our lawyers told us to say this: PLEASE WEAR MORE THAN A HULA SKIRT WHEN RIDING THE BUS. Especially if you happen to live in Canada.

Thank you (Brian).

PS: We also fixed a bunch of bugs.
iPhone Screenshot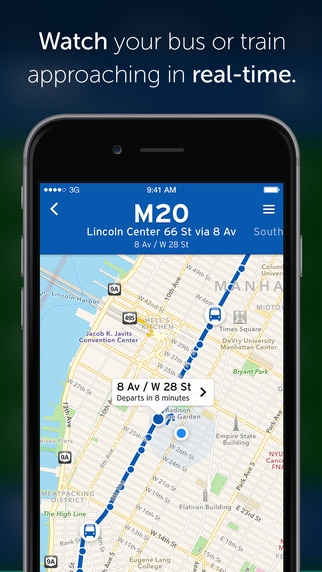 Customer Reviews
Compromises privacy
I love the Transit app but ever since they integrated with Uber I have become increasingly concerned about their privacy protections. Most specifically, the today widget in the Notification Center.

As of this writing I have disabled the Uber integration at least 3 times, and each time I have later found that Uber (as well as Bcycle and Car2Go) were re-enabled on their own. This would not normally bother me, however Uber is a company I actively avoid using because of their incredibly lax practices with personal privacy. (They have played fast and loose by showing people's location on their service to promote new service. Plus many other severe lapses in judgement has made me decide to never use their service)

I understand that may not be everyone's choice but it is my choice. And it is ridiculous that Transit would provide a switch to turn off that integration but periodically "forget" that I turned it off then turn it back on without my involvement.

I use the Today widget that tells me when the next bus is arriving and it is beyond infuriating to see Uber there, "5 minutes for Uber pickup". You just sent my location to Uber when I pulled Notification Center open. I can't believe you would compromise my privacy and my choices in that way. I'll be deleting the transit app because the money for that integration is obviously FAR more valuable than transit's users.
The best for my area
I've tried them all (that support Denver) and keep coming back to the Transit app (been using it pretty much since it debuted when Apple Maps came out). These guys have built the most robust transit app out there with the most useful features and interface for what I need. Moovit is pretty good but I prefer the workflow in Transit and crowd-sourced data is never that useful out here anyway. Citymapper looks nice but they don't support very many cities. Transit app wins.
Best. Ever.
I'm not a programmer, but if I were this would be the transit app I would work to make. I live in Los Angeles were there's dozens of transit agencies and this app handles it them all with style and class with support for real time arrival information and multiple agency schedules (LA Metro, LADOT Dash, Santa Monica Blue Bus, Culver City, etc). I hope the developer keeps up the good work! This is the one transit app you should have on your phone other than Maps. I wish I could give it 6 stars!
View In iTunes
Free

Category:

Navigation

Updated:

Feb 12, 2015

Version:

3.4.2

Size:

21.4 MB

Languages:

English, French, German, Italian, Spanish

Seller:

9280-0366 Quebec inc.
Compatibility: Requires iOS 7.0 or later. Compatible with iPhone, iPad, and iPod touch. This app is optimized for iPhone 5, iPhone 6, and iPhone 6 Plus.
More iPhone Apps by Transit App, Inc.