Thinking Kit App
By Reflective Thinking
This app is only available on the App Store for iOS devices.
Description
Thinking Kit - the easy way for educators AND learners to create simple but unique learning activities for iPads. It can be used with any age and any topic whilst building essential and higher level skills.

Thinking Kit activities consist of a number of movable and scalable pieces of information (e.g. photos, text, diagrams, or maps) – and one main Task Question or Objective. The focus can be anything from reading, grouping and/or ordering, to very challenging and open ended problems.

Download the app now or go to www.thinking-kit.com for more details.

WHY WOULD I USE THE THINKING KIT?

* QUICK – Just fill in the task template, upload images (if you like), then save to get a Task Code. Enter that code in the Thinking Kit App and it downloads instantly. If you have the contents ready, creating a task and getting it on the iPad can be done in 5 minutes.

* CONVENIENT – While the tasks themselves are used on the iPad, they can be created on laptops and PCs. When you save, tasks are saved to the cloud, so no worries about storage or remembering that memory stick!

* BALANCED – You cover the topics you need to with students and while they learn about them, they develop key skills too.

* SHARING – You can share your tasks with colleagues and use or modify tasks shared by others.

* PROJECT BASED LEARNING – You can ask students to prepare their own contents which can then be turned into an iPad activity (for them or others).

* STORY TELLING – Thinking Kit can be used for creating stories, telling stories, or getting engaged with text and picture based stories that you or the students create.

2 QUICK EXAMPLES OF TASKS:

* Using the creator, you (educator) would add images of animals and a definition of 'vertebrate' and 'invertebrate'. Set instructions: 'Put the vertebrate animals on one side and the invertebrate animals on the other. Then, create some named groups to sort them into different kinds, e.g. 'Fish'.

* Add a few facts, diagrams and photos about a flood. Set instructions: 'Put these diagrams, facts and images in order to reflect why you think the flood occurred. Use the Sticky Tape to join things together and add notes to explain why.'

HOW DOES THE APP WORK?

Students of any age learn in the Thinking Kit App by visually moving, grouping and linking pieces of information set by you or another creator. Learners can do this together (2-3 on one iPad) for a truly collaborative experience or they can do this alone.

The Thinking Kit App is designed to trigger group discussions on any topic being worked on, through the use of tools such as Sticky Tape, Arrow Sticky Tape, Group and Note. Such discussions, depending on the type of task created, can lead to the development of collaboration and higher level skills (such as critical thinking and problem solving). This is as well as the retention of whatever information that is in the created tasks.

A Reflection Stage at the end allows a quick playback of the full process. This promotes the importance of the process as well as the outcome. It can be carried out alone, with a group, with the educator or even as a class.

A PDF report of completed activity sessions can be opened in the app. It's a summary of a session with screenshots of the process and includes things that learners have added, such as groups or notes. If learners can't quite finish their session, they can simply save then resume another day.

MORE TASK EXAMPLES

3 example tasks are included in the app. Here's some other quick examples of possible tasks/objectives:

* Place these images and bits of text on the right location on the background map

* Use the Sticky Tape to create a chain of these information slips to show the chronological order of American history. Fill in any gaps with notes

* Look at these clues, do the sums then explain which machine you think Trev the Triff's alien employees should use
What's New in Version 1.1.1
Fixed a bug where users on some iOS versions were unable to download their created Tasks
iPad Screenshots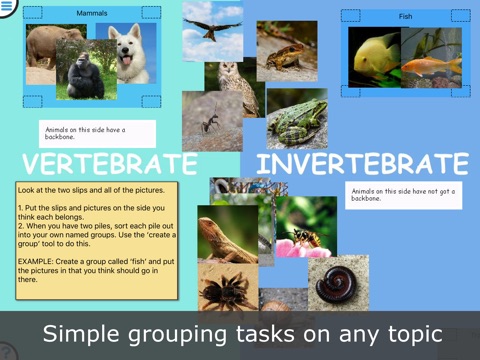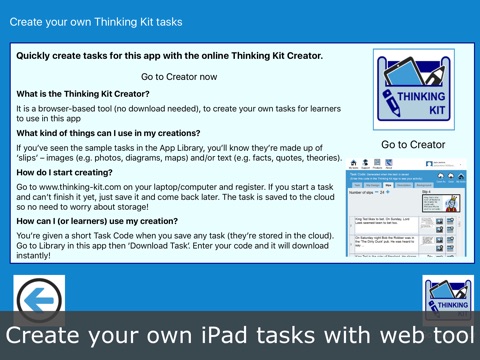 View in iTunes
Free

Category:

Education

Updated:

Apr 28, 2016

Version:

1.1.1

Size:

10.6 MB

Language:

English

Seller:

Modular Software Ltd
Compatibility: Requires iOS 7.0 or later. Compatible with iPad.