True Food
By True Food Network
This app is only available on the App Store for iOS devices.
Description
Did you know that up to 70% of packaged foods on our supermarket shelves contain genetically modified (GM) ingredients? Today, thousands of products on supermarket shelves are made with ingredients from genetically modified (also known as genetically engineered [GE]) crops. But GM foods are not labeled in the U.S., despite warnings from doctors and scientists that these foods may not be safe in the diet or the environment. So what's an American consumer to do? Go behind the label and get the facts on genetically modified foods! The True Food Shoppers Guide gives you valuable information on common GM ingredients, brands to look for—and look out for—and common sense tips to keep you in the know and help you find and avoid GM ingredients wherever you shop.

The Center for Food Safety's True Food Shoppers Guide was compiled because you have the right to know what's in your food!

We compiled the Shoppers Guide primarily from direct communications with food producers. In some cases, we received company policy statements from consumers who passed these on to us. In addition to written statements, we spoke to many company representatives to clarify or assess their position. Products on the RED list contain ingredients that come from the most common GE crops (corn, soy, canola, cotton). Companies with products on this list have confirmed that their products may have or are likely to be made with GE ingredients, or have not denied using GE foods when given the opportunity to do so. Companies on the GREEN list have made a concerted effort to avoid GE ingredients and have company policies asserting their position on avoiding GE foods.

Features

-Our "Four Simple Tips" section gives you easy ways to avoid genetically modified ingredients in any product
-"What's New" brings you an always-updated feed of the Center for Food Safety's latest news and campaign developments on GMOs and other important food issues. You can even share these articles and announcement with your friends on Facebook, Twitter, Digg and more, right from the app!
-Our "Action" center brings you our latest action alerts on simple things you can do to demand True Food!
-"Supermarkets and GMOs" lists major supermarket chains across the US and their policies on GMOs and rbGH use. Here you can find non-gmo and rbGH-free store brands, and supermarkets that are entirely non-gmo in their private-label brands!
-You can browse the Shoppers Guide by category (16 categories in all) in a simple "Green" and "Red" list format, or search for products by brand name or food type
-The Shoppers Guide also includes the ability to call or email companies listed in the "Red" (those who do not avoid GM ingredients in their products) to let them know you will not buy their products until they drop GMOs
-Learn about the risks of gm crops and foods, the benefits of and where to buy organics, gm crops in development, rbGH, and more in "More Info"
-Join the CFS True Food Network or our new Mobile Activists list and get updates and action alerts on the most pressing food issues via email or text message! We are over 100,000 members strong, and growing. Add your voice!
-Connect with the CFS True Food Network on Facebook, Twitter, and YouTube

While the app contains a lot of brand information, we could not possibly include every brand in the country. If there is a certain brand you see at the supermarket, or purchase often, that is not included in the Guide, just send us an email from the app and we'll include it in our next update! Please note that the Guide only includes a few organic brands as Certified Organic products are not allowed to be produced from gm crops.

The CFS True Food Shoppers Guide app was developed by Twinkle Toes Software: http://www.twinkletoesoftware.com/portfolio.html
What's New in Version 1.2
- minor updates
- bug fixes
iPhone Screenshots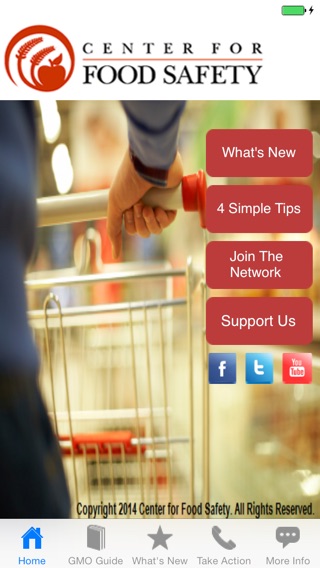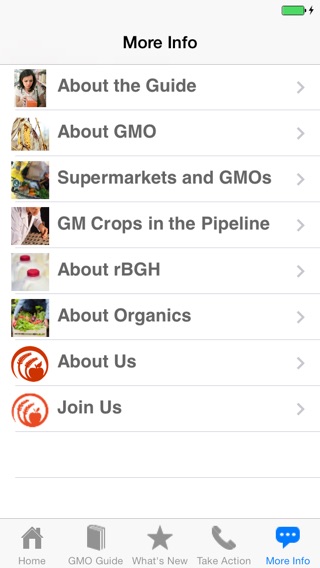 Customer Reviews
My Right to Know!
I appreciate people like those at CFS who are working hard to protect the people's rights to decide for themselves what to put into their bodies. Caring parents try to make informed responsible decisions for the well-being of their children. We should be able to shop for the products we consume, knowing it's origin, meaning where it was farmed and what their farming practices are, how it was grown, environmental exposures, etc. We should know whether or not a tomato is really a tomato or something that looks like a tomato but lacks the nutrients, fiber, reproducible seeds, water content, and all the natural things it was in its first existence without man tampering with it. Taste an organic tomato grown in nutrient rich soil, then taste one that isn't. Then tell us there is no difference. Give us the scientific proof that each of those tomatoes has the exact same nutritional benefits and no potential long-term negative impact on your body if consumed on a daily basis. Then I might believe that man is smarter and more honest than the Creator of all things and that man cares more for my health and well-being and that of my children than he cares about the all mighty dollar in his back pocket! No, I don't think I'm the stupid ignorant one here. Keep up the good work, CFS!
Very helpful
I use this whenever I go to the store. I don't want to eat GMO foods and I'm glad there's actually something that's able to tell me what food has it!
Love
Once you do your research you will for sure want to download this app!
View in iTunes
Free

Category:

Food & Drink

Updated:

Mar 13, 2014

Version:

1.2

Size:

6.5 MB

Language:

English

Seller:

Center for Food Safety
Compatibility: Requires iOS 5.0 or later. Compatible with iPhone, iPad, and iPod touch.