Ulysses
By The Soulmen GbR
Editors' Choice
Open the Mac App Store to buy and download apps.
Description
"The app is amazing. An absolute delight to use. Well done." – David Hewson, Bestselling Author

*Best of Mac App Store 2013*

Ulysses for Mac is your one-stop writing environment on OS X. Whether you're a novelist, a journalist, a student or a blogger – if you love to write and write a lot, Ulysses gives you a uniquely streamlined toolset, covering every phase of the writing process:

- A powerful, yet simple text editor.
- A familiar, no-nonsense text library.
- A comprehensive and truly flexible multi-format export.

Of course, the heart and soul of a writing app is its editor. And Ulysses is said to have the best text editor in the world. It offers everything you need – from markup to images and footnotes, from links to comments and code –, and it still manages to stay completely out of the way. It's a beautiful and focused experience, which turns the every-day chore of writing into *actual fun*.

But since Ulysses takes writing seriously, it does not stop at the editor. Its unified library offers unprecedented access to everything you'll ever write, be it snippets and ideas, be it blog posts or manuscripts. Every text is at your fingertips, and Ulysses perfectly scales from scratchpad to diary to Great American Novels – and to everything in-between.

Once you're finished, export is only a click away. Ulysses can transform your text into beautiful PDFs, web pages, standard e-books and Rich Text documents. You can copy as HTML or save to the cloud as Markdown. Export is as easy as selecting a format, selecting a style, and selecting a destination. Yes, 1-2-3.

Best of all, Ulysses offers fully-fledged, no-holds-barred, all-out iCloud sync. Ulysses is available for both Mac and iPad, and every connected device has access to everything and anything you'll ever write. Synchronization is simple, seamless and neither requires third-party apps, nor any kind of interaction. If you got iCloud, you got sync.


### ASSORTED QUOTES ###

"Welcome to the future of writing." – Cult of Mac
"It's the one app modern writers need." – MacAppStorm
"An impressive text-editing powerhouse" – The Unofficial Apple Weblog (TUAW)


### FEATURES ###

Focus & Concentration
- Markup-based text editor
- Clean, distraction free interface
- Typewriter Scrolling
- Light and dark fullscreen modes

Write & Edit
- Simple markup for headlines, lists, comments, quotes, important passages and more
- Easy insertion of links, annotations and footnotes
- Drag'n'drop placement of images with live preview
- Option to attach keywords, notes and images
- Smart Copy & Paste
- Search & Replace
- Spell check, grammar check, auto correction & dictionary
- Dictation & Speech support
- Writing goals (characters, words, pages etc.)
- Comprehensive text statistics

File & Organize
- A single library for all texts
- Sorting by date, by title or manually
- Groups, intelligent filters, favorites
- Full iCloud synchronization
- Automatic versioning and version control
- Import and editing of text files from external folders
- Global search

Export & Processing
- Export as PDF, RTF, TXT, Markdown, HTML and ePub
- Live preview, send as email
- Pre-selected styles for export
- Edit and create styles via CSS, share via Ulysses Style Exchange
- Share files via Dropbox

User Interface & Navigation
- Designed for OS X 10.10 Yosemite
- Simple, three-paned layout (library, sheet list, editor)
- Option to hide library and sheet list
- Functional markup bar (aka cheat sheet)
- Full keyboard navigation
- Easy text navigation via structure and bookmarks
- Light and dark editor modes
- Hand picked color palettes, easy customization

and so much more…


### SUPPORT ###

Please visit http://www.ulyssesapp.com for more information. You can also reach us via support@the-soulmen.com or on Twitter @ulyssesapp – we're happily awaiting your feedback!
What's New in Version 2.0.2
This update fixes a couple of late-breaking, post-release glitches. Sorry for the hassle.

Fixed in Ulysses 2.0.1:

- Paged Mode is back by popular demand
- Improved spec compliance of ePub export
- Added metadata to ePub export
- Improved visibility of interface controls in Quick Export
- Improved compatibility with "Increase Contrast" accessibility option
- Added "Copy to Clipboard" action to Export Preview
- Added number icons for groups
- Paragraph dividers are now always converted to page breaks when using the Swiss Knife and Plain & Simple export styles
- Fixed resizing of main window on small screens
- Improved startup performance
- Fixed crash when switching sheets
- Fixed crash when changing case of external filename
- Fixed crash when trying to add a sheet
- Fixed crash when trying to preview sheets in Trash
- Fixed a whole lot of small bugs and rare crashes

Thanks everybody for a fantastic launch. We're flattered by your feedback… so please keep it coming!
Screenshots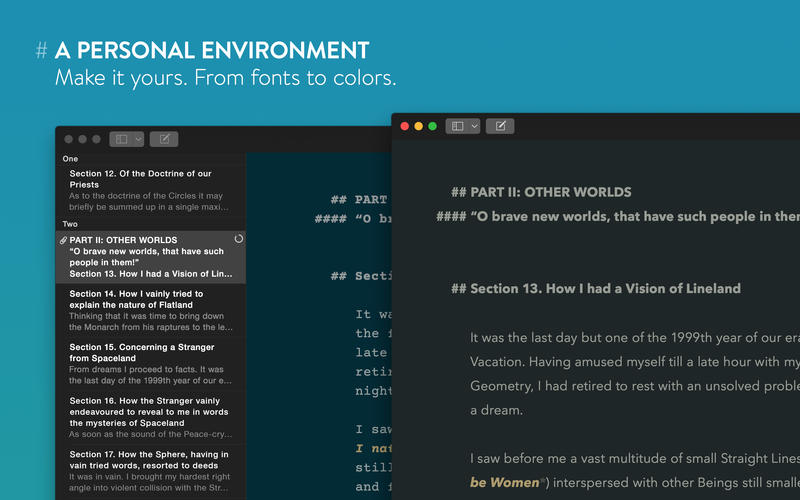 Customer Reviews
Outstanding writing and notes application
I am a student, and Ulysses has filled a large void in my note-taking workflow. I take notes for all of my classes in markdown and love Ulysses' beautiful styles and interface. I can have folders/groups for each class, store notes for every class in a separate file, but still maintain a global (per class) search or search by individual days. While this is not the primary purpose of the app, it has filled a niche and works better than any alternative out there.

I also like using Ulysses to draft papers and other writing assignments, and love it for the distraction-free enviromnent. The goals and statistics pane is nice and not too obtrusive, and I like writing in markdown. However, lacking any review features (track changes/comments etc) make me rely on MS Word exports after my initial drafts.

The thing I like the least is iCloud sync. If you use iCloud instead of local storage, all of the files are stored inside of the Ulysses iCloud container (read: impractical location and non-intuitive file naming). I know that this is just you trying to take advantage of the apple iCloud ecosystem, which itself disgusts me, and I know from developing with iCloud that the sync system is awful and unreliable, but it is still the developers job to provide as seemless of an experience as possible. The iCloud storage/sync system is lacking and needs to be much improved. Otherwise, the app is fantastic.
One of the best writing apps for Mac
I am a book writer and also an English major who writes academic papers. I recently downloaded the Ulysses Demo and was very impressed with it. I then bought the full program. I have mainly been writing my latest book in Apple Pages. My eyes are getting a rest, now that I discovered the Dark Mode/Theme in Ulysses. This makes it easier for me to focus on the screen for hours on end. I also appreciate the simplicity of the application's design and its light feel. Ulysses is very responsive and not sluggish. The typewriter mode is great and I also like the blinking cursor, which harkens back to the early days of my introduction to the Apple II. I now plan to do the majority of my work in this excellent program. The only complaint I have is that when I export a document and open it in a word processing program, the footnotes appear but are not active anymore. This means I have to redo them, which is a slight bother. Other than that, I fully endorse this application.
Great concept, crashes way too much
No one should run after any application hoping it will work if they do 'this' or 'that'... It works or it doesn't. Ulysses is the kind of app in which you really want it to work for you (because everything you want it to do actually exists within it), but besides it's constant crashing (causing weird kernel panics according to the logs), parts of the app not working or the tech support staff telling me that no, the app doesn't crash, it's my Mac or other apps in it, you just kinda throw up your hands and move on to another app in the store. Luckily, there's a few just like it around (I won't mention names, that may be against Apple's TOS as advertising), but I honestly wish Ulysses (for the price) would get to work. Even on a brand new Mac with a fresh copy of OS X on it and it happens to be the _only_ installed app--it still crashes (4x kernel panics in one day). That's not my Mac or "other apps" my friend from Technical Support. That's _your_ app. Fix it and I'll come back to it.
View in Mac App Store
$44.99

Category:

Productivity

Updated:

Apr 25, 2015

Version:

2.0.2

Size:

13.0 MB

Languages:

English, French, German, Italian, Japanese, Simplified Chinese, Spanish

Seller:

The Soulmen GbR
Compatibility: OS X 10.10.0 or later, 64-bit processor