Ulysses
By The Soulmen GbR
Editors' Choice
Open the Mac App Store to buy and download apps.
Description
"The app is amazing. An absolute delight to use. Well done." – David Hewson, Bestselling Author

*Best of Mac App Store 2013*

Ulysses for Mac is your one-stop writing environment on OS X. Whether you're a novelist, a journalist, a student or a blogger – if you love to write and write a lot, Ulysses gives you a uniquely streamlined toolset, covering every phase of the writing process:

- A powerful, yet simple text editor.
- A familiar, no-nonsense text library.
- A comprehensive and truly flexible multi-format export.

Of course, the heart and soul of a writing app is its editor. And Ulysses is said to have the best text editor in the world. It offers everything you need – from markup to images and footnotes, from links to comments and code –, and it still manages to stay completely out of the way. It's a beautiful and focused experience, which turns the every-day chore of writing into *actual fun*.

But since Ulysses takes writing seriously, it does not stop at the editor. Its unified library offers unprecedented access to everything you'll ever write, be it snippets and ideas, be it blog posts or manuscripts. Every text is at your fingertips, and Ulysses perfectly scales from scratchpad to diary to Great American Novels – and to everything in-between.

Once you're finished, export is only a click away. Ulysses can transform your text into beautiful PDFs, web pages, standard e-books and Rich Text documents. You can copy as HTML or save to the cloud as Markdown. Export is as easy as selecting a format, selecting a style, and selecting a destination. Yes, 1-2-3.

Best of all, Ulysses offers fully-fledged, no-holds-barred, all-out iCloud sync. Ulysses is available for both Mac and iPad, and every connected device has access to everything and anything you'll ever write. Synchronization is simple, seamless and neither requires third-party apps, nor any kind of interaction. If you got iCloud, you got sync.


### ASSORTED QUOTES ###

"Welcome to the future of writing." – Cult of Mac
"It's the one app modern writers need." – MacAppStorm
"An impressive text-editing powerhouse" – The Unofficial Apple Weblog (TUAW)


### FEATURES ###

Focus & Concentration
- Markup-based text editor
- Clean, distraction free interface
- Typewriter Scrolling
- Light and dark fullscreen modes

Write & Edit
- Simple markup for headlines, lists, comments, quotes, important passages and more
- Easy insertion of links, annotations and footnotes
- Drag'n'drop placement of images with live preview
- Option to attach keywords, notes and images
- Smart Copy & Paste
- Search & Replace
- Spell check, grammar check, auto correction & dictionary
- Dictation & Speech support
- Writing goals (characters, words, pages etc.)
- Comprehensive text statistics

File & Organize
- A single library for all texts
- Sorting by date, by title or manually
- Groups, intelligent filters, favorites
- Full iCloud synchronization
- Automatic versioning and version control
- Import and editing of text files from external folders
- Global search

Export & Processing
- Export as PDF, RTF, TXT, Markdown, HTML and ePub
- Live preview, send as email
- Pre-selected styles for export
- Edit and create styles via CSS, share via Ulysses Style Exchange
- Share files via Dropbox

User Interface & Navigation
- Designed for OS X 10.10 Yosemite
- Simple, three-paned layout (library, sheet list, editor)
- Option to hide library and sheet list
- Functional markup bar (aka cheat sheet)
- Full keyboard navigation
- Easy text navigation via structure and bookmarks
- Light and dark editor modes
- Hand picked color palettes, easy customization

and so much more…


### SUPPORT ###

Please visit http://www.ulyssesapp.com for more information. You can also reach us via support@the-soulmen.com or on Twitter @ulyssesapp – we're happily awaiting your feedback!
What's New in Version 2.0
The Upgrade Update

## BIG STUFF
New name: Ulysses for Mac is now called just that. No more Roman numerals.
Seamless sync with Ulysses for iPad: That's right. Ulysses is now also available on iPad. It's the full monty. And it syncs via iCloud.
Updated interface: Redesigned almost every aspect based on Yosemite's fresh new look. Cleaned house in the process.
Attachment bar: Attachments now have their proper place. Again.
New home for favs: Favorites have moved to the sidebar. Where they belonged in the first place.
Status indicators: Sheets show up- and download status, favorite status, attachment status. It's complicated.
Dark Mode to the fullest: Why should sidebars have all the fun? We give 5 shades of grey to every element (and it's beautiful)!
Completely revamped Quick Export and Preview: Now with TXT and ePub preview, better handling and simply the best Ulysses export ever.
Almost 200 group and filter icons: You wanted more, we give you more.
Speaking of icons: A new icon! Out with the old, in with the new! The caterpillar evolved into a beautiful butterfly. Hope you like it. Thanks, Jono!
Handoff support: Start on one device, finish on another. In theory *and* in practice.
Open Files: You can now drag and drop single text/markdown files onto Ulysses' (new, shiny) icon and edit these files *in place*. Just like that.

## SMALL STUFF
Tons of bugfixes. One off the most prominent being spell chek, which no longer automtigically disables itselv.
Everything should be way snappier than before.

Please note: Ulysses for Mac now requires Yosemite 10.10 – it won't run on older systems. We had to cut this specific corner in order to deliver what this update delivers.
Screenshots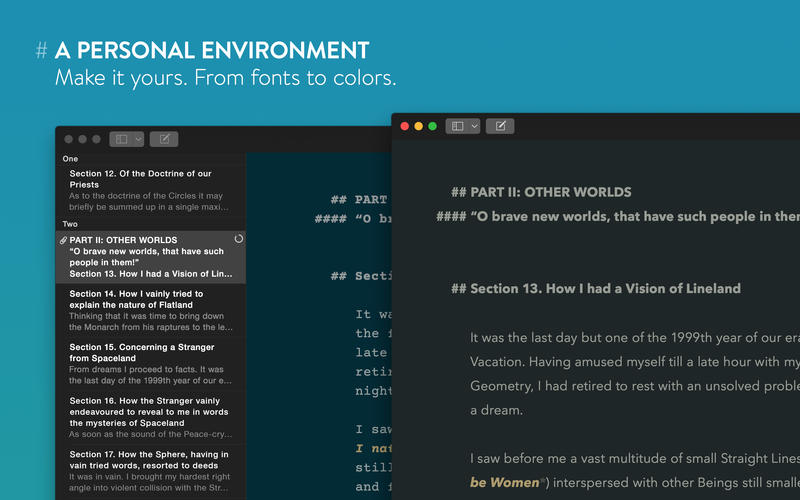 Customer Reviews
Maybe it'll grow on me… but so far I'm not thinking '5 stars'
Importing of RTF files loses all bold & italics, forcing the user to laboriously go through and edit by hand. Therefore, it's useless for me to import & work on any sizeable project. iCloud sync is astonishingly slow (as in, it's been over an hour since I put a dozen text-only files in, and it's still not on the iPad. And the network they're sharing is fast and snappy)… I don't know if that Ulysses' fault but it's terribly annoying. The ability to design your own styles (which is the main reason I bought the Mac app after purchasing the iPad app) is very clumsy.

I have 3 main documents. They are present as a top-level group with subgroups, 1 for each chapter. And each chapter has a sheet for each section (1-4 sheets). The iPad shows the outline and the title of the various groups, but whenever you select one, Ulysses for iPad incorrectly says there's no sheets.

Maybe it'll grow on me. Right now though, it's utterly useless. I'm giving it 3 stars out of pure optimism. Without better sync and unless I find a non-worthless way to design my own templates I'll be deleting both the iOS and the Mac app, and I'll be very angry about the combined cost… So many 5 start reviews. These people must have come into it with very very Ulysses-centric workflows already. I'm sure they're not all shills.
Great Product. Great Support
If you like to write on multiple devices and have them sync your work, then this is the product for you (with the iPad version, too). Once you link both your laptop and iPad to your iCloud account, everything that you write in Ulysses on either device, will be synced to iCloud. Then, when you use another iCloud-linked device, it updates for you automatically. At first, the iCloud sync wasn't working correctly for me, but a couple of emails to support had it fixed. (Keep in mind that support is in Germany, so responses can be delayed due to the time difference.) The support team was fabulous. I highly recommend this product.

The only updates that I would like to see in order to give it 5 stars are support for non-iCloud syncing (dropbox), the ability to force a sync (manual sync), and an easier way to save locally (a "save as" drop down choice). But these things are relatively minor in the big picture and I would guess that the Ulysses Team is already working on them.

Great Product! Keep up the good work.
One heck of a learning curve. But awesome.
For a $45 text editor, you ask yourself "Is it worth it?" First, know that there's a longer-than-normal learning curve when using this app. It's different, but after using the timed demo until it ran out, I found out that it's not necessarily a bad thing. The one thing about this app that I can't stand is that all my data lies within the app itself, not in a file where I manually save. This was my greatest fear. But, it's quite simple to drag-and-drop my document or entire project from the export window to the desktop or wherever I want. Plus, with all the different export options, I found that it was truly worth the price. Like I said, there's one heck of a learning curve, but I think in the end, it's worth it for anyone like myself working with Markdown. I grew to like this app (after first seeing it and running away screaming). I think it's worth the money. Five stars.
View in Mac App Store
$44.99

Category:

Productivity

Updated:

Mar 12, 2015

Version:

2.0

Size:

13.0 MB

Languages:

English, French, German, Italian, Japanese, Simplified Chinese, Spanish

Seller:

The Soulmen GbR
Compatibility: OS X 10.10.0 or later, 64-bit processor