UPAD
By PockeySoft
Open iTunes to buy and download apps.
Description
The UPAD app takes notes to another level.
Your notes become more striking than a printed page.
And you'll be completely intrigued.

:::::::: AWARDS & MEDIA REVIEWS :::::::::::::::::::
2011 Apple App Store, App of the year for iPad (Korea)
2011 Wired Magazine, Editor's Pick app
2011 App Storm review rating 10/10


All in One, UPAD !!!
Note taking + PDF annotating + Photo decorating
UPAD promised smoothness and speed, on top of countless differentiated features from other similar apps. Let us enlighten your iPad life with what UPAD can do.

1. Handwriting
Writing in UPAD is a joy. Smooth retina ink makes your handwriting look remarkably neat, detailed and sharp. Comfortably lay your hand on our palm rest and start writing using a pen or a marker -from a choice of different colors and widths. Find your favorite paper from the template gallery –more than 30 styles. Use the zoom in window, for more comfort and pin sharp writing.

2. PDF annotation
Open PDF files directly from your email or from any other apps via the "Open In UPAD" dialogue box. Connect to iTunes File Sharing to transfer multiple files at once. UPAD lets you read and annotate PDF documents; handwrite notes, highlight texts, post-it, and reference images.

3. Easy editing
Do not worry about making a mistake. Just copy/move/cut and paste your contents to make it perfect. Page thumbnail window allows you to easily add/move/duplicate and remove pages in a notebook.

4. Share your work
Export your document to PDF or PNG format, and send e-mail or upload to cloud storage services- Dropbox, Evernote and GoogleDocs. Or just post or tweet a single page image using Twitter and Facebook.

5. Inserting Images and shapes
Bring to life your notes by adding images from the photo library or from the iPad camera. Rotate, resize, crop and frame them as needed. Insert a circle, square or line to add extra detail to your notes.

6. Get organized
Organize your documents in your own way. Make folders by subject or matter of importance and collect data into it. Set password to individual files and folders to keep them secure. Add tags to a document and find it using the search feature. Mark your favorite files and see them all in one place. Bookmark also helps you to find specific pages quickly in a document.

7. Backup and restore
UPAD backup/restore is simple and intuitive. Save your backups in iTunes. Use calendar to restore lost data. Just select a day you want to go back and recover your data with a single tap of your finger.

8. And more
Just explore UPAD and find how much you can enjoy your iPad with UPAD.

Visit our website www.pockeysoft.com to learn more about UPAD.
We always love to hear from you.
Please send email for any feedback. upad.pockysoft@gmail.com

What's New in Version 2.11
2.11
- Fixed Typing Recognition Error.
- Fixed Floating Toolbar Error.
- Other minor bugs revision.

2.10
- Support 'Folder in Folder'
- The ability to individual copy & paste between different documents
- Support the left handed UI
- Applied Official Password & Forgotten Password Transmission Ability
- Enable to create a folder in a folder when you upload to Cloud
- Fixed Evernote allow access screen
- Fixed disappearing documents, when you change a folder/file name
- Fixed disappearing locked documents
- Revised recognition method of other apps. (Facebook, GoogleDrive, Evernote etc…)
- Fixed eraser function bug
- Enable to change PDF documents name when you export documents
iPad Screenshots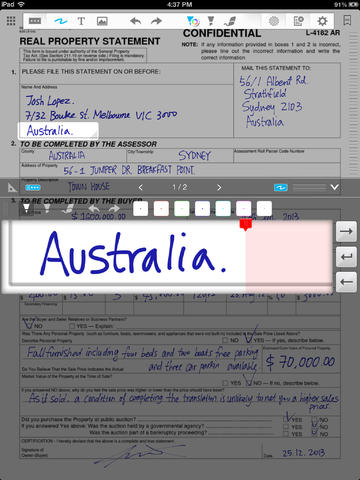 Customer Reviews
Great some ways, lacking in others
Ok so originally I was pretty impressed with this app. I used the Lite version then decided to purchase the full version to export to PDF files.

What I then found was that when you export to a PDF the files it makes are HUGE. It must use the full res uncompressed pictures and just stick them in there. A notebook with 4 pages and 3-4 pictures comes out 17mb! In two other similar apps I have since tried out I am getting 1-2mb PDF files with similar notebooks.

My other major issue is that you cannoot crop or edit pictures imported from the camera. Besides that it does not put these images into the photo galley of the iPad, but it puts them in its own library which chews up a lot of data space for the app. It is then tedious to go in and delete these images from the UPAD library.

I also have found there is a stunning lack of options for this app. It just does what it does and you cant custimize a whole lot of it.

Another issue I have found is that if you import a PDF it puts it in the "bookpad" and you can draw on it, but you cannot add more pages to it to attach pictures or further notes. Again, other apps I have used have this function built right in.

I would highly suggest you look at other note taking apps, there are others for the same price or less than this one that work better and have more features.
GoodNotes is SO MUCH BETTER
I've stopped using UPAD and switched to GoodNotes, which has all the great features of UPAD plus palm rejection, automatic Dropbox synching, and a search function. GoodNotes is amazing. Goodbye UPAD. Too bad you never released updates.

After about 6 months using GoodNotes, I now see how poorly designed UPAD is.
----------------------
Smooth interface, great for PDF annotation and writing notes. I would love this app if the following problems were corrected-
PROBLEMS:
1) no search function for text
2) does NOT sync with Dropbox (like goodreader and other apps). It merely lets you "open in" UPAD from Dropbox, but if you want to see the doc on your computer you must upload it back to Dropbox after you've annotated your document. This would only be a minor inconvenience if uploads were not absurdly limited to 100 page documents. Thus, this app is useless for annotating books or large documents.
3) no integration with the ipad dictionary, so one cannot lookup words

If these problems are fixed, ill gladly recommend this app to many of my class mates who would love it..
Best yet!
I've tried quite a few, and this is by far the best for annotating pdf's so far. It is the first in which I don't feel embarrassed about my handwriting while electronically marking and commenting on student papers. A few improvements and I'd never need another app with similar functionality:

1) Auto-sync with Dropbox (minor annoyance).

2) Ability to change or delete the default settings for file names and email subjects when sharing files. I understand the developers want to gain visibility (hoping the user doesn't edit the default with each file), but it is really annoying to have to edit each individual file name to remove the "...upad..." default when I'm ready to send the file elsewhere.

3) a more intuitive file system.
View In iTunes
$4.99

Category:

Productivity

Updated:

Jan 24, 2013

Version:

2.11

Size:

41.6 MB

Languages:

English, French, German, Japanese, Korean, Simplified Chinese, Spanish

Seller:

kim genie
Compatibility: Requires iOS 5.0 or later. Compatible with iPad.
More iPad Apps by PockeySoft