Virtual City Playground®: Building Tycoon HD
By G5 Entertainment
Open iTunes to buy and download apps.
Description
** This game has been Top 10 Grossing Game in 100 countries, including UK, France, Germany, Italy, Spain, Japan, China, Russia, and many many more!

Build the city of your dreams… and then run it!

● Build dwellings and industrial buildings.
● Manufacture a variety of retail goods and deliver them to your sleek and enticing shopping malls.
● Set up a mass transit system to transport your city dwellers to parks, cinemas, stadiums and more.
● Make your city greener and healthier by recycling garbage, planting trees, upgrading buildings and adding hospitals and fire stations.
● Reward your happy, responsible citizens by organizing truly spectacular public events for them!
● Take your city to towering new heights! Construct well-designed Apartment Towers, an Eco Skyscraper, an Airport, a Stadium, a Casino, a Hangar, an Ice Castle and even a Shuttle Launch Pad.

You can unlock additional bonuses via in-app purchase from within the game!

Includes:

● Over 480+ uplifting quests to tackle as you grow and enhance your city
● Nearly 190 buildings, landmarks and decorations for city beautification
● Nearly 100 challenging achievements to earn and celebrate with your friends
● Regular FREE updates to keep you stimulated and entertained

***Did you know? Your minimized game continues transporting goods, making you money while you sleep!***
____________________________

Game available in: English, French, Italian, German, Spanish, Portuguese, Brazilian Portuguese, Russian, Korean, Chinese, Japanese
____________________________

"I have tried many simulation games before and this one beats them by a long shot – absolute perfection!" - AdamMAyala

"Can't get enough of this game. Hours upon hours invested in it. Love it!" - Dokushaku

"Best virtual game I have ever played." - Ryan Reny
____________________________

Get the Games Navigator – By G5 Games and keep up to date on all G5 games!
____________________________

Sign up now for a weekly round-up of the best from G5 Games! www.g5e.com/e-mail
____________________________

G5 Games - New Game Apps Every Week!

Collect them all! Search for "g5" in iTunes!

Strategy:

▶ Games Navigator – By G5 Games
▶ Survivors: The Quest
▶ The Island Castaway®: Lost World™
▶ Brave Tribe: Village and Farm Building and Management
▶ Stand O' Food® City: Virtual Frenzy

Adventure:

▶ The Secret Society - Hidden Mystery
▶ Letters From Nowhere: A Hidden Object Mystery
▶ Mahjong Journey™
▶ Nightmares from the Deep™: Davy Jones, Collector's Edition
▶ Hidden City: Mystery of Shadows
____________________________

VISIT US: www.g5e.com
WATCH US: www.youtube.com/g5enter
FIND US: www.facebook.com/g5games
FOLLOW US: www.twitter.com/g5games
What's New in Version 1.16
This new free update of your favorite city-builder will keep you busy building your dream city for weeks!

NEW BETTER INTERFACE - Treat your eyes with beautiful HD interface.
SEE YOUR CITIZENS IN THEIR DAILY LIFE - Watch your happy citizens wander around their growing city, taking selfies and enjoying the outdoors.
BUILD AN ICONIC HOLLYWOOD STUDIO - Add a new entertainment building to help the industry boom.
BUILD A NEW TYPE OF HOUSES FOR YOUR CITIZENS - Construct row houses for your citizens.
50+ NEW QUESTS - Over 50 uplifting new quests to captivate your imagination and keep you busy for weeks.

Join the G5 email list and be the first to know about sales, news and game releases! www.g5e.com/e-mail
iPad Screenshots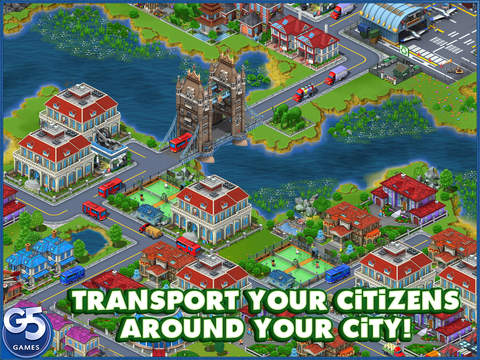 Customer Reviews
Very nice, but lacks user-creativity
I've tried many different build-a-city simulations... This one's different. The emphasis is almost entirely on logistics. People don't matter as much as factories and infrastructure. In fact they hardly matter at all! Beneath the pretty animation is a fairly complex transportation simulation that accounts for truck, bus, garbage collection of all the various factories that you'll build. There are levels of factory interaction, supplies, upgrade level that need to be created. But the problem is it feels as if everything is predetermined... The goals and guides pretty much dictate what you were going to do – it's even selects the location of your factories. One of the nice features is that the same pretty much runs itself in between and collects money while app is minimized. So you can build up a lot of cash if you just let it run. However like almost all games with him and purchases, the use of Gem Tokens requires a some of real money. More than half the goals/buildings require a few dollars.
Be prepared to wait or spend money
This is a nice game for building a civilization. I like the update that allows you to rearrange the buildings if it didn't turn out the way you wanted. I also think it is realistic that the supplies for the base suppliers needs to be re-supplied. This game has nice, simple graphics that are fun to watch while you wait.

However, the waiting is too long. Everything is based on your energy level, how much energy it takes to build something. The energy renews too slowly. In order to get it to renew more quickly, you have to build a Wonders of the World. Those cost crystals. The crystals are gained by completing tasks, which can't be accomplished without the energy and sometimes also need crystals. This is a vicious cycle that sets the gamer up to play only for a short period at a time or to spend money in the game. A couple of bucks is not a big deal, but this really needs a lot of money or a lot of patience.
Very Entertaining, with flaws of course
This is a very good game, if your looking for something interesting to play and need to pass by time as it is very time consuming waiting on things. If you want to finish building a building or something, you have to use diamonds, and it's very hard to come by those really. I have been playing this on my MacBook for the last 2 years, and i have had to start over 4 or 5 times after updating the game. Also, on MacBook you use "Invest Points" not "Diamonds, and I have bought the $20 pack of invest points a couple of times, as well the $5 and $10 packs of invest points and the money multiple times because it seemed to be the only game I could find that could catch my interest, and keep me occupied. All in all though, it is a very good game if you didn't have to start over here and there, and lose whatever you have invested in it, whether it being time, or money, because I lost a lot of both.
View In iTunes
Free

Category:

Games

Updated:

Feb 03, 2015

Version:

1.16

Size:

816 MB

Languages:

English, French, German, Italian, Japanese, Korean, Portuguese, Russian, Simplified Chinese, Spanish, Traditional Chinese

Seller:

G5 Entertainment AB
Compatibility: Requires iOS 6.0 or later. Compatible with iPad.
Top In-App Purchases
Handful of Diamonds$1.99
Deck of Diamonds$4.99
Three decks of Diamonds$9.99
Deal of the day$0.99
Few city credits$1.99
Handful of city credits $4.99
Briefcase of Diamonds$19.99
Pile of city credits$9.99
Sack of city credits$19.99
Super Deal$4.99