Xcode
By Apple
Essentials
Open the Mac App Store to buy and download apps.
Description
Xcode provides everything developers need to create great applications for Mac, iPhone, and iPad. Xcode brings user interface design, coding, testing, and debugging all into a unified workflow. The Xcode IDE combined with the Cocoa and Cocoa Touch frameworks, and the Swift programming language make developing apps easier and more fun than ever before.

Xcode includes the Xcode IDE, Swift and Objective-C compilers, Instruments analysis tool, iOS Simulator, the latest OS X and iOS SDKs, and hundreds of powerful features:

Innovative tools help you create great apps
• Swift is a revolutionary new programming language that is safe, fast, and modern
• Playgrounds are a fun place to experiment with Swift code, displaying instant results
• Interface Builder is a graphical UI design canvas with a live preview of your app
• View debugging shows a 3D stack of all your app's UI view layers at runtime
• Assistant editors show content related to your primary task
• Live Issues display errors as you type, and Fix-it can correct the mistakes for you

Swift is an all new programming language for Cocoa and Cocoa Touch
• Safe by design, Swift syntax and features prevent entire categories of bugs
• Fast code execution and compile time are powered by the proven LLVM compiler
• Modern language features are inspired by leading research, including:
- Closures unified with function pointers
- Tuples and multiple return values
- Structs as value types that support methods, extensions, protocols
- Functional programming patterns including map and filter

Interface Builder makes it easy to design your interface without code
• Storyboards let you arrange the complete flow of screens within your app
• See your custom controls rendered live within the design canvas
• Preview your interface in different screen sizes, orientations, or languages
• Create connections from your GUI design directly to the related source code

Professional editor and debugger keep your code front and center
• Hit a few keys and Open Quickly will instantly open any file within your project
• Message bubbles show errors, warnings, and other issues right beside your code
• Data tips show a variable's value by hovering your mouse over the code
• Quick Look variables while debugging to see the actual color, bezier path, image, and more

Apple LLVM technology finds and fixes bugs for you
• Analyzer travels countless code paths looking for logical errors before they become bugs
• Live Issues underlines coding mistakes as you type with no need to build first
• Fix-it can confidently correct mistakes for you with just a keystroke

Test driven development is built right in
• Use the Test Navigator to add, edit, or run tests with just a click
• Test Assistant makes it easy to edit your code and related tests, side-by-side
• Create continuous integration bots using OS X Server to automatically build and test your apps
• Monitor performance test data using OS X Server to immediately spot regressions

Instruments makes performance analysis beautiful
• Compare CPU, disk, memory, and OpenGL performance as graphical tracks over time
• Identify performance bottlenecks, then dive deep into the code to uncover the cause
• Monitor your app directly, or sample the entire system, with very little overhead

To test or deploy applications on an iOS device you must be a member of Apple's iOS Developer Program. To submit your Mac or iOS apps to the App Store you must be a member of the Mac or iOS Developer Program. Continuous integration features require a current version of OS X Server. Some features may require Internet access.
What's New in Version 6.3.1
Xcode 6.3.1 improves stability and fixes critical issues in playgrounds, debugging, and Interface Builder

Xcode 6.3 includes Swift 1.2 and SDKs for OS X 10.10 Yosemite and iOS 8.3

New in Swift 1.2:

• Incremental builds dramatically improve the compile time of Swift projects
• Swift compiler produces even faster executables for both debug and release builds
• Language refinements to 'let' and 'as' make Swift more consistent and clear
• Standard library adds powerful features including the 'Set' data type and 'flatMap' operation
• Code converter and Fix-its help you migrate to Swift 1.2

Additional features in Xcode 6.3:

• Playgrounds are more attractive and readable with rich text formatting and results displayed in-line
• Playgrounds can embed additional code and resources to improve performance and simplify sharing
• Updated OS X SDK includes support for the new Force Touch trackpad
• Crashes organizer makes it easy to triage and fix crashes for App Store and TestFlight apps
• Apple LLVM compiler 6.1 improves diagnostic messages and adds support for C++'14
Screenshots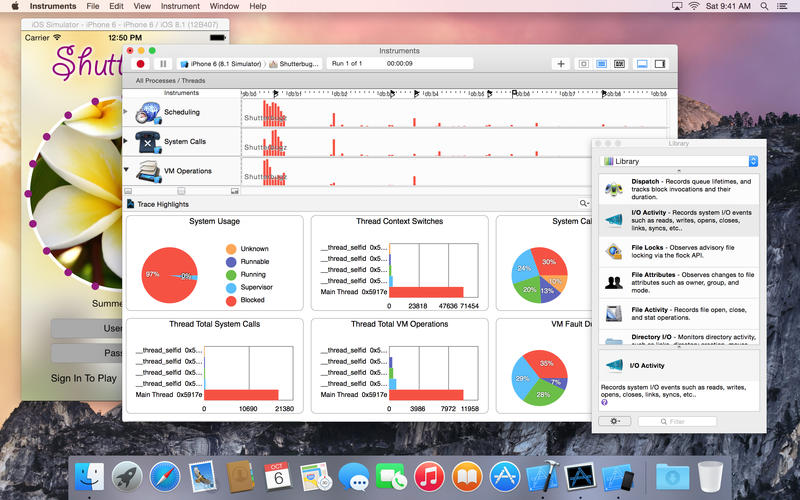 Customer Reviews
Love IDE; just dont use it on slow machine
Xcode is great IDE, far better than others I've had the misfortune to use. A couple of minor issues:

First, if you're using a slower machine (even only 3-4 years old), the performance lags. Auto completion is slow; firing up simulator and running app is so slow that it times out; etc. Just expect to deal with these sorts of minor annoyances unless you're using newer, more powerful machine.

In terms of stability, Xcode used to be rock solid, went through some iterations (esp Xcode 5) where it was rather flaky. Xcode 6.3 is pretty solid, though.

Third, Swift is still evolving, but the immaturity of the compiler and IDE sometimes show through. Swift compile errors are not always as clear as they could be, though with Swift 1.2 (included in Xcode 6.3), this is improving, though still not great.

Having said that, I think Xcode is a great IDE. It has room to improve, but continues to improve, and I still far prefer it to my Eclipse experiences, or even Visual Studio.
Buggy and Crashy
Why keep updating the app if none of the important issues are resolved? Why the focus on Swift when the existing Objective-C tool is so buggy?

Another release that doesn't fix any of the annoying bugs:

- Cleaning the build directory, which is a required step to many false errors, throws a "you don't have permission" error message every time. This is in fact false.
- The simulator fails to launch or Xcode fails to deploy the app to the simulator very often.
- Xcode freezes when loading a storyboard.
- Constraints in the storyboards change and the elements are repositioned randomly, often times to an incorrect location.
- Some variables won't print out in the debugger in some situations. This is seemingly random without any explanation.
- Sometimes Xcode refuses to set a breakpoint at a specific line. The line above or below it is OK, and moving the break point at the above or below line to the current line works.
- Random, unexplained crashes.
- General performance on the sidebar is very poor if you have a decently sized project. It gets worse if you have many unit tests.
Can't update Xcode from 6.2 to 6.3
Try many times already. First several times I can't download because "I don't have enough space" even if Xcode need 3GB and I have 5GB. So, I make more space for it like more than 20GB. Then I can download, but failed several times when almost finished like 99% and there was a alert box said I met some error. A few days later, I downloaded Xcode successfully and began to install, but each time after install, the Xcode launch automaticlly, and I check the version, still 6.2, totally have no idea why so many trouble with updating a software. My iPhone update to iOS8.3, really need Xcode 8.3 to run my app on my phone.
View in Mac App Store
Free

Category:

Developer Tools

Updated:

Apr 21, 2015

Version:

6.3.1

Size:

2.57 GB

Language:

English

Seller:

Apple Inc.
Compatibility: OS X 10.10 or later