Yo.
By Life Before Us, LLC
This app is only available on the App Store for iOS devices.
Description
Yo. The simplest communication tool in the world.

You have a list of your best friends, you tap them, their phone shouts Yo.
It's that simple.

- Katie Yo's Mike to let him know she's thinking about him
- Matt Yo's his roommates to let them know he's got a friend staying over
- Jonny Yo's his Lunch Buddies group at 12:30pm when it's time to eat
- Mike Yo's bae to see if she's still awake
- Jenny Yo's a photo to her Family group when she needs no words to explain
- Danny Yo's his Mom when he forgets to call her
- Alex uses Yo to send his location to his girlfriend
- Peter gets Yo's when his favorite soccer team scores a goal

So, how do you use Yo?


-----------------------

If you like Yo we would love it if you take a minute and leave us a review :)
What's New in Version 2.5.8
- See when you're friends were last seen in Add Friends
- Changed how SMS works

Please review us!!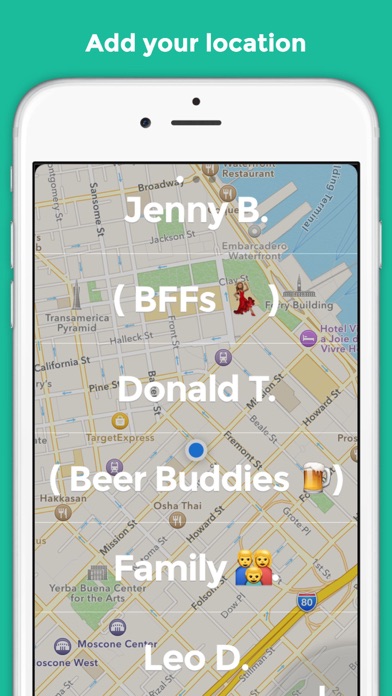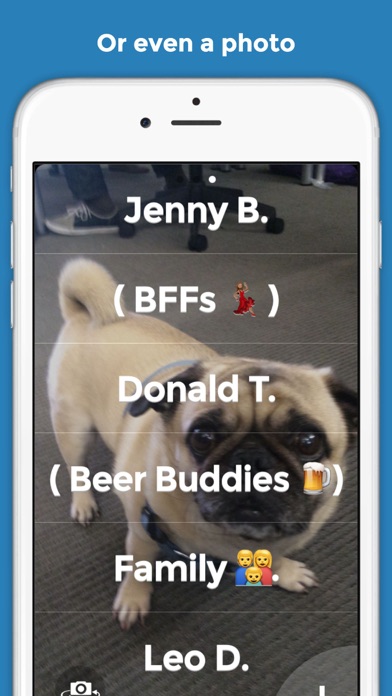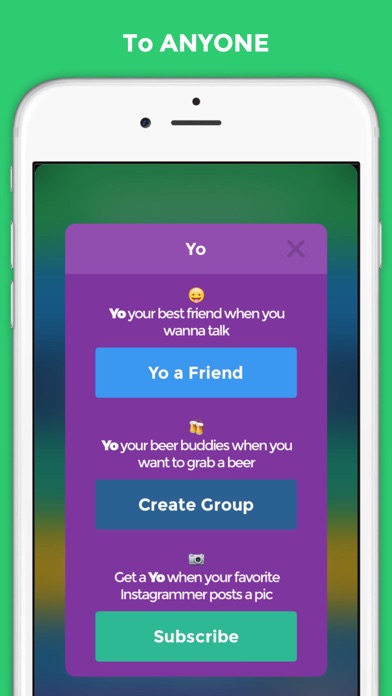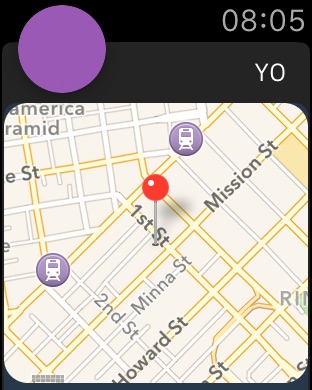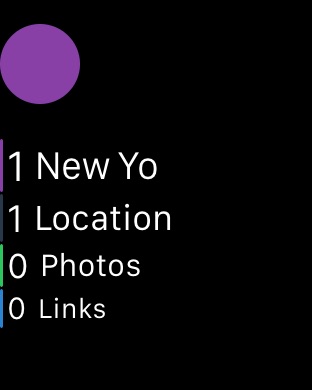 Customer Reviews
Yo.
Two years ago I was in the darkest time of my life. I was searching for a purpose in something, but nothing worked. Not school, not drugs, not my girlfriend; I even did alcohol, but that just left me feeling even more lonely. After that I thought I would branch out, so I got involved in a Jamaican dog fighting circle, but I soon learned that that was bad news. I was lost. But it was in this pit of despair that I discovered the thing that changed my life forever. I downloaded Yo. At first, I was a casual Yo'er, sending one to my mom every once in a while. But as time went on, Yo began to take on a deeper meaning. A Yo at 11 pm on a Friday night meant something completely different than a Yo at 9:30 on a Tuesday morning. It became something special, something meaningful. Yo transformed my life. It taught me what it meant to be a father, how to take out a bank loan, even how to talk to people without violently vomiting. I would not be the man I am today if it wasn't for Yo. Now to you out there, reading this review, thinking to yourself, "How could this stupid app ever be useful?" Give it a try. I beg of you, take a chance. You won't regret it.
Thank you,
God Bless Yo(u)
Offers radical changes to your life.
I was walking through my school when I saw a North eastern African Saber toothed caterpillar. Acting on my instinct, I YOed the police. They immediately knew that my Yo meant that a rabid North Eastern saber toothed caterpillar attack innocent students. When the police showed up with their RPGS I ran straight into the line of fire. When I realized I might be in danger I YOed the police. This YO meant don't fire, I ran into the line of fire. So I nimbly evaded the North Eastern African saber toothed caterpillar while dodging land mine last that have been planted in my school just in case this ever happened. The caterpillar was thrashing around trying to eat my mom so the only logical thing to do was send her a Yo. Thanks to me and my Yo my mom was distracted as she was torn to pieces. It looked as if the caterpillar would overwhelm us all. I ran outside and looked for a squirrel to through at the caterpillar. When I finally found one I held it up to my face to feel it's fur. It was centimeters from my face. It then opened its anus and enveloped me. To this day Yo is ruining my life. I get several thousand a day and I have nothing to do inside the squirrel. 1/10 does not recommend.
Scientists believe this will change your life!!!!! (Not clickbait) a
Ohmygosh, I talked to my tall, hairy doctor about this amazing, successful app, and he says it could be possibly theoretically life changing. I told him about the time I yo'ed an Alaskan Narwhal to save me and give me CPR in my pink beach house in DR Congo. My life was saved because of Henry the South Eastern Long Horned Short Finned Alaskan Narwhal South of the Mississippi who doesn't mess with Texas in the first innin'. I thanked Henry the South Eastern Long Horned Short Finned Alaskan Narwhal South of the Mississippi who doesn't mess with Texas in the first innin' in his beach house in Nebraska. I never knew he had Sid the three-towed, seven finger, Sloth who has Barney the pink dinosaur as a pet as a butler. They're all pretty chill. Thanks Yo! -Mario, PhD in illegal black-market lemonade trade.
View in iTunes
Offers Apple Watch App for iPhone
Free

Category:

Social Networking

Updated:

Oct 07, 2016

Version:

2.5.8

Size:

46.5 MB

Apple Watch:

Yes

Language:

English

Seller:

Life Before Us, LLC
Compatibility: Requires iOS 8.0 or later. Compatible with iPhone, iPad, and iPod touch.
More iPhone Apps by Life Before Us, LLC