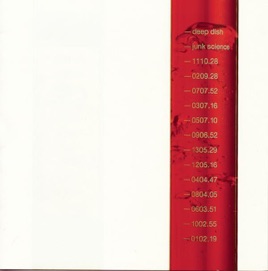 TÍTULO
DURACIÓN
2:19

The Future of the Future (Stay Gold) [With Everything But the Girl]

Deep Dish & Tracey Thorn

9:27
7:13

Deep Dish, Richard Morel & Brian Transeau

4:46

Deep Dish, Dubfire, Richard Morel & Lem Springsteen

7:09
3:54
7:50

Deep Dish & Richard Morel

4:04
6:50

Deep Dish & Mr Nader Majd

2:56

Chocolate City (Love Songs)

Deep Dish, Walter Tates & David Bach

10:27

Mohammad Is Jesus (In Dub)

Deep Dish & Brian Transeau

5:14
5:29
13 canciones

℗ 1998 deconstruction ltd.
Acerca de Deep Dish
Deep Dish es un dúo de productores de música house formado por Ali "Dubfire" Shirazinia y Sharam Tayebi. Nacidos en Irán y criados en los Estados Unidos, se conocieron al frecuentar la escena de la música bailable de Washington a comienzos de los noventa. En 1992 crearon el sello Deep Dish Records y comenzaron a editar mezclas y producir sencillos, alcanzando el reconocimiento masivo en 1995 con "Hideaway" de De'lacy. La reputación del dúo continuó creciendo gracias a sus remezclas para estrellas como Michael Jackson, Madonna o Dido, y sus series de compilados Global Underground y Yoshiesque. En 1998 publicaron su primer álbum de material original, titulado Junk Science. A partir de 2003 Dubfire y Sharam prefirieron trabajar por separado, volviendo a funcionar como dúo recién en 2014.
ORIGEN

Washington DC

SE FORMÓ EN

1992
Otros usuarios también escucharon
Ver todo