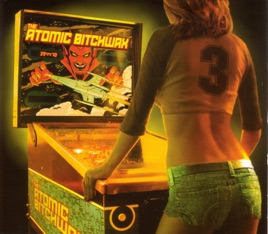 10 Songs, 38 Minutes
Released:

7 Jun 2005

℗ 2005 MeteorCity Inc.
About The Atomic Bitchwax
The Atomic Bitchwax originated as a side project of Monster Magnet lead guitarist Ed Mundell, ex-Godspeed bassist/vocalist Chris Kosnik, and drummer Keith Ackerman. All three of them were by then veterans of the thriving New Jersey stoner rock scene, and, after almost seven years of jamming in their spare time, the trio finally found time to record and release their self-titled debut album in the summer of 1999. Specializing in high-octane, '70s-based hard rock infused with stabs of space rock and psychedelia, and characterized by Mundell's explosive, Tommy Bolin-inspired guitar heroics, Bitchwax's debut stunned retro-rock fans with its unexpected brilliance, but their independent label, MIA, suddenly went out of business barely a year later. Thankfully, the group was instantly snapped up by Tee Pee Records, but their 2000 sophomore effort, Atomic Bitchwax II, was clearly rushed, its songs underwhelmingly second-rate, and the media-shy Mundell struggled to come to terms with his more prominent status as star of the group.

In early 2002, the Atomic Bitchwax issued their third album for a third label (Meteor City), the also disappointing Spit Blood, after which they seemed to lose focus as Mundell retreated to his more comfortable, hired-gun role with Monster Magnet. Workaholic Kosnik soon started a new band named Black NASA. But he and Ackerman also resurrected Bitchwax, this time out with Finn Ryan (ex of the space-stoner act Core) on guitar. 3 appeared through Meteor City in June 2005. The album was well received and resulted in massive touring, including stops throughout Europe. Monster Magnet drummer Bob Pantella replaced Ackerman in 2007 and appeared on the band's fourth full-length, TAB4. Released in 2011, The Local Fuzz consisted of one nonstop track that lasted for over 40 minutes and consisted mostly of a slew of rude, relentless guitar riffs. The band continued on a heavy touring circuit for the next few years, including more international appearances. In 2013 Kosnik joined on as a full-time member of Monster Magnet, also splitting his time between them and the Atomic Bitchwax's increasingly successful touring schedules. The band released sixth album Gravitron in the spring of 2015, followed by Force Field in 2017. ~ Eduardo Rivadavia
ORIGIN

Neptune, NJ

GENRE

FORMED

1992
Millions of songs.
Zero ads.
New subscribers only. Plan automatically renews after trial.