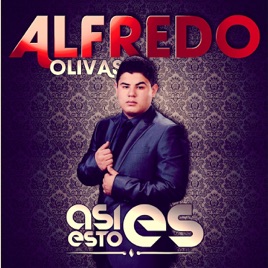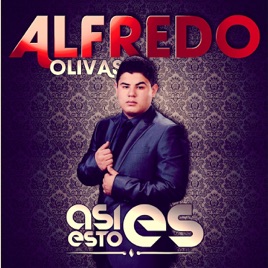 | | TITLE | | TIME |
| --- | --- | --- | --- |
| | | | |
| | | | |
| | | | |
| | | | |
| | | | |
| | | | |
| | El Triunfador a.k.a. La Victoria | | |
| | | | |
| | | | |
| | | | |
| | | | |
| | | | |
| | | | |
| | | | |
| | | | |
15 Songs, 54 Minutes
Released:

18 Oct 2012

℗ 2012 SonoraMX
About Alfredito Olivas
Alfredo Olivas is a singer, songwriter, and accordionist of regional Mexican music. He began playing accordion and writing songs when he was only nine. By the time he was a teenager he had written well over 1,000 and released dozens of singles on an independent label before signing to Fonovisa at 16.

His first single for the label, "Las Vacaciones del Jefe," instantly became a hit for its lyrical invention in portraying a cartel boss enjoying a spate of clean living in a nice hotel. The video got hundreds of thousands of hits and the track gained the upper reaches of digital and radio charts. His second pre-release single, "El Principio del Infierno," was grittier and more realistic, and its clever rhyme scheme and melody resulted in similar success.

Olivas' debut album, El Patroncito (its title track about the adventures of a young capo who rises through a cartel's ranks), was released in January of 2011 to universal acclaim in Mexico and in the Southwestern United States. It was followed by two compilations of early singles in 2012.

Olivas toured Mexico and moved over to Sony's Sahuaro Music imprint in 2014. El Privilegio, his second major-label offering of new material, was released in January of 2015 and showcased an expanded sound. It reached number two on the Latin Albums Chart. Despite his great success with narcocorridos, he decided to shift his music away from them, citing the birth of his first child and the long wave of cartel violence in his home country. His new style, "Norteña Romantica," proved no less successful. Tragically and ironically, while touring songs from El Privilegio, as well as new ballads, the singer himself was the victim of violence. On February 28, 2015, he was shot eight times during a concert in Chihuahua after presenting a female audience member with a rose (a regular occurrence during his appearances). Her boyfriend, increasingly jealous throughout the show, pulled out a gun and shot eight times. Olivas was critically wounded but survived. Two others were killed. Undaunted, Olivas returned with a lyric video of himself in the back of an SUV playing "Seguramente" on his guitar in July 2016. In January of the following year, an official video showcased his band playing the studio version of the track on the field of an empty soccer stadium. It garnered 268,000 views in two days. Simultaneously, the song was made available as a pre-release digital single. The album, La Rueda de la Fortuna, followed in the summer of 2017.
HOMETOWN

Ciudad Obregón, Sonora, Mexico

GENRE

BORN

01 October 1994
Millions of songs.
Zero ads.
New subscribers only. Plan automatically renews after trial.