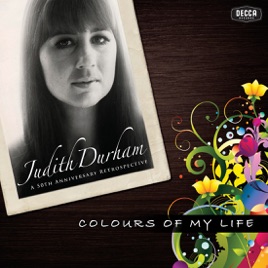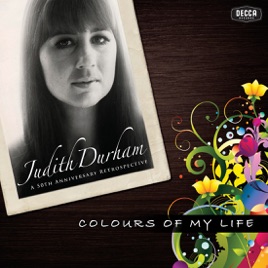 TITLE
TIME

Judith Durham & Frank Traynor's Jazz Preachers

Maple Leaf Rag (Live At The Talk of the Town)

The Seekers

Just a Closer Walk With Thee

I Wanna Dance to Your Music

Judith Durham & The Hottest Band In Town

Judith Durham & The Hottest Band In Town

Judith Durham & The Hottest Band In Town

His Eye Is On the Sparrow

I Celebrate Your Life My Baby

23

Judith Durham Interviewed By Peter Thompson (Talking Heads)
23 Songs, 1 Hour 41 Minutes
Released:

1 Jan 2011

℗ 2011 Universal Music Australia Pty Ltd.
Ratings and Reviews
JUDITH DURHAM .ALL ALBUMS/SONGS
SHE IS A LIVING ICON WITH A VOICE THAT IS SINGULARLY BOTH BEAUTIFUL AND INDIVIDUAL, ONE I DOUBT
WE WILL SEE REPLICATED
Colours of My Life, Judith Durham. Review by Jon Bonny
This is certainly one of Miss Durham's best albums. A celabration of her entire career and a large part of her life to boot. It takes us on a journey from the very early,( pre-Seekers) days, through those amazing, mid to late sixties, years when The Seekers became a world-wide phenomenon and catapulted her to pop star status. The album then goes on, giving us some insight into her solo career during the seventies including her "jazz years", some very poignant pieces accompanied by Ron Edgeworth, Judith's late husband, playing with his unique style on the piano. You really can feel the chemistry between the two artists. Moving on to the nineties when her career split in two and ran in parallel lines. The regrouping of the, now mature, Seekers and some of the great music they produced and the highlight of Judith's solo career, the 60th Birthday Concert at the London Festival Hall, which I was lucky enough to witness. The album then moves on to some of the very latest work that she has produced with her growing self confidence in the composition of her own material.

This is a very well thought out album with good balance and variety. Well worth the investment, if you, like so many millions of people around the globe, love Judith's unique voice.
About Judith Durham
Judith Durham is best known internationally for the four years she spent in the 1960s as the lead singer for the Seekers, the Australian-spawned folk quartet that, at one point, rivalled the Beatles and the Rolling Stones in chart records. Her own taste in music, before and since her involvement with the Seekers, however, runs more toward old-time jazz and big-band blues---left to her own devices, Durham showed herself more attuned to the work of Bessie Smith or Billie Holiday, or Helen Morgan, than Mary Travers or Joan Baez, and she also knows how to write a good song, and what made the best songs of the 1920s and '30s tick -- in an ideal world, she would've been in (and on the soundtracks of) the TV version of Pennies from Heaven or The Singing Detective. Her solo albums are few and far between, although they have begun appearing on compact disc, and she still records anew in the 1990s. ~ Bruce Eder
GENRE

BORN

03 July 1943