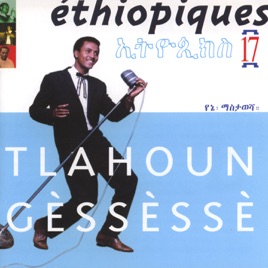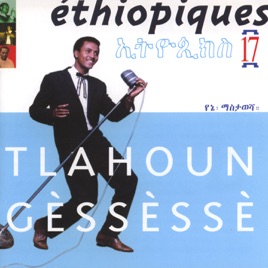 Éthiopiques, Vol. 17: Tlahoun Gèssèssè
| | TITLE | TIME |
| --- | --- | --- |
| | | 2:52 |
| | | 3:07 |
| | | 4:08 |
| | | 2:59 |
| | | 3:33 |
| | | 4:58 |
| | | 3:42 |
| | | 3:47 |
| | | 4:29 |
| | | 4:01 |
| | | 4:42 |
| | | 4:39 |
| | | 3:51 |
| | | 4:13 |
| | | 4:33 |
| | | 5:02 |
| | | 3:21 |
17 Songs

℗ 2005 Buda Musique
About Tlahoun Gessesse
Tlahoun Gèssèssè was Ethiopia's premier pop singer during the era of Haile Selassie's reign as emperor — dubbed "the Voice," his music channeled influences spanning from traditional African folk to American funk to free jazz, enjoying phenomenal commercial success that bridged ethnic and linguistic divides. Gèssèssè was born September 27, 1940, in Addis Ababa to an Amhara father and Oromo mother, a lineage that was essential to his pan-ethnic appeal. At 14, he was sent to live with his grandfather in nearby Waliso to attend the Ras Gobena Elementary School, during which time his interest in music flourished. According to legend, Gèssèssè decided to run away back to Addis Ababa on the advice of Ato Eyoel Yohanes, a member of the theatrical troupe Hager Fikir Mahber. After a few years in their ranks, the 17-year-old singer graduated to lead vocal duties with the prestigious Imperial Bodyguard Band, considered by historians to be one of the most innovative African groups of the postwar period.

Aspiring vocalists in imperial Ethiopia had few choices but to align with an institutional band like those attached to the military or law enforcement authorities — the Imperial Bodyguard Band nevertheless proved a perfect fit for Gèssèssè's soulful vocals and impressive stylistic range, and their R&B-influenced energy and swagger remain an essential component of his creative and commercial success. As Gèssèssè's songwriting prowess evolved, his material grew increasingly provocative, and the 1960 smash "Altchalkoum" (I Can't Stand It), though ostensibly an ode to a failing romance, was perceived in many quarters as protest against the Selassie regime — at year's end, Gèssèssè was arrested and imprisoned, and while he was later released, several key members of the Imperial Bodyguard Band remained incarcerated, implicated in a failed coup d'état.

In the years following his release, Gèssèssè performed several times before Selassie, and as the 1960s unfolded, the emperor adopted a more liberal perspective on government, a shift cited as a catalyst behind Addis Ababa's emergence as the creative apex of the African continent. The 1960s and early '70s remain celebrated as the golden age of Ethiopian dance music, and Gèssèssè was consistently at the forefront, teaming with renowned arranger Mulatu Astatqé for a series of now-classic hits ranging from the propulsive "Tchuheten Betsemu" to the lushly romantic "Mona Liza" to the devastating ballad "Semu" — while recording most of his output in Amharic, he also cut a number of efforts in Oromiffa, exponentially expanding his audience in the process. Gèssèssè recorded close to 100 songs on cassette, and when the Ethiopian music industry turned to vinyl in the late '60s, he cut another 73. However, when Selassie was overthrown by military junta on September 12, 1974, many of Gèssèssè's songs were again banned, and increasing censorship restrictions effectively heralded the end of Ethiopia's musical renaissance.

Gèssèssè nevertheless continued performing, turning his attention to a series of charitable recordings and live events to raise funds for famine victims. He later received an honorary doctorate degree from Addis Ababa University in appreciation of his contribution to Ethiopian music, and also earned a lifetime achievement honor from the Ethiopian Fine Art and Mass Media Prize Trust. Gèssèssè battled diabetes in the final years of his life but continued touring, playing several dates in the United States just days prior to suffering a fatal heart attack on April 19, 2009 — more than a million Ethiopians, including government officials and entertainers, paid their last respects at the Addis Ababa state funeral that followed four days later. Gèssèssè was 68.