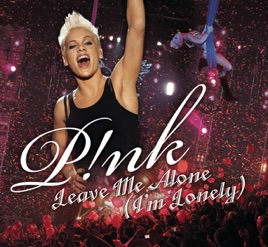 | | TITLE | | TIME |
| --- | --- | --- | --- |
| | Leave Me Alone (I'm Lonely) [Main Version] | | |
| | Dear Mr. President (Live From Wembley Arena London, England) | | |
| | Who Knew (Live From Wembley Arena London, England) | | |
3 Songs, 11 Minutes
Released:

24 Apr 2007

℗ 2006 & 2007 LaFace Records LLC
Ratings and Reviews
SWEARING IS BAD! LOL
a fab song but the swearing kind of puts me off. i wish there was a clean version.
awesome
a song that is very strong and meaningful
Dont like me swearing
The swearing bit puts it off! I agree with others the wearing isn't very appealing. Bring a clean version!
About P!nk
Although initially viewed as another face in the late-'90s crowd of teen pop acts, Pink (professionally known as P!nk) quickly transcended and outgrew that label with her combination of pop songcraft and powerhouse, rock-influenced vocals. Born Alecia Moore on September 8, 1979, in Doylestown, Pennsylvania, P!nk received her nickname as a child, years before she dyed her hair accordingly. She grew up in a musical family and was a regular on the Philadelphia club scene by the age of 13, first as a dancer and then as a backing vocalist for the local hip-hop group Schoolz of Thought. At 14, she began writing her own songs; the same year, a local DJ at Club Fever began inviting her on-stage to sing a song every Friday.

P!nk was spotted one night by an executive for MCA Records, who asked her to audition for an R&B group called Basic Instinct. Although P!nk's strong vocals landed her the gig, the group imploded not long after. She was quickly recruited for a female R&B trio called Choice, who signed to L.A. Reid and Babyface's LaFace label on the strength of their demo; however, they too disbanded due to differences over musical direction. During Choice's brief studio time, producer Daryl Simmons asked P!nk to write a bridge section for the song "Just to Be Loving You." Impressed with the results, P!nk rediscovered her songwriting muse, and an equally impressed L.A. Reid soon gave her a solo deal with LaFace.

P!nk recorded her solo debut, Can't Take Me Home, with a variety of songwriting partners and dance-pop and R&B producers. Released in 2000, the album was a double-platinum hit; it spun off three Top Ten singles in "There U Go," "Most Girls," and "You Make Me Sick." She toured that summer as the opening act for *N Sync, but soon found herself tired of being pigeonholed as strictly a teen act despite her sassy, forthright persona. As she set about working on her follow-up album, P!nk took part in the remake of Patti LaBelle's "Lady Marmalade" featured on the Moulin Rouge soundtrack, which also featured powerhouse divas Christina Aguilera, Mya, and Lil' Kim. The song was a massive hit, topping the charts in both the U.S. and U.K. while expanding P!nk's own audience.

Toward the end of the year, P!nk released her next single, "Get the Party Started," which climbed into the Top Five and became the singer's most inescapable hit to date. Her accompanying sophomore album, M!ssundaztood, quickly went double platinum; it boasted a more personal voice and an eclectic sound, plus heavy contributions from ex-4 Non Blondes singer Linda Perry, who helped bring some more rock muscle to P!nk's sound (as did guest appearances by Steven Tyler and Richie Sambora). M!ssundaztood attracted positive critical notices as well, and its second single, "Don't Let Me Get Me," became another fast-rising Top Ten hit.

P!nk next issued Try This in November 2003. The album continued her progression toward more rock-oriented material, due in part to the songwriting collaboration of Rancid frontman Tim Armstrong on eight of the album's tracks. Try This' lead single, "Trouble," cracked the upper regions of Billboard's Top 40 and earned P!nk a Grammy Award for Best Female Rock Vocal Performance. On the home front, P!nk wed motocross racer Carey Hart -- whom she had initially met at 2001's X-Games -- on January 7, 2006, in Costa Rica.

Her next album, I'm Not Dead, appeared that April; its first single, "Stupid Girls," quickly became a hit, while "Who Knew" and "U + Ur Hand" both cracked the Top Ten. I'm Not Dead reached platinum status in several countries and helped ramp up anticipation for P!nk's follow-up, Funhouse, which arrived in October 2008. "So What," the album's leadoff single, became her first number one hit since "Lady Marmalade." Another hit, "Please Don't Leave Me," followed in 2009 and all her hits were collected on the 2010 release Greatest Hits...So Far!!!, which was preceded by the single "Raise Your Glass." Around the time of the release of Greatest Hits...So Far!!!, P!nk announced that she and her husband were expecting their first child.

In September 2012, P!nk released her sixth studio album, The Truth About Love. With production from Greg Kurstin, Butch Walker, Max Martin, Dan Wilson, and others, it became her first number one album in America and earned platinum status in half a dozen countries. The singles "Blow Me (One Last Kiss)," "Try," and "Just Give Me a Reason" all hit the Top Ten in the U.S., and the last became her fourth number one hit in America. P!nk mounted a yearlong tour -- the third best-selling in 2013, according to Billboard -- through Australia, Europe, and North America, and at the end of 2013 she was named Woman of the Year by Billboard.

Taking a break from her solo work, P!nk teamed up with City and Colour vocalist Dallas Green for a collaborative acoustic effort called You+Me. They released their first album, Rose Ave., in October 2014. Rose Ave. debuted atop the Billboard folk chart and cracked the Billboard Top Five. The following year, P!nk wrote a new theme song for The Ellen Degeneres Show titled "Today's the Day." She also contributed "Just Like Fire," a new song, for the 2016 movie Alice Through the Looking Glass. P!nk returned in August 2017 with the socially charged song "What About Us," the first single from her album Beautiful Trauma, which arrived in October. Upon release, the LP topped the Billboard 200, her second consecutive number one. ~ Steve Huey
HOMETOWN

Doylestown, PA

GENRE

BORN

08 September 1979