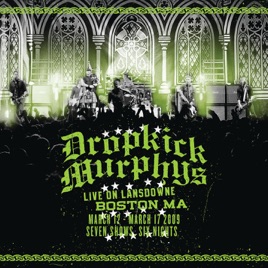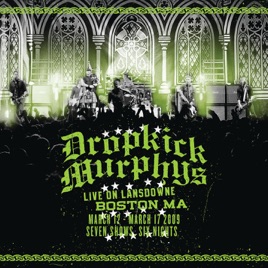 Live On Lansdowne, Boston MA
| | TITLE | TIME | PRICE |
| --- | --- | --- | --- |
| | Famous for Nothing (Live) | 3:09 | Album Only |
| | The State of Massachusetts (Live) | 3:55 | Album Only |
| | Johnny I Hardly Knew Ya (Live) | 4:52 | Album Only |
| | | 2:35 | Album Only |
| | | 3:20 | Album Only |
| | | 3:43 | Album Only |
| | | 3:23 | Album Only |
| | | 2:35 | Album Only |
| | Bastards On Parade (Live) | 3:59 | Album Only |
| | 10 Years of Service (Live) | 2:45 | Album Only |
| | Captain Kelly's Kitchen (Live) | 2:43 | Album Only |
| | | 3:12 | Album Only |
| | The Fields of Athenry (Live) | 4:39 | Album Only |
| | Your Spirit's Alive (Live) | 2:31 | Album Only |
| | The Warrior's Code (Live) | 4:04 | Album Only |
| | | 3:52 | Album Only |
| | Wheel of Misfortune (Live) | 4:06 | Album Only |
| | Tomorrow's Industry (Live) | 2:36 | Album Only |
| | | 5:25 | Album Only |
| | Forever (2009 Version) [Live] | 3:37 | Album Only |
| | | 3:25 | Album Only |
| | | 1:35 | Album Only |
| | Kiss Me, I'm Shitfaced (Live) | 6:19 | Album Only |
| | | 4:10 | Album Only |
| | I'm Shipping Up to Boston (Live) | 2:29 | Album Only |
25 Songs

℗ 2010 Born & Bred Records, under exclusive license to Dew Process for Australia & New Zealand
Customer Reviews
Fantastic
What a great live record! A brilliant mix of tracks from the latest album, The Meanest of Times, and older songs from Blackout and Warrior Code, it really captures the DMK energy when ever they are playing live.

It open's with Famous for Nothing, a ripper song, then gets better and better, moving to The State of Massachusetts and all the way through to Shipping Up to Boston with a guest appearence by The Mighty Mighty Bosstones.

Probably the best track on this album would be The Dirty Glass, with vocals from Liza Graves fitting perfectly in with Al, Ken and the boys.

Definately worth having if you are a DKM fan or not, and if you're not, get this album and prepare to jig your way through the 20 songs on here, preferably with a pint in hand!
About Dropkick Murphys
The hardcore punk/Celtic folk outfit Dropkick Murphys formed in South Boston in 1995; vocalist Mike McColgan, guitarist Rick Barton, and bassist Ken Casey comprised the original nucleus of the group, with a series of drummers passing through the lineup before the addition of Matt Kelly in 1997. After a series of EPs, including Fire & Brimstone, Tattoos & Scally Caps, and Boys on the Docks, the Dropkick Murphys signed to Hellcat Records to issue their 1998 full-length Do or Die, produced by Rancid's Lars Frederiksen. McColgan exited the group soon after (he later went on to form the like-minded Street Dogs) and was replaced by vocalist Al Barr for the follow-up, 1999's The Gang's All Here.

Mob Mentality, a split release with the Business, appeared in mid-2000, but at the same time the band was going through an extensive redesign. Their five-piece arrangement expanded into a septet, as Marc Orrell stepped in after original guitarist Rick Barton left the band to get married. James Lynch (guitar), Spicy McHaggis (bagpipes), and Ryan Foltz (mandolin) were also added to the lineup to enhance the band's growling sound. Frederiksen, who produced the band's first two albums, left the Dropkicks to venture out on their own for their third studio effort, Sing Loud, Sing Proud. Bassist Ken Casey took over, and the album, which featured collaborations with ex-Pogue Shane MacGowan and Cock Sparrer's Colin McFaull, was issued in early 2001.

Their Irish pride shone through the next year, when Live on St. Patrick's Day from Boston, MA was released in the summer. Recorded at the biggest Irish-American celebration of the year in a town known for its widespread Irish heritage, the set was a blistering example of their intense and lively gigs. As the band prepped for the annual Vans Warped Tour in summer 2003, they released Blackout in June; the album featured new bagpipe player Scruffy Wallace and accordionist Tim Brennan (who further took over mandolin and tin whistle after Foltz left following some touring). The Murphys reworked the Boston Red Sox anthem "Tessie" on their mid-2004 EP Tessie, which subsequently became the theme song to the Sox's World Series run that year. Warrior's Code followed in 2005, and one of its songs, "I'm Shipping Up to Boston," was later used in the 2006 Martin Scorsese film The Departed. Soon after, the band recorded The Meanest of Times, a collection of songs about family loyalty, featured guest appearances by Spider Stacy of the Pogues and Ronnie Drew of the Dubliners, and was released in mid-September 2007. In January 2008, however, Orrell announced his decision to leave the band in order to pursue other projects. Live on Lansdowne, Boston MA, a CD/DVD of tracks culled from the week of St. Patrick's Day shows in Boston in 2009, was released in 2010. For their next studio effort, the band looked inward to create a concept album, combining their own experiences to create the fictional character Cornelius Larkin. The result was their seventh album, Going Out in Style, which was released in 2011 on their Born & Bred label. 2012 saw the band follow up with Live at Fenway before returning the next year with their eighth studio effort, Signed and Sealed in Blood. The Murphys returned in early 2017 with their ninth studio effort, 11 Short Stories of Pain & Glory. The album was their first to be recorded outside of Massachusetts, with the band relocating to El Paso, Texas for the entire creative process. Inspired by the group's work with the Claddagh Fund for recovering addicts, it was released once again through their own imprint, Born & Bred Records. Upon release, 11 Short Stories debuted at number eight on the Billboard 200. ~ Jason Ankeny
ORIGIN

Quincy, MA

FORMED

1995