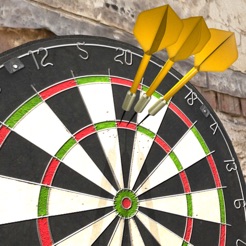 Darts
12+
Free
Offers In-App Purchases
Description
Play darts on your iPhone, iPod touch, and iPad!

Watch the trailer at: http://bit.ly/dartsios

This is THE darts game for iOS, played by over 15 million people since 2008!

✓ Play Cricket, X01 (301, 501, etc.), or just practice

✓ Challenge a computer A.I. opponent at different skill levels (newbie, amateur, master)

✓ Simple swipe gesture to throw a dart; yet difficult to master

✓ Physics based simulation of dart throws

✓ Beautiful, hand-crafted 3-D graphics

✓ Support for iPhone 4 Retina Display

✓ Sound effects (while you listen to your own music in the background)

✓ In-game help on aiming, throwing, and the rules of each game

✓ Auto-resume suspended games from phone calls, etc.


UPGRADE TO THE PRO VERSION

✓ No more advertisements!

✓ Head to head multiplayer over Bluetooth or Wi-Fi! *

✓ Place a photo of your nemesis on the dartboard and take aim! Share the photo on Facebook when you are done!

✓ A new game: "Around the Clock"!

✓ A number of dart "skins" including country flags!


* For best results in multiplayer, turn Wi-Fi on and turn Bluetooth off. If you want to use Bluetooth, turn Wi-Fi off. Note that connection establishment using Bluetooth can take a long time.



EXISTING PLAYERS!

The old throwing methods are still in Darts 2.x! Just tap the board for "aim and flick"! Tap "Settings" in the main menu to switch to the more "advanced" throwing method.
The old throwing methods are still in Darts 2.x! Just tap the board for "aim and flick"! Tap "Settings" in the main menu to switch to the more "advanced" throwing method.


VERSION 2.1

✓ The "advanced throwing method" returns by popular demand! Loud and clear!

✓ The app shows a tutorial on how to aim and throw a dart using either the "aim and flick" method or the "advanced" method since many people seem confused about how to find the "Help" menu which explains all of this.

✓ Adds a label showing what number was hit after each dart throw (in addition to updating the prominent scoreboard of course).


VERSION 2.0

✓ Cricket computer opponent bug fixes and improvements

✓ iPad support; play on the big boy screen now for free; no "Darts HD" silliness!

✓ High resolution graphics for iPhone 4 Retina Display (beautiful!)

✓ Landscape orientation support

✓ Better 3-D scene and dart model; textures; lighting

✓ Ability to upgrade to the "Pro Version" from within the app for $0.99 USD

✓ Upgrade to … remove advertisements!

✓ Upgrade to … play a buddy with Bluetooth and Wi-Fi multiplayer support!

✓ Upgrade to … place a photo of your nemesis on the dartboard (using your camera or photo library) and take aim!

✓ Upgrade to … play a new game: "Around the Clock"!

✓ Upgrade to … decorate your dart with dart skins including several country flags!


Ratings and Reviews
Needs more game options
Graphics good, game play is limited to three games, only one version of around the clock ! very basic and boring and you pay for this 'extra game'. The other two, cricket one version and x01are reasonable, could do with more games in pro version.

There needs to be another AI level between Amateur and Master. Amateur is too low and easily beaten, Master is too high and almost never misses. This makes game play less than challenging once you have played for a while.

Multiplayer is limited to wi-fi and Bluetooth, this should be net play as everyone you know won't have it or is not close by to play. Basically it is not multiplayer for the majority of players.

Could benefit from a leader board to increase challenging play.
I don't understand having international flags on the dart skins when you can't play on the net.

A group tournament type play would be nice, not sure if this is practical. Ability to play one on one with another person passing the device between you would improve it's appeal.

Apart from this, the game is enjoyable as a time waster on your own.
Good but bugs
I have enjoyed playing this but... You get a third of the way through the game and sometimes the app shuts down and you have to start again. Graphics are good, slight glitches at beginning of throw sometimes. However I found this game to be addictive.
Frustrating
Hard aiming system, you flick softly and it hits the board at the bottom. You flick a little harder and you throw it above the board all together. Computer always throws 20s, difficulty setting only kicks in when needing a precise throw to finish. Would be great if programming was improved
Information
Seller

Fictorial LLC

Size

17.1 MB

Category

Compatibility

Requires iOS 4.2 or later. Compatible with iPhone, iPad and iPod touch.

Languages

English, German

Age Rating

Rated 12+ for the following:

Infrequent/Mild Realistic Violence

Infrequent/Mild Cartoon or Fantasy Violence

Copyright

© 2008, 2009, 2010 Fictorial LLC

Price

Free
Supports
Family Sharing

Up to six family members will be able to use this app with Family Sharing enabled.