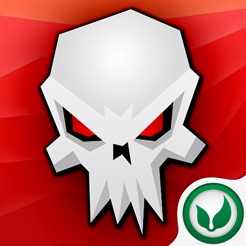 Description
Dungeon Raid is going to challenge your strategy skills to the max! Trace a path and match the tiles to collect treasure, buy and upgrade weapons and defeat monsters in this exciting and addictive puzzle roleplaying game. Things happen fast in Dungeon Raid, so gather your courage and dive in!


"Dungeon Raid is an effortless recommendation... download this game now."
- TouchArcade

"Pick this one up. For its price, they definitely made me feel like it was well worth the money in so many ways"
- appSafari

"If you're looking for a different type of match 3 game or you're an RPG nut that wants to get a quick fix every now and again, Dungeon Raid is just the game for you"
- TouchMyApps

"Dungeon Raid manages to capture the essence of both rogue like dungeon crawling, and addictive match 3 in a easily accessible formula"
- TouchGen

"It's a fun mix of match-three puzzling and role-playing"
- Pocket Gamer


Dungeon Raid is a puzzle RPG, a blend of puzzle game with roleplaying mechanics. Your mission is to trace a path through a set of matching tiles, but watch out – you may be attacked by enemies who improve as fast as you do.

As you go, the object is to collect as many resources as you can, like gold and experience. Get enough points and you can buy or upgrade equipment and level up. All the while, remember to avoid those nasty enemy skull tiles and fight them off for as long as you possibly can. And don't get too greedy, or you risk being overwhelmed!

The higher you go in a Dungeon Raid game, the more strategy you're going to need to match a greater number of tiles, grab bonuses and stay ahead of those evil adversaries. Never forget that they improve as the game continues.

Keep your wits about you as you play Dungeon Raid. As you level up, there are many trade offs to consider and complimentary combinations of skills to be chosen. If you're not used to the tense pace of the higher levels, go ahead and start on easy difficulty. That gives you the chance to play the game in a more relaxed way, and watch how powerful your avatar can become.

Regardless of your skill level, you'll never get bored with Dungeon Raid because there's so much going on! There are hundreds of items to collect, a growing list of character skills and many different strategies for you to use. You'll be itching to play just one more turn, just one more game for hours and days on end.

Features:
★ 4 difficulty levels: select a relaxing easy game or go for a challenging and strategic experience
★ 2 challenge modes
★ 400+ unique items to buy and upgrade
★ 77 achievements to unlock
★ 40 diverse abilities to help you and hinder your enemies
★ 30 special monsters to defeat
★ 20 powerful upgrades to apply to your items
★ 10 character classes to unlock & customise
★ Level up and improve your avatar as you kill enemies and collect experience points
★ Global leaderboards using Game Center & OpenFeint
★ Play your own music during the game
★ Constant save system: quit the game and return to it at any time

If you want the thrill of playing a truly exciting game, you've come to the perfect place. Download Dungeon Raid now and prepare to be impressed!

See this exciting game in action here: http://www.youtube.com/watch?v=eumnCTG0AE8
- Fixed bug that occasionally made the More Games button trigger when starting new challenge
- Fixed unlockable syncing across devices
- Vengeful enemy now gains attack instead of HP
- Fixed poisoned phylactery glitch
- Meat Shield now tougher but receives damage done to other enemies
Customer Reviews
Simple, but addictive.
For such an apparently simple match 3 game, I spend an extraordinary amount of time playing it on both my iPhone & iPad. I have a level 3 Mage & paladin on the iPad as well as unlocking all but 3 classes. On the iPhone, I have made much less progress - this morning I made level 2 on my paladin & have unlocked 1 other class. For a match 3 game, it requires the combination of strategy & luck, plus a good choice of attributes when offered. I am addicted to this game, to the point I play it everywhere & in preference to my old favourite genres (shooting things & RPGs).
Fun little puzzler
Love the sound of this game so decided to buy whilst on sale. Unfortunately the tutorial crashes 100% any time you press the edit character button. Did email developer and got a quick response. Avoid pressing the edit character button and you can complete the tutorial which is recommended as describes the mechanics.

Upping original 2 stars to 4 stars and will be 5 stars if tutorial crash is fixed as did cause frustration and the tutorial is actually quite important to understanding the tactics of the game.
Fantastic but needs new content. Not updated since 2011!
As mentioned this is probably one of the best games on iOS.
Puzzle and simple rpg progression. Fantastic idea done well years ago.
Still play it regularly to this day.
But not been updated with anything new since 2011 I would really love to see some attention given to one of the best games available on iOS to give it a refresh for new phones and to give it some new fun content!
Information
Seller

Alex Kuptsov

Size

11.9 MB

Category

Compatibility

Requires iOS 3.1 or later. Compatible with iPhone, iPad and iPod touch.

Age Rating

Rated 9+ for the following:

Infrequent/Mild Horror/Fear Themes

Infrequent/Mild Cartoon or Fantasy Violence

Infrequent/Mild Mature/Suggestive Themes

Copyright

© 2011 Alex Kuptsov

Price

$1.49
Supports
Family Sharing

Up to six family members will be able to use this app with Family Sharing enabled.