Pages
By Apple
Essentials
Open the Mac App Store to buy and download apps.
Description
Create gorgeous documents in minutes with the all-new Pages for Mac word processor — featuring a stunning new design, new writing tools, and improved performance. Start with an Apple-designed template or create your own design using fonts, styles, and tools from the intelligent Format Panel. Easily add images, movies, charts, and more. And use change tracking, comments, and highlights to review your work.

With iCloud, your documents are kept up to date across all your devices. You can instantly share a document using just a link, giving others the latest version and the ability to edit it directly with Pages for iCloud beta from www.icloud.com using a Mac or PC browser. And with a new unified file format across Mac, iOS, and web, your documents are consistently beautiful everywhere you open them.

Whatever you write, Pages puts powerful tools at your fingertips. So you can create great-looking, media-rich documents in minutes.

Get started quickly
• Choose from over 60 Apple-designed templates to instantly create beautiful reports, resumes, cards, and posters
• Simplified toolbar gives you quick access to shapes, media, tables, charts, and sharing options
• The new Format Panel automatically updates based on selection
• Import and edit Microsoft Word documents and plain text files
• Turn on Coaching Tips for guided in-app help

Create beautiful documents
• Format your document with gorgeous styles, fonts, and textures
• Easily update and reorder styles using the new Format Panel
• Use auto-text wrap to flow text around images
• Create and view impressive 2D, 3D, and interactive charts
• Insert iLife photos, music, and video with the Media Browser
• Use powerful graphics tools including Instant Alpha and masking
• Use gorgeous preset styles to make your text, tables, shapes, and images look beautiful
• Edit down to the pixel with the ruler, alignment guides, and powerful graphics tools
• A new unified file format on Mac, iOS, and the web makes documents work seamlessly across platforms

Advanced writing tools
• Turn on change tracking to mark up a document as you edit it
• Use comments and highlights to share ideas and feedback with others
• Show and hide change tracking and comments on mouse-over
• Create footnotes and endnotes and view word counts with character, paragraph, and page counts
• Automatic list making and spell checking
• Seamless integration with MathType* and EndNote* for inserting equations and citations
• Advanced typography features including smart quotes and ligatures
• Easy setup for headers, footers, and document body

iCloud
• Turn on iCloud so your documents are automatically available on your Mac, iPad, iPhone, iPod touch, and iCloud.com
• Access and edit your documents from a Mac or PC browser at www.icloud.com with Pages for iCloud beta
• Pages automatically saves your documents as you make changes

Share your work
• Use AirDrop to send your document to anyone nearby
• Quickly and easily share a link to your work via Mail, Messages, Twitter, or Facebook
• Anyone with the shared document link will always have access to the latest version of the document and can edit it with you at iCloud.com
• Export your document in ePub, Microsoft Word, and PDF format
• Print wirelessly with AirPrint, including page range selection, number of copies, and two-sided printing

* MathType and EndNote both sold separately. EndNote integration requires plug-in available from Pages support link.
Some features may require Internet access; additional fees and terms may apply.
Pages does not include support for some Chinese, Japanese, or Korean (CJK) text input features such as vertical text.
Pages for iCloud beta is currently available in English only.
What's New in Version 5.5.2
This update contains stability improvements and bug fixes.
Screenshots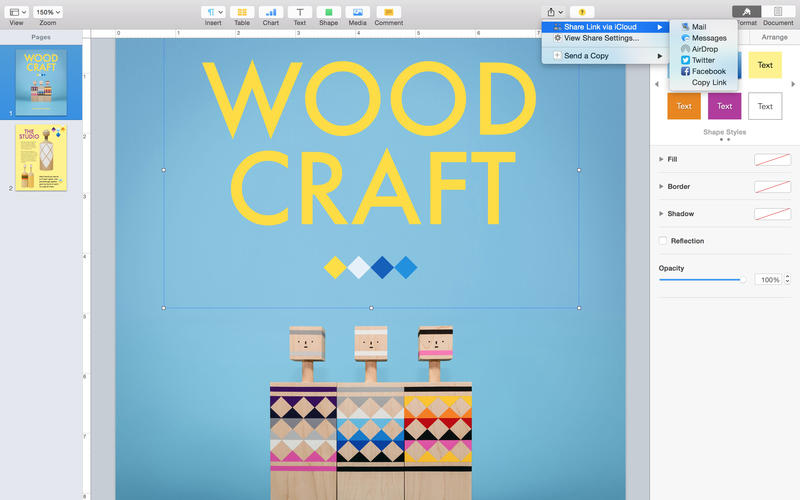 Customer Reviews
Intelligence and Global insight!
Of course this program is dumb and doesn't work, but why not use a bit of intelligence to see what is going on, instead of complaining, complaining, complaining, as if you can't see the nose on your own face? Of course, I just continue to use version 4.3 'cause I like it, I'm used to it, and it works, that is if I want to use Pages at all! Years ago, "you know who" sat at the top of the money heap selling Office at huge profit. All everyone wanted to do was to knock them off their pedestals! It's happened! Now "you know who" are eating humble pie, offering W*** for iOS for free on iPhone, all because of Apple's innovative, industry leading proactive approach to EVERYTHING. Apache Open Open Office is a very competent product, offered completely free of charge. The digital device revolution ("smartphones" and "tablets"), led of course by none other than Apple, has shifted entirely the focus of our computing devices from top end desktop machines to top pocket at times children's toys. Doesn't this say it all? Stop whingeing, be thankful you have any number of great wordprocessors available for every need, and most of them free! Perhaps as Apple's "Continuity" and "Handoff" functions mature (relatively new and very sophisticated programming), perhaps this program will too?
Stylish word processor
Although there have been afew negative reviews posted,Pages has been a good application for my needs which involve mainly essays or assignments with the occassional table of contents, data tables and inserting images. My needs maybe somewhat simple to other users and this maybe a reason for my more positive experience with Pages as I would not consider myself a proficient user of word processing applications.
I have found Pages to be quite intuitative, for example, to create a header, you move the cursor to the top of the page and three text boxes appear (left, centre and right alignment) to enter text for your header. I struggled with other word processing applications, finding them to be abit daunting and intimidating (possibly due to my lack of training) whereas Pages enabled me to concentrate on my writing, rather than the application and trying to figure out how to do things.
Very concerned about the motivation behind this product.
I have a suspicon that the "gift" of an amazing upgrade, is a demonstration of a business model designed to make us pay twice for a product. When I purchased my first MacBook four years ago, I paid extra for the iWorks suite. I was very happy because I could syncronise my documents with my iPad and iPhone. Then when my iPad adjusted to the next upgrade, I could no longer syncronise documents with the MacBook. Because I prepare on the MacBook and do my presentations using the iPad, this became very frustrating. So I upgraded the MacBook. While that fixed the connectivity, the loss of sentence capitalisation and auto caps for the word "i" was very inconvenient.

I had hoped Apple would correct this but no subsequent upgrade has done so. I am concerned that Apple will now produce a new and improved version for which users will have to pay. I do not want to have to pay for this product twice. I encourage all Apple users to question the motivation behind this.
View in Mac App Store
$24.99

Category:

Productivity

Updated:

08 January 2015

Version:

5.5.2

Size:

295 MB

Languages:

English, Arabic, Catalan, Chinese, Croatian, Czech, Danish, Dutch, Finnish, French, German, Greek, Hebrew, Hungarian, Indonesian, Italian, Japanese, Korean, Malay, Norwegian, Polish, Portuguese, Romanian, Russian, Slovak, Spanish, Swedish, Thai, Turkish, Ukrainian, Vietnamese

Seller:

Apple Pty Limited
Compatibility: OS X 10.10 or later